Vintage Treasures: Sword & Sorceress, edited by Marion Zimmer Bradley
Vintage Treasures: Sword & Sorceress, edited by Marion Zimmer Bradley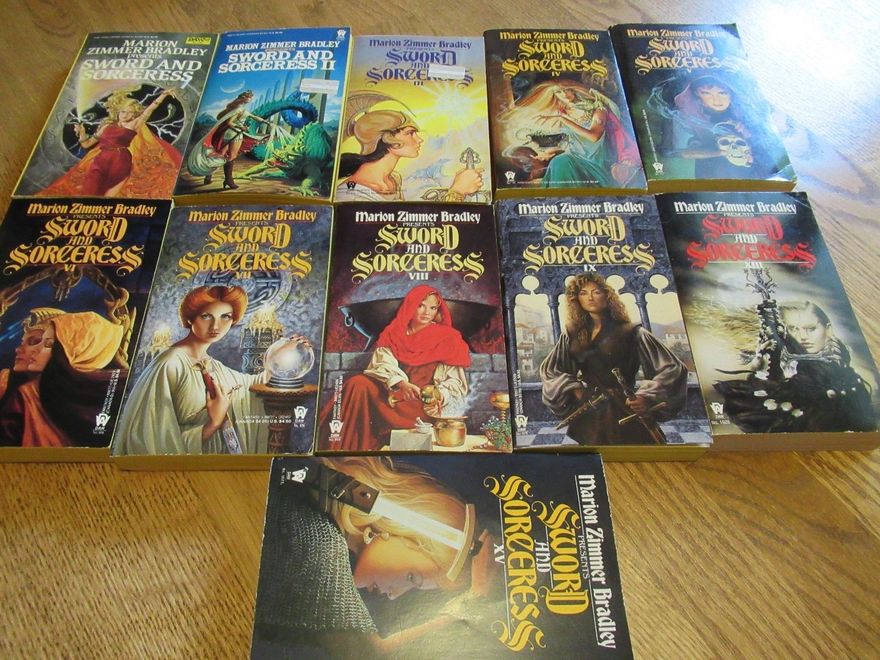 Sword and Sorcery has a rich history of anthology series. Lin Carter's seminal Flashing Swords and Andy Offutt's Swords Against Darkness are probably the most famous examples, but in terms of longevity and influence on the field I think they're both eclipsed by Marion Zimmer Bradley's Sword & Sorceress anthologies. The first one appeared from DAW Books in 1984, and there's been a new volume every year since, with a single three-year gap between 2004-07. Last year's Marion Zimmer Bradley's Sword and Sorceress, edited by Elisabeth Waters, was #31.
The series is critical to the history of the field for more than its longevity, however. Unlike Carter and Offutt, who invited established authors to fill their pages, Bradley and her fellow editors opened their volumes up to submissions, and the results were pretty extraordinary. Numerous young writers who would go on to great things, many of them women, were discovered or promoted very early in their career in the pages of S&S, including Emma Bull, Mercedes Lackey, Jennifer Roberson, Diana L. Paxson, Laurell K. Hamilton, Phyllis Ann Karr, Rachel Pollack, Vera Nazarian, Deborah J. Ross, Elizabeth Moon, Janet Fox, Laura J. Underwood, Rosemary Edghill, Syne Mitchell, Devon Monk, Carrie Vaughn, and many, many others. You could make a pretty compelling case that Sword & Sorceress (together with its sister publication, Marion Zimmer Bradley's Fantasy Magazine) dramatically remade modern fantasy, and may be the single greatest influence on 21st Century American fantasy so far.
The first volumes of S&S came out just as I entered grad school and my reading time dropped precipitously. So I missed out on al the excitement, but it's not too late to catch up. I found the above collection of the first nine volumes (plus VIII and XV) in great shape on eBay, and bought it for $20, about two bucks per book — about half the original cover price. That's a heck of a bargain for a lot of great reading.
Ryan Harvey reviewed the first volume for us way back in 2010:
The late author and editor Marion Zimmer Bradley probably could not have dared to guess in 1984 that her anthology series, Sword and Sorceress, would turn into a yearly and best-selling institution of fantasy short stories that would extend past her death. That the first volume in the series bears a Roman numeral shows that she did believe the anthology would see at least two volumes; that it now reaches into the mid-twenties (with the twenty-fifth due this year) shows just how much sword-and-sorcery has embraced inclusiveness during the last three decades. Strong female heroines are now a key part of the genre, completing what C. L. Moore started with her amazing — especially for the time — Jirel of Joiry stories of the 1930s. Bradley invokes Moore a few times in her introduction, and the book is dedicated to both Moore and Jirel.

Over a quarter of a century after publication, the first Sword and Sorceress holds up quite well… It's quite impressive how many of the writers presented here have remained active and successful in speculative fiction. Authors in the Table of Contents who have made themselves major names in the field include Charles De Lint, Jennifer Roberson, Phyllis Ann Kar, Emma Bull, and Robin Wayne Bailey…
In her intro to the first volume, "The Heroic Image of Women: Woman as Wizard and Warrior," Bradley explained that she created the anthology to redress the lack of strong female protagonists in sword and sorcery. She edited the series until her death in 1999. Among her papers were found enough material for three additional books, which were published by DAW as volumes XVIII, XIX, and XX (2001 – 03).
After that DAW re-titled the book Marion Zimmer Bradley's Sword And Sorceress and invited Diana L. Paxson to edit volume XXI (2004); that was the final DAW volume.
Bradley's copyrights are held by the Marion Zimmer Bradley Literary Works Trust. In February 2007 the Trust negotiated a contract with Vera Nazarian's Norilana Books to pick up the series under new editor Elisabeth Waters; the first one appeared in 20017. Since 2012 the Trust has published the Sword and Sorceress anthologies directly.
The series has a checkered reputation. While individual volumes rarely reached the heights of Carter's Flashing Swords or Offutt's Swords Against Darkness, the fact that it was open to emerging authors gave it an undeniable charm. The appeal of Bradley's S&S series was as much in discovery, in the continual parade of exciting new faces in the TOC, as anything else. There were multiple ongoing serials in its pages, and in many ways it was more like a magazine than a traditional anthology series. The series sold extremely well, and over the last three decades has become, I believe, the longest running anthology series in American fantasy.
See all our recent Vintage Treasures here.