The Summer Prince
The Summer Prince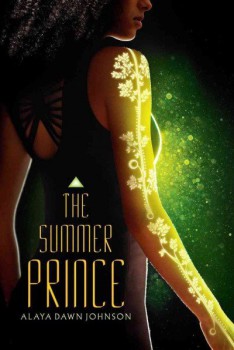 I have made my love of the mashup abundantly clear. Still, if you had told me four months ago that my favorite new book this year would be a Young Adult Brazillian-set post-apocalyptic retelling of Gilgamesh?
I would have stared at you blankly for some time before walking away. If nothing else, this just shows you how treacherous the blurb can be.
Nevertheless, after I had the privilege of hearing Alaya Dawn Johnson's Guest of Honor speech at this year's WisCon (something which is worthy of its own post), I was eager to read her work. I'm wholly glad I did.
The Summer King's main protagonist and narrator is June, a young artist who lives in the city of Palmares Tres,which rose after a worldwide cataclysm, part nuclear and part climate change, which rendered most of the surface of the planet uninhabitable. Palmares Tres is a fully enclosed city with a political structure that is both familiar and utterly strange. Its day to day life is governed by a council of elders in a manner that closely resembles a large modern city, even as it stands out for its exclusively female roster. But there familiarity ends. Palmares Tres is also ruled by a queen who serves in five year terms. That queen is chosen by the Summer King, who is elected by the people at large. The manner of that choice? He rules for one year, to be sacrificed at the end of his term. With his blood, he marks his choice as the next queen. As the book opens, June is pushing for the election of Enki, a young man from the slums of Palmares Tres, for Summer King. Her own crush on the new celebrity is complicated when he becomes involved with her best friend, Gil, and she is nominated for a prestigious scholarship.
What follows is an examination of youth, family, love, class and power, and above all, the nature of art. This last is a particular preoccupation of June: the value of art, the cost of its production and its impact on the surrounding world. That Johnson is able to convey this preoccupation without pretension is a feat in and of itself.
The Summer Prince is well-peopled with strong original characters. Johnson is able to show us realistic and believable teenagers and their parents without falling back into triteness and without making either over-precious or too witty. If anything, her cast is at times too believable. Real people in difficult situations are not always likeable, and this is particularly true of teenagers. There are moments that it is difficult to root for June. But those moments remain moments, and the strength of Johnson's writing makes those moments pay off.
And what writing that is. The prose is lush and gorgeous. Reading it, I was steadily torn between the desire to gulp it down whole and to read it in short sessions, sipping at it. (I managed the latter for a little while before giving in and finishing it in a long session the next day.) The world building is detailed and convincing, and the social tension depicted was particularly well handled. This isn't a dystopia, state-sanctioned occasional murder aside. This is real life. And where the plot works, which is the vast majority of the novel, it works well: it has a strong emotional hook that will catch you from the first pages and keep you going.
For all its strengths, however, there are a few notable weaknesses. While the world building is seamless, it's perhaps too much so for many readers. I'm familiar with Candomble, Gilgamesh, and the idea of the sacrificial king. But I'm not most readers, and judging from some internet comments I've seen a lot of her target audience was left a bit bewildered. And even knowing the history as I do, I was left with questions as well. Why does this culture have a sacrificial king? Is he a scapegoat? Is he a propitiating sacrifice? Palmares Tres is a highly literate society: you'd think we'd have an available dissertation or two on the subject. Moreover, as I said above, when the plot works it works incredibly well. But it feels uneven at times, as if it occasionally falls out of rhythm. It finds its footing again quickly, but it does stand out in an otherwise well plotted novel.
The plot and feel of The Summer Prince will inevitably draw comparisons to The Maze Runner and The Hunger Games. These are not inept comparisons, and if you enjoyed either of those series I strongly recommend Alaya Dawn Johnson's work as well. But I think this novel rises above both of these predecessors, leaving a work of art that stands in a class of its own. Even if young adult novels aren't typically your cup of tea, it's worth a few hours of your time.