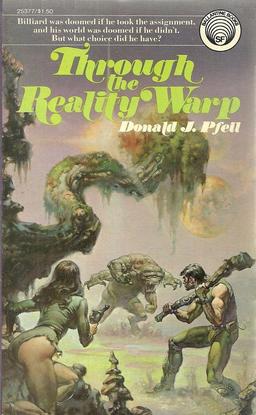 I have friends who wonder why I bother with old paperbacks. If there's one thing tablets have made obsolete, it sure seems to be the need to collect books. Of course, I collect old paperbacks because I love them, not because it's the only way to enjoy them. But in many cases, it really is the only way to get a copy of an old book. I type the words "There is no digital edition" at the bottom of at least a third of these Vintage Treasures posts (and about 15% of New Treasures, now that I think about it.)
The latest example is Donald J. Pfeil's 1976 space adventure Through the Reality Warp. Pfeil is a minor SF writer with a brief career and only two other novels to his name, Voyage to a Forgotten Sun (1975) and Look Back to Earth (1977). Not one of his books was ever reprinted. If you have a Kindle or a Nook, Pfeil will remain ever a mystery. But copies of the Ballantine paperback start at $0.01 online — cheaper than that digital book you were going to order.
"You mean even if I succeed, it's still a suicide mission?"

Latham Billiard stared at the four men standing before him… the four men who could not meet his eyes, the four men who were asking him to navigate a ship through a one-way black hole — into an alien universe — to destroy something totally unknown.

Billiard could not believe what he was hearing!

"If you don't succeed," the Guild General said, "It's death for every living thing in our universe."

What could a soft-hearted, thick skinned, cracker-jack mercenary like Billiard say? After all , it wasn't every day a man was asked to save a universe he would never see again…

An Exciting Space Adventure
Through the Reality Warp was published by Ballantine Books in February 1976. It is 164 pages, priced at $1.50 in paperback. The cover is by Boris Vallejo. It has never been reprinted, and there is no digital edition.