Selling Your Books Ain't as Easy as it Looks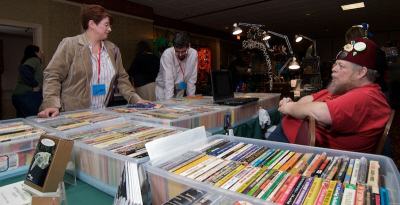 As I write this, I'm preparing to travel 60 miles or so to attend a (more or less) local convention, MarsCon 2012 in Williamsburg, Virginia. It's a terrific event, mostly a relax-a-con where the emphasis is on having a good time rather than doing business. The Guest of Honor is S. M. Stirling, author of Dies the Fire and the other Emberverse books.
I say that doing business is a secondary aspect of MarsCon, but that's true primarily of hanging with agents, editors and/or publishers and signing contracts. Not a lot of that kind of business goes on. There is plenty of trade going on, though, and in fact MarsCon is well known for having one of the best and most varied dealers' rooms on the Eastern Seaboard.
Me, I sell used and rare books there every year. Did you have any doubt?