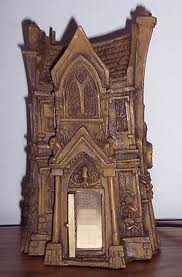 The Horror Writers Association has announced the Final Ballot for the 2012 Bram Stoker Awards. This is the 26th annual ballot; the HWA has been giving out Stoker Awards since 1987.
The award, a miniature haunted house designed by Harlan Ellison and sculptor Steven Kirk, is the coolest trophy in the genre.  Just check it out at right. The little door even opens! If anybody has one of these and they want to unload it, I'm here to help. Seriously. I'm your guy.
Ten more are going to be awarded at the Bram Stoker Awards Banquet in New Orleans on June 15. Let's get to the nominees.
SUPERIOR ACHIEVEMENT IN A NOVEL

Ethridge, Benjamin Kane – Bottled Abyss (Redrum Horror)
Everson, John – NightWhere (Samhain Publishing)
Kiernan, Caitlin R. – The Drowning Girl (Roc)
Little, Bentley – The Haunted (Signet)
McKinney, Joe – Inheritance (Evil Jester Press)

SUPERIOR ACHIEVEMENT IN A FIRST NOVEL

Boccacino, Michael – Charlotte Markham and the House of Darkling (William Morrow)
Coates, Deborah – Wide Open (Tor Books)
Day, Charles – The Legend of the Pumpkin Thief (Noble YA Publishers LLC)
Dudar, Peter – A Requiem for Dead Flies (Nightscape Press)
Gropp, Richard – Bad Glass (Ballantine/Del Rey)
Soares, L.L. – Life Rage (Nightscape Press)
---