Goth Chick News: Oscars Smoscars – Pass Me a Stoker Any Day…
Goth Chick News: Oscars Smoscars – Pass Me a Stoker Any Day…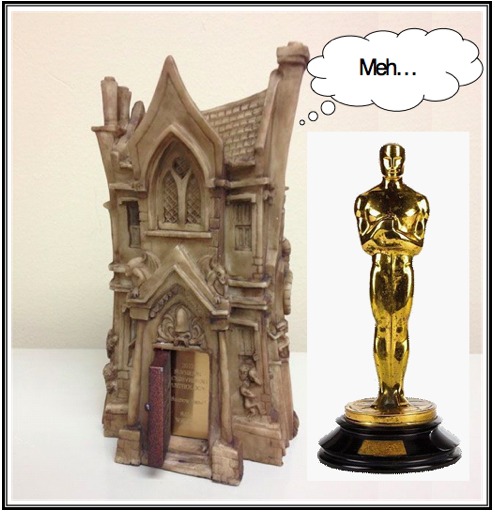 Gather round friends – it's once again time to don the footie pajamas, pour a steaming hot-toddy and hunker down until spring with the most awesome reading list of the year: namely the annual nominees for the coolest award ever.
The Bram Stoker Awards have been presented annually since 1987, and the winners are selected by ballot from the active members of the Horror Writers Association (HWA).
Several members of the HWA including Dean Koontz, were originally reluctant to endorse such writing awards, fearing it would incite competitiveness rather than friendly admiration. The HWA therefore went to great lengths to avoid mean-spirited competition by specifically seeking out new or overlooked writers and works, and officially issuing awards not based on "best of the year" criteria but for "superior achievement," which allows for ties.
Which is lovely and all, but I believe I would not be above doing something mean-spirited if not downright evil to get my hands on the award itself, which is a haunted house whose front door opens to reveal the category and winner.
Take that, Oscar…
This week the HWA announced the preliminary ballot for the 2017 Bram Stoker Awards. And the nominees are:
Superior Achievement in a Novel
The Fourth Monkey, J.D. Barker (Houghton Mifflin Harcourt)
Ararat, Christopher Golden (St. Martin's)
The Grip of It, Jac Jemc (FSG Original)
Sleeping Beauties, Stephen King & Owen King (Scribner)
Black Mad Wheel, Josh Malerman (Ecco)
The Wardrobe Mistress, Patrick McGrath (Hutchinson)
I Wish I Was Like You, S.P. Miskowski (JournalStone)
Under a Watchful Eye, Adam Nevill (Pan Macmillan)
The Silent Companions, Laura Purcell (Raven)
Hounds of the Underworld, Dan Rabarts & Lee Murray (Raw Dog Screaming)
Ubo, Steve Rasnic Tem (Solaris)
Superior Achievement in a First Novel
Cold Cuts, Robert Payne Cabeen (Omnium Gatherum)
In the Valley of the Sun, Andy Davidson (Skyhorse)
Tip of the Iceberg, Ash Hartwell (Stitched Smile)
What do Monsters Fear?, Matt Hayward (Post Mortem)
The Boulevard Monster, Jeremy Hepler (Bloodshot)
The Mercy of the Tide, Keith Rosson (Meerkat)
Kill Creek, Scott Thomas (Ink Shares)
Superior Achievement in a Young Adult Novel
The Door to January, Gillian French (Islandport)
Hellworld, Tom Leveen (Simon Pulse)
The Last Harvest, Kim Liggett (Tor Teen)
The Ravenous, Amy Lukavics (Harlequin Teen)
When I Cast Your Shadow, Sarah Porter (Tor Teen)
Superior Achievement in Long Fiction
The Book Club, Alan Baxter (PS)
Weekend Getaway, Tom Deady (Grinning Skull)
"Faking it Until Forever Comes," Scott Edelman (Liars, Fakers, and the Dead Who Eat Them)
Mapping the Interior, Stephen Graham Jones (Tor.com Publishing)
The Final Reconciliation, Todd Keisling (Crystal Lake)
Agents of Dreamland, Caitlín R. Kiernan (Tor.com Publishing)
Down Among the Sticks and Bones, Seanan McGuire (Tor.com Publishing)
Sweetlings, Lucy Taylor (Tor.com Publishing)
The Strange Bird, Jeff VanderMeer (MCD)
A Kiss of Thorns, Tim Waggoner (DarkFuse)
Superior Achievement in Short Fiction
"I Will be the Reflection Until the End," Michael Bailey (Tales from the Lake, Vol. 4)
"The Baker of Millepoix," Hal Bodner (Behold!)
"Etch the Unthinkable," Kurt Fawver (Gamut 1/17)
"Even the Stars Fall," Nicola Lombardi (The Beauty of Death, Vol. 2)
"Apocalypse Then," Lisa Mannetti (Never Fear: The Apocalypse)
"No Filter," Caitlin Marceau (Read-Only)
"So Sings the Siren," Annie Neugebauer (Apex 10/12/17)
"Coyote," Naomi Brett Rourke (Straight Outta Tombstone)
"A Ware That Will Not Keep," John F.D. Taff (Behold!)
"Absolution," M.F. Wahl (Feverish Fiction 5/17)
"All the Windows and All the Doors," Damien Angelica Walters (Chopping Block Party)
"Loving You Darkly," Mercedes M. Yardley (F(r)iction Summer '17)
Superior Achievement in a Fiction Collection
Embers, Kenneth W. Cain (Crystal Lake)
Speaking to the Skull Kings, Emily B. Cataneo (Trepidatio)
Tombs, James Dorr (Elder Signs)
Behold the Void, Philip Fracassi (JournalStone)
The Dreamer in Fire and Other Stories, Sam Gafford (Hippocampus)
Strange Weather, Joe Hill (William Morrow)
And Her Smile Will Untether the Universe, Gwendolyn Kiste (JournalStone)
Goblin, Josh Malerman (Earthling)
The Carp-Faced Boy and Other Tales, Thersa Matsuura (Independent Legions)
Writing Madness, Patrick McGrath (Centipede)
Perfect Little Stitches and Other Stories, Deborah Sheldon (IFWG Australia)
Superior Achievement in an Anthology
Adam's Ladder, Michael Bailey & Darren Speegle, eds. (Written Backwards)
Sycorax's Daughters, Kinitra Brooks, Linda D. Addison & Susana Morris, eds. (Cedar Grove)
Black Feathers, Ellen Datlow, ed. (Pegasus)
Tales from the Lake, Vol. 4: The Horror Anthology, Ben Eads, ed. (Crystal Lake)
Mother's Revenge, Cin Ferguson & Broos Campbell, eds. (Scary Dairy)
California Screamin', Danielle Kaheaku, ed. (Barking Deer)
Nights of the Living Dead, Jonathan Maberry & George A. Romero, eds. (St. Martin's Griffin)
The Beauty of Death, Vol. 2: Death by Water, Alessandro Manzetti & Jodi Renee Lester, eds. (Independent Legions)
Garden of Fiends, Mark Matthews, ed. (Wicked Run)
Behold!: Oddities, Curiosities and Undefinable Wonders, Doug Murano, ed. (Crystal Lake)
Northern Frights, David Price, ed. (Grinning Skull)
Superior Achievement in Non-Fiction
Horror in Space, Michele Brittany, ed. (McFarland)
Searching for Sycorax, Kinitra D. Brooks (Rutgers University Press)
Horror Literature through History, Matt Cardin, ed. (Greenwood)
Paperbacks from Hell, Grady Hendrix (Quirk)
The Art of Horror Movies, Stephen Jones, ed. (Applause Theatre & Cinema)
Where Nightmares Come From, Joe Mynhardt & Eugene Johnson, eds. (Crystal Lake)
199 Cemeteries to See Before You Die, Loren Rhoads (Black Dog & Leventhal)
Superior Achievement in a Poetry Collection
The Lay of Old Hex, Adam Bolivar (Hippocampus)
Alchemy of Dreams and Other Poems, Michael Fantina (Hippocampus)
Visions of the Mutant Rain Forest, Robert Frazier & Bruce Boston (Crystal Lake)
When The Night Owl Screams, Michael H. Hanson (MoonDream)
No Mercy, Alessandro Manzetti (Crystal Lake)
Through Immortal Shadows Singing, Mari Ness (Papaveria)
Return to Graveyard Dust, Cynthia O'Quinn (Goose River)
heliophobia, Saba Syed Razvi (Finishing Line)
Satan's Sweethearts, Marge Simon & Mary Turzillo (Weasel)
A Collection of Nightmares, Christina Sng (Raw Dog Screaming)
Sheet Music to My Acoustic Nightmare, Stephanie M. Wytovich (Raw Dog Screaming)
Superior Achievement in a Graphic Novel
Darkness Visible, Mike Carey, Ethan David Arvind, Brendan Cahill & Livio Ramondelli (IDW)
Kindred, Damian Duffy, Octavia E. Butler & John Jennings (Abrams)
My Favorite Thing is Monsters, Emil Ferris (Fantagraphics)
The Beauty: Volume 3, Jeremy Haun, Jason Hurley, Thomas Nachlik & John Rauch (Image)
The Black Monday Murders, Jonathan Hickman & Tomm Coker (Image)
Monstress: Volume 2: The Blood, Marjorie Liu & Sana Takeda (Image)
Superior Achievement in a Screenplay
Get Out
It
Mother!
Raw
The Shape of Water
Split
Stranger Things: "MadMax"
Twin Peaks: The Return: "Gotta Light?"
Voting is open to the active and lifetime HWA members until January 30, 2018.
The "short list" of Bram Stoker Award nominees will be announced on February 5th and the lucky winners will be honored at a gala on March 3rd to be held during StokerCon at the Providence Biltmore Hotel in Providence RI.
Until then, now is the time to put those Amazon gift cards you got for the holidays to maximum use.
I'd build a case to hold an Oscar, but I'd add a special room on my house to hold a Stoker – do you agree? Post a comment or drop a line to sue@blackgate.com.