Final Ballot for the 2012 Bram Stoker Awards Announced
Final Ballot for the 2012 Bram Stoker Awards Announced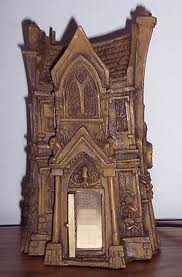 The Horror Writers Association has announced the Final Ballot for the 2012 Bram Stoker Awards. This is the 26th annual ballot; the HWA has been giving out Stoker Awards since 1987.
The award, a miniature haunted house designed by Harlan Ellison and sculptor Steven Kirk, is the coolest trophy in the genre.  Just check it out at right. The little door even opens! If anybody has one of these and they want to unload it, I'm here to help. Seriously. I'm your guy.
Ten more are going to be awarded at the Bram Stoker Awards Banquet in New Orleans on June 15. Let's get to the nominees.
SUPERIOR ACHIEVEMENT IN A NOVEL

Ethridge, Benjamin Kane – Bottled Abyss (Redrum Horror)
Everson, John – NightWhere (Samhain Publishing)
Kiernan, Caitlin R. – The Drowning Girl (Roc)
Little, Bentley – The Haunted (Signet)
McKinney, Joe – Inheritance (Evil Jester Press)

SUPERIOR ACHIEVEMENT IN A FIRST NOVEL

Boccacino, Michael – Charlotte Markham and the House of Darkling (William Morrow)
Coates, Deborah – Wide Open (Tor Books)
Day, Charles – The Legend of the Pumpkin Thief (Noble YA Publishers LLC)
Dudar, Peter – A Requiem for Dead Flies (Nightscape Press)
Gropp, Richard – Bad Glass (Ballantine/Del Rey)
Soares, L.L. – Life Rage (Nightscape Press)
SUPERIOR ACHIEVEMENT IN A YOUNG ADULT NOVEL

Bray, Libba – The Diviners (Little Brown)
Lyga, Barry – I Hunt Killers (Little Brown)
Maberry, Jonathan – Flesh & Bone (Simon & Schuster)
McCarty, Michael – I Kissed A Ghoul (Noble Romance Publishing)
Stiefvater, Maggie – The Raven Boys (Scholastic Press)
Strand, Jeff – A Bad Day for Voodoo (Sourcebooks)

SUPERIOR ACHIEVEMENT IN A GRAPHIC NOVEL

Bunn, Cullen –

The Sixth Gun Volume 3: Bound

(Oni Press)

Moore, Terry –

Rachel Rising Vol. 1: The Shadow of Death

(Abstract Studio)

Thornton, Ravi –

The Tale of Brin and Bent and Minno Marylebone

(Jonathan Cape)

Wacks, Peter J., and Guy Anthony De Marco –

Behind These Eyes

(Villainous Press)

Wood, Rocky, and Lisa Morton –

Witch Hunts: A Graphic History of the Burning Times

(McFarland)

SUPERIOR ACHIEVEMENT IN LONG FICTION

Burke, Kealan Patrick – "Thirty Miles South of Dry County" (Delirium Books)

Ketchum, Jack, and Lucky McKee – "I'm Not Sam (Sinister" Grin Press)

McKinney, Joe, and Michael McCarty – "Lost Girl of the Lake" (Bad Moon Books)

O'Neill, Gene – "The Blue Heron" (Dark Regions Press)

Prentiss, Norman – "The Fleshless Man" (Delirium Books)

SUPERIOR ACHIEVEMENT IN SHORT FICTION

Boston, Bruce – "Surrounded by the Mutant Rain Forest" (Daily Science Fiction)
McKinney, Joe – "Bury My Heart at Marvin Gardens" (Best of Dark Moon Digest, Dark Moon Books)
Ochse, Weston – "Righteous" (Psychos, Black Dog and Leventhall Publication)
Palisano, John – "Available Light" (Lovecraft eZine, March 2012)
Snyder, Lucy – "Magdala Amygdala" (Dark Faith: Invocations, Apex Book Company)

SUPERIOR ACHIEVEMENT IN SCREENPLAY

Goldman, Jane – The Woman in Black (Cross Creek Pictures)
Kim, Sang Kyu – The Walking Dead, "Killer Within" (AMC TV)
Minear, Tim – American Horror Story: Asylum, "Dark Cousin" (Brad Falchuk Teley-Vision, Ryan Murphy Productions)
Ross, Gary, Suzanne Collins, and Billy Ray – The Hunger Games (Lionsgate, Color Force)
Whedon, Joss, and Drew Goddard – The Cabin in the Woods (Mutant Enemy Productions, Lionsgate)

SUPERIOR ACHIEVEMENT IN ANTHOLOGY

Castle, Mort, and Sam Weller – Shadow Show (HarperCollins)
Guignard, Eric J. – Dark Tales of Lost Civilizations (Dark Moon Books)
Miller, Eric – Hell Comes to Hollywood (Big Time Books)
Scioneaux, Mark C., R.J. Cavender, and Robert S. Wilson – Horror for Good: A Charitable Anthology (Cutting Block Press)
Swanson, Stan – Slices of Flesh (Dark Moon Books)

SUPERIOR ACHIEVEMENT IN FICTION COLLECTION

Carroll, Jonathan – Woman Who Married a Cloud: Collected Stories (Subterranean Press)
Castle, Mort – New Moon on the Water (Dark Regions)
Hand, Elizabeth – Errantry: Strange Stories (Small Beer Press)
Hirshberg, Glen – The Janus Tree (Subterranean Press)
Oates, Joyce Carol – Black Dahlia and White Rose: Stories (Ecco)

SUPERIOR ACHIEVEMENT IN NON-FICTION

Collings, Michael – Writing Darkness (CreateSpace)
Klinger, Les – The Annotated Sandman, Volume 1 (Vertigo)
Morton, Lisa – Trick or Treat: A History of Halloween (Reaktion Books)
Paffenroth, Kim, and John W. Morehead – The Undead and Theology (Pickwick Publications)
Phillips, Kendall R. – Dark Directions: Romero, Craven, Carpenter, and the Modern Horror Film (Southern Illinois University Press)

SUPERIOR ACHIEVEMENT IN POETRY

Addison, Linda, and Stephen M. Wilson – Dark Duet (NECON eBooks)
Boston, Bruce, and Gary William Crawford – Notes from the Shadow City (Dark Regions Press)
Collings, Michael – A Verse to Horrors (Amazon Digital Services)
Simon, Marge – Vampires, Zombies & Wanton Souls (Elektrik Milk Bath Press)
Turzillo, Mary A. – Lovers & Killers (Dark Regions)
The complete list is here. Congratulations to all the nominees!
We reported on the 2011 Bram Stoker winners here, and we covered the 2010 nominees here.