The 2010 Bram Stoker Award Nominees
The 2010 Bram Stoker Award Nominees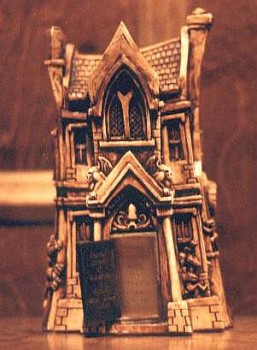 The final ballot for the 2010 Bram Stoker Awards has been announced. The Bram Stoker Awards are given each year by the Horror Writer's Association for Superior Achievement. The categories are Novel, First Novel, Long Fiction, Short Fiction, Anthology, Collection, Non-Fiction, and Poetry Collection. The winers will be announced at the Stoker Weekend in Long Island NY, from June 16-19. The winners receive what is undoubtedly the coolest trophy the genre has to offer: a miniature haunted house designed by Gahan Wilson. The door even opens, with the winner's name engraved on the inside. Man. I want one of these on my mantle so bad. Not bad enough to actually write a horror novel, but I wonder if I could get one on eBay. Well, eight more are going to be given out this June, so my chances are going up. The nominees include:
Superior Achievement in a Novel

Horns, Joe Hill (William Morrow)
Rot and Ruin, Jonathan Maberry (Simon & Schuster)
Dead Love, Linda Watanabe McFerrin (Stone Bridge Press)
Apocalypse of the Dead, Joe McKinney (Pinnacle)
Dweller, Jeff Strand (Leisure/Dark Regions Press)
A Dark Matter, Peter Straub (DoubleDay)

Superior Achievement in a Collection

Occultation, Laird Barron (Night Shade Books)
Blood and Gristle, Michael Louis Calvillo (Bad Moon Books)
Full Dark, No Stars, Stephen King (Simon & Schuster)
The Ones That Got Away, Stephen Graham Jones (Prime Books)
A Host of Shadows, Harry Shannon (Dark Regions)
The complete list is here. Congratulations to all the nominees! And don't forget, eBay is a fine place to unload all those annoying trophies cluttering up your home.