March/April Fantasy & Science Fiction Magazine Now on Sale
March/April Fantasy & Science Fiction Magazine Now on Sale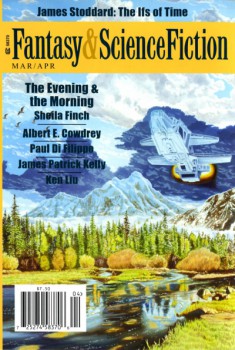 The March/April double issue of Fantasy & Science Fiction goes on sale today.
Click on the image at left for a full-sized version of the cool cover art by Kent Bash, illustrating Sheila Finch's novella "The Evening and the Morning."
In addition to Finch, this issue features novelets by Albert E. Cowdrey and Francis Marion Soty, and short stories by Paul Di Filippo, James Patrick Kelly, Kali Wallace, James Stoddard, and others.
It also includes "Night Gauntlet," a short story attributed to no less than six authors: Walter C. DeBill, Jr., Richard Gavin, Robert M. Price, W. H. Pugmire, Jeffrey Thomas, and Don Webb. Looking forward to that one!
F&SF is published six times a year; issues are a generous 258 pages.  It is the longest-running professional fantasy magazine in the country, and has been published continuously since 1949. It is a great way to sample some of the fast-rising new names in fantasy.
The cover price is $7.50; one year-subscriptions are a bargain at $34.97, and include the giant October/November anniversary issue. You can order subscriptions and browse their blog at www.sfsite.com/fsf/.
We covered the Jan/Feb issue of F&SF here.