Jan/Feb Fantasy & Science Fiction Magazine Now on Sale
Jan/Feb Fantasy & Science Fiction Magazine Now on Sale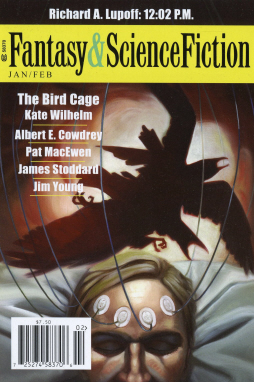 The big January/February double issue of The Magazine of Fantasy & Science Fiction goes on sale today.
The issue features four novelettes by Matthew Corradi, Albert E. Cowdrey, Pat MacEwan, and "The Bird Cage," by Kate Wilhelm. There are short stories from Alan Dean Foster, Rick Norwood, Chris Lawson, James Stoddard, Jim Young, Bill Pronzini and Barry N. Malzberg, and Richard A. Lupoff.
Asked about the issue, Editor Gordon van Gelder had this comment:
I hope the presence of a Ghost Wind and a Whirlwind in the issue won't lead anyone to conclude the issue is long-winded.
F&SF is published six times a year; issues are 258 pages.  It is the longest-running professional fantasy magazine in the country, and has been published continuously since 1949.
The new cover price is $7.50; cover artist this issue is Kristin Kest. The magazine's website, where you can order subscriptions and browse their blog, is at www.sfsite.com/fsf/.
We covered the Nov/Dec issue of F&SF here.