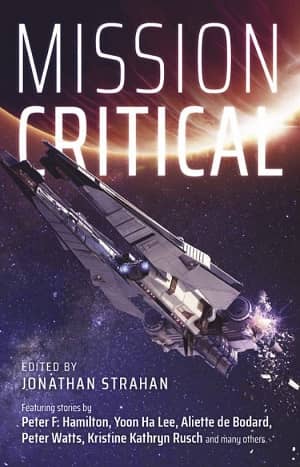 Happy release day to Mission Critical, the brand new anthology from Jonathan Strahan, editor of Engineering Infinity (2010), Drowned Worlds (2016), and thirteen volumes of The Best Science Fiction and Fantasy of the Year.
In a Facebook post announcing the release today, Jonathan said:
My new book is out in the world! With stories by by Peter F. Hamilton, Yoon Lee, Aliette de Bodard, Greg Egan, Linda Nagata, Gregory Feeley, John Barnes, Tobias Buckell, Jason Fischer & Sean Williams, Carolyn Ives Gilman, John Meaney, Dominica Phetteplace, Allen M. Steele, Kristine Kathryn Rusch, and Peter Watts, [it's] a mix of great science fiction adventure all based on the idea that when things go wrong you have to do *something*!

I love the stories in the book and am really proud of it. If you've ever enjoyed one of my anthologies, if you liked stories like The Martian, if you just want to keep anthologies coming out, or if you just love good short fiction, consider ordering this one.
I'll second that notion. Jonathan has become one of the most respected and successful anthologists in the field. Back in 2015 I talked about how his book Meeting Infinity was the Most Successful Anthology of the year, and just last year Todd McAulty (author of The Robots of Gotham) opined about How Science Fiction Was Saved by Solaris and Jonathan Strahan.
Todd's point was that short fiction is still critically important to the field, and that prestige anthologies like Strahan's Infinity project are still the most reliable way for readers to discover new authors. It's a premise that a lot of Black Gate readers agree with.
If you enjoy short fiction, or science fiction at all, supporting books like Mission Critical — and the publishers who produce them — is important. I hope you'll give it a try. And if you enjoy it, I hope you'll spread the word far and wide. (And if you don't, why not shut the hell up about it.)
Mission Critical was published in paperback by Solaris today. Here's the publisher's description.
---