New Treasures: The Best of R. A. Lafferty, edited by Jonathan Strahan
New Treasures: The Best of R. A. Lafferty, edited by Jonathan Strahan
At last! At last! The Best of R. A. Lafferty is available here in the United States.
Back in October of last year, uber-editor Jonathan Strahan made the following terse announcement on his Facebook page, alongside a tantalizing cover reveal.
The Best of R.A. Lafferty will be published by Gollancz in March 2019. The book features 22 classic Lafferty stories along with an introduction by Neil Gaiman and forewords by some of the most important writers and editors working in the field today.
Fabulous! Lafferty is one of my favorite short story writers, and far too much of his work — virtually all of it, really — is either long out of print, or available only in very expensive collector's editions from Centipede Press. The prospect of a generous collection of his best short fiction in a compact and affordable trade paperback edition (with a cover by Emanuel Santos illustrating one of his finest stories, "Nine Hundred Grandmothers") seemed too good to be true.
And for a while, it look like it would be. I immediately added the book to my Amazon queue, and impatiently awaited the March release date. It came and went, and Amazon switched the status of the book from "Available for pre-order" to flat-out "Unavailable." Copies of the book were unavailable through any of my regular sources. Until a few weeks ago, when a handful of sellers finally signaled they had it in stock. I placed an order, and it arrived last week.
And what a book it is. Not only does it include 22 terrific stories, but editor Strahan has also assembled thoughtful and entertaining intros to each by some of the finest writers in the field, including Samuel R. Delany, Robert Silverberg, Michael Swanwick, Michael Bishop, John Scalzi, Jeff VanderMeer, Nancy Kress, Andy Duncan, Gregory Frost, Neil Gaiman, Connie Willis, Jack Dann, Harlan Ellison, Cat Rambo, and many others.
The book is part of the legendary SF Masterworks series from Gollancz, which includes many of the finest science fiction novels and collections ever published. (Just how many? I have no idea for certain, and there are multiple contradictory lists about, but this one from Worlds Without End includes 166 volumes, and it's missing 2019 titles.)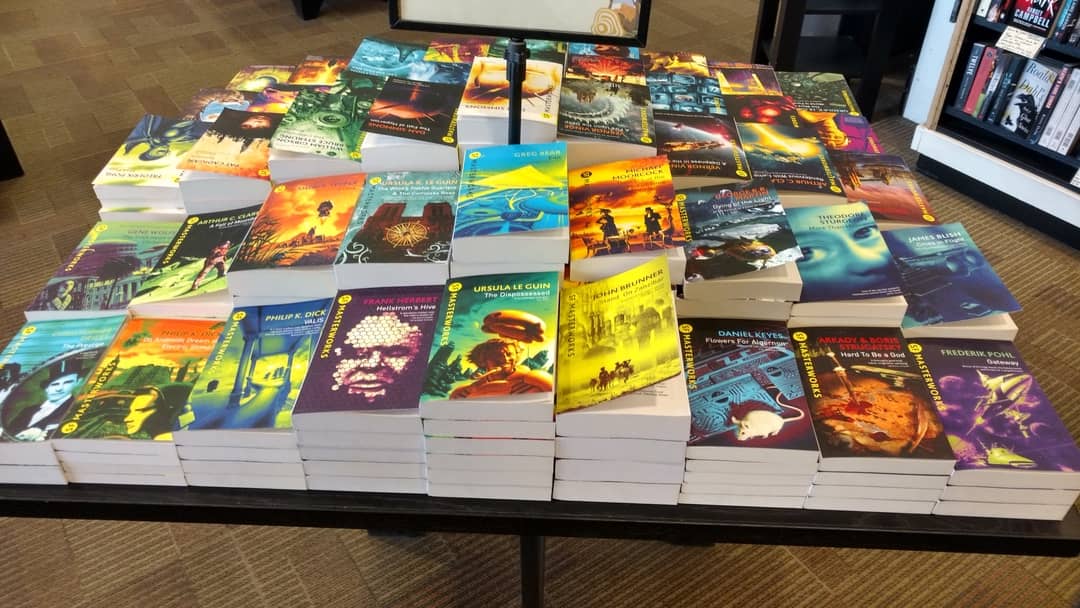 A small fraction of the amazing SF Masterworks line
Here's the complete Table of Contents for The Best of R.A. Lafferty.
Not to Mention R.A. Lafferty: A Personal Introduction, Neil Gaiman
1. Slow Tuesday Night (Introduction by Michael Dirda)
2. Narrow Valley (Introduction by Michael Swanwick)
3. Nor Limestone Islands (Introduction by Michael Bishop)
4. Interurban Queen (Introduction by Terry Bisson)
5. Thus We Frustrate Charlemagne (Introduction by Jack Dann)
6. In Our Block (Introduction by Neil Gaiman)
7. Ride a Tin Can (Introduction by Neil Gaiman)
8. Nine Hundred Grandmothers (Introduction by Patton Oswalt/Afterword by Andy Duncan)
9. Land of the Great Horses (Introduction by Harlan Ellison/Afterword by Gregory Frost)
10. Eurema's Dam (Introduction by Robert Silverberg)
11. Selenium Ghosts of the Eighteen Seventies (Introduction by Kelly Robson)
12. The Primary Education of the Camiroi (Introduction by Samuel R. Delany)
13. Continued on Next Rock (Introduction by Nancy Kress/Afterword by R.A. Lafferty)
14. Sky (Introduction by Gwenda Bond)
15. Cliffs That Laughed (Introduction by Gregory Feeley)
16. Seven-Day Terror (Introduction by Connie Willis)
17. Boomer Flats (Introduction by Cat Rambo)
18. Old Foot Forgot (Introduction by John Scalzi)
19. The World as Will and Wallpaper (Introduction by Samuel R. Delany)
20. Funnyfingers (Introduction by Andrew Ferguson)
21. Thieving Bear Planet (Introduction by Jeff VanderMeer)
22. Days of Grass, Days of Straw (Introduction by Gary K. Wolfe)
So far the only thing I've read is Neil Gaiman's warm and delightful introduction, which lays much of the credit for his early interest in writing science fiction at Lafferty's feet. Here's a short excerpt, including a rather astonishing tale of his early interaction with the man himself.
I was twenty-one, and I did not know I wanted to do or be, but I suspected that I wanted to be a writer. The only story I had completed by then was an R.A. Lafferty pastiche… I wrote him a letter, and with it, I sent the story.

The address was out of date, but the letter was eventually forwarded and it reached him, and to my genuine astonishment, he wrote back, thanking me for the 'pretty good sketch or pastiche or something, not a short story, however, although the title page says that it is. It might be saleable, depending on the quirks of the market when you send it out. A good piece wakens a spark of recognition in every breast, so somebody once said. This, of course, wakens a special spark of recognition.' And he added, 'Why don't you write another piece or two? Things are fun to write and there doesn't have to be any other reason.'

My favourite writer told me I should write some more, so I did.
'Things are fun to write and there doesn't have to be any other reason.' How wonderfully droll, and astonishingly true. How very Lafferty.
Our previous coverage of R.A. Lafferty includes:
R.A. Lafferty: An Attempt at an Appreciation by Matthew David Surridge
R.A. Lafferty Literary Estate For Sale
Nine Hundred Grandmothers
Annals of Klepsis
R.A. Lafferty, the Past Master of Science Fiction
The Hilarity of the Strange: The Man Underneath: The Collected Short Fiction of R. A. Lafferty, Volume 3 by Steve Case
Birthday Reviews: R.A. Lafferty's "Sodom and Gomorrah, Texas" by Steven H Silver
Golden Age of Science Fiction: The 1973 Hugo Award for Best Short Story: "The Meeting," by Frederik Pohl and C. M. Kornbluth, and "Eurema's Dam," by R. A. Lafferty by Rich Horton
The Best of R.A. Lafferty was published by Gollancz SF Masterworks on April 4, 2019. It is 454 pages, priced at £9.99 in trade paperback. There is no US edition, and as yet no digital edition. The cover is by Emanuel Santos.
Enjoy these looks at science fiction New Treasures? See more here.