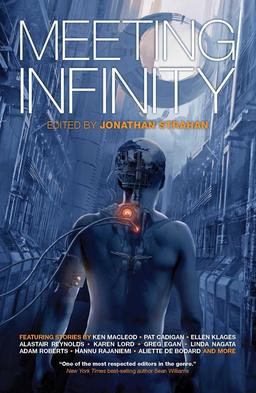 It's beginning to look as if Jonathan Strahan's Meeting Infinity is the most successful SF anthology of 2015… at least if you use story reprints as your yardstick (which I kinda do).
Let's examine the evidence. Rich Horton reprinted two stories from Meeting Infinity for his Year's Best Science Fiction and Fantasy:
"My Last Bringback" by John Barnes
"Drones" by Simon Ings
Neil Clarke reprinted a whopping four for his Best Science Fiction of the Year, Volume 1, more than any other source except Asimov's SF. Of course, they were a different four.
"In Blue Lily's Wake" by Aliette de Bodard
"Outsider" by An Owomeyla
"Cocoons" by Nancy Kress
"The Cold Inequalities" by Yoon Ha Lee
Meanwhile Gardner Dozois picked a completely different set of three tales, for the upcoming 33rd volume of his Year's Best Science Fiction
"The Falls: A Luna Story," by Ian McDonald
"Emergence," by Gwyneth Jones
"Rates of Change," by James S.A. Corey
That's a darned impressive hit rate… over 50% of the Table of Contents selected for Best of the Year volumes. I'm sure there's an historical precedent if you look hard enough, but I can't remember one. And I tried.
---