Future Treasures: Bridging Infinity, edited by Jonathan Strahan
Future Treasures: Bridging Infinity, edited by Jonathan Strahan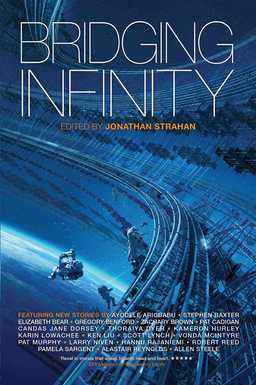 Jonathan Strahan's Infinity books have gradually earned a reputation as the finest ongoing anthology series in the genre — and perhaps, one of the finest in the history of the genre. In my June article The Most Successful Anthology of 2015, I pointed out that over half of the contents of the fourth book in the series had been selected for Year's Best volumes. If that's not a record, it has to be close.  In just two weeks the fifth volume in the series, Bridging Infinity, arrives in trade paperback from Solaris, and I am very much looking forward to it.
BUILDING TOWARDS TOMORROW

Sense of wonder is the lifeblood of science fiction. When we encounter something on a truly staggering scale – metal spheres wrapped around stars, planets rebuilt and repurposed, landscapes re-engineered, starships bigger than worlds – the only response we have is reverence, admiration, and possibly fear at something that is grand, sublime, and extremely powerful.

Bridging Infinity puts humanity at the heart of that experience, as builder, as engineer, as adventurer, reimagining and rebuilding the world, the solar system, the galaxy and possibly the entire universe in some of the best science fiction stories you will experience.

Bridging Infinity continues the award-winning Infinity Project series of anthologies with new stories from Alastair Reynolds, Pat Cadigan, Stephen Baxter, Charlie Jane Anders, Tobias S.Buckell, Karen Lord, Karin Lowachee, Kristine Kathryn Rusch, Gregory Benford, Larry Liven, Robert Reed, Pamela Sargent, Allen Steele, Pat Murphy, Paul Doherty, An Owomoyela, Thoraiya Dyer and Ken Liu.
The previous volumes in the series are:
Engineering Infinity (2010)
Edge of Infinity (2012)
Reach For Infinity (2014)
Meeting Infinity (2015)
And here's the complete Table of Contents.
Introduction by Jonathan Strahan
"Sixteen Questions for Kamala Chatterjee" by Alastair Reynolds
"Six Degrees of Separation Freedom" by Pat Cadigan
"The Venus Generations" by Stephen Baxter
"Rager in Space" by Charlie Jane Anders
"The Mighty Slinger" by Karen Lord and Tobias S. Buckell
"Ozymandias" by Karin Lowachee
"The City's Edge" by Kristine Kathryn Rusch
"Mice Among Elephants" by Larry Niven and Gregory Benford
"Parables of Infinity" by Robert Reed
"Monuments" by Pamela Sargent
"Apache Charley and the Pentagons of Hex" by Allen Steele
"Cold Comfort" by Pat Murphy and Paul Doherty
"Travelling into Nothing" by An Owomoyela
"Induction" by Thoraiya Dyer
"Seven Birthdays" by Ken Liu
Bridging Infinity will be published by Solaris on November 8, 2016. It is 356 pages, priced at $14.99 in trade paperback and $6.99 for the digital edition.
See all of our coverage of the best in upcoming SF and fantasy here.