Future Treasures: The Year's Best Science Fiction and Fantasy, Volume Thirteen, edited by Jonathan Strahan
Future Treasures: The Year's Best Science Fiction and Fantasy, Volume Thirteen, edited by Jonathan Strahan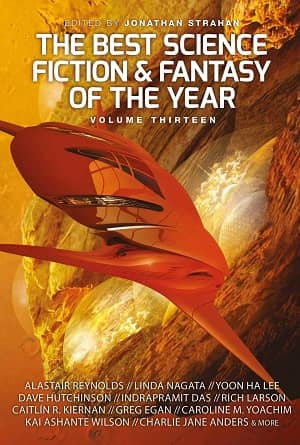 The 2019 Hugo Awards Finalists were announced this week and, as usual, I immediately wanted to track down the short fiction nominees I missed last year (which turns out to be most of 'em, but I won't let this digress into a cranky rant about the precious little short fiction I get to read these days.) Many of the nominees are online of course, but scattered across numerous sites. So it made me laugh when I saw this tongue-in-cheek post from editor Jonathan Strahan on Facebook this morning:
Hugo Awards nominees? Shortlists? If only there were somewhere you could read a whole bunch of the nominees all in one place, right now. Hmmm.
He's referring, of course, to his upcoming book The Year's Best Science Fiction and Fantasy Volume Thirteen, arriving from Solaris in two weeks. It contains 30 stories, including a whopping seven Hugo nominees. I know this because Piet Nel conveniently did the counting for me in the comments:
I'd go for a book that had at least four of the Nebula finalists, seven up for the Hugo, and six on the final Sturgeon ballot. If only I knew of such a book…
While I don't mean to imply that a pure nominee count is the best measure of success for a Year's Best anthology, you still have to give it up for Strahan. The man has excellent taste, and no mistake.
While it's great to have a single volume packed with so much Hugo nominee goodness, the arrival of Volume Thirteen is still bittersweet. It is the final book in the series, which has been one of the most rewarding of the Year's Best in the modern era. This is a book that I have looked forward to each and every year, and it will be much missed.
But when God closes a door, He opens a window, as they say (and what the heck does that even mean?) In any event, without missing a beat Jonathan announced a brand new Year's Best series with Saga Press, the inaugural volume of which ships next year. In the meantime, we have Volume Thirteen of this series to look forward to, with stories by John Crowley, Jeffrey Ford, N K Jemisin, Naomi Kritzer, Ken Liu, Rich Larson, Garth Nix, Kelly Robson, Tade Thompson, Alyssa Wong, Elizabeth Bear, Daryl Gregory, Maria Dahvana Headley, Andy Duncan, and many others. Here's the complete table of contents.
"Dreadful Young Ladies," Kelly Barnhill (Dreadful Young Ladies and Other Stories)
"Okay, Glory," Elizabeth Bear (Twelve Tomorrows)
The Only Harmless Great Thing, Brooke Bolander (Tor.com Publishing)
"If at First You Don't Succeed, Try, Try Again," Zen Cho (B&N Sci-Fi & Fantasy Blog, 11/31/18)
"The Secret Lives of the Nine Negro Teeth of George Washington," P Djeli Clark (Fireside Magazine)
"Flint and Mirror," John Crowley (The Book of Magic)
"An Agent of Utopia," Andy Duncan (An Agent of Utopia)
"The Bookcase Expedition," Jeffrey Ford (Robots vs. Fairies)
"Nine Last Days on Planet Earth," Daryl Gregory (Tor.com)
"A Witch's Guide to Escape: A Practical Compendium of Portal Fantasies," Alix E. Harrow (Apex Magazine)
"You Pretend Like You Never Met Me, and I'll Pretend Like I Never Met You," Maria Dahvana Headley (Lightspeed)
"When We Were Starless," Simone Heller (Clarkesworld)
"The Woman Who Destroyed Us," SL Huang (Twelve Tomorrows)
"Golgotha," Dave Hutchinson (2001: An Odyssey in Words)
"The Storyteller's Replacement," N K Jemisin (How Long Till Black Future Month?)
"The Rose MacGregor Drinking and Admiration Society," T. Kingfisher (Uncanny)
"Field Biology of the Wee Fairies," Naomi Kritzer (Apex, 9/4/18)
"Meat and Salt and Sparks," Rich Larson (Tor.com)
"Firelight," Ursula K Le Guin (The Paris Review 225)
"The Starship and the Temple Cat," Yoon Ha Lee (Beneath Ceaseless Skies)
"Quality Time," Ken Liu (Robots vs. Fairies)
"A Brief and Fearful Star," Carmen Maria Machado (Slate)
"The Blue Fairy's Manifesto," Annalee Newitz (Robots vs. Fairies)
"The Staff in the Stone," Garth Nix (The Book of Magic)
"Blessings," Naomi Novik (Uncanny)
"Mother Tongues," S. Qiouyi Lu (Asimov's Science Fiction)
"Intervention," Kelly Robson (Infinity's End)
"Widdam," Vandana Singh (F&SF)
"Yard Dog," Tade Thompson (Fiyah #7)
"Olivia's Table," Alyssa Wong (A Thousand Beginnings and Endings)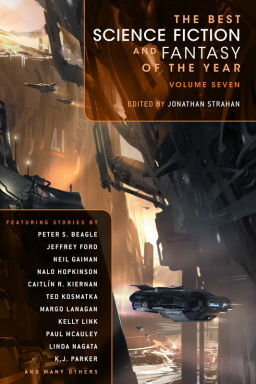 Our previous coverage of Jonathan's anthologies include:
How Science Fiction Was Saved by Solaris and Jonathan Strahan by Todd McAulty
The Best Science Fiction and Fantasy of the Year, Volume Six
The Best Science Fiction and Fantasy of the Year, Volume Seven
The Best Science Fiction and Fantasy of the Year Volume Eight
The Best Science Fiction and Fantasy of the Year: Volume Nine
The Best Science Fiction and Fantasy of the Year: Volume Ten
The Best Science Fiction and Fantasy of the Year, Volume Eleven
The Best Science Fiction and Fantasy of the Year, Volume Twelve
The Best Science Fiction and Fantasy of the Year, Volume Thirteen will be published by Solaris Books on April 16, 2017. It is 672 pages, priced at $19.99 in trade paperback. The cover is by Jim Burns. See complete details here.
See all our coverage of the best upcoming fantasy and science fiction here.