New Treasures: The Best Science Fiction and Fantasy of the Year, Volume Seven, edited by Jonathan Strahan
New Treasures: The Best Science Fiction and Fantasy of the Year, Volume Seven, edited by Jonathan Strahan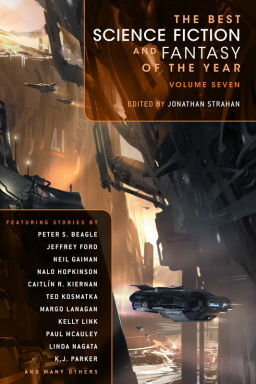 I always look forward to the Best of the Year anthologies. It's an annual ritual, like the arrival of spring, heralding new hope and rebirth for the land. Or something.
Over the next few months, we'll see several of them, from Rich Horton, David Hartwell, Gardner Dozois, Stephen Jones, and Paula Guran, just to name a few. But the season kicks off every year with Jonathan Strahan's Best Science Fiction and Fantasy of the Year, certainly one of the most interesting volumes for fantasy fans.
Like the preceding six volumes, it is published by Night Shade Books, who are experiencing difficulties. Likely this will be the last one, at least in this format.
In short: if you're at all interested in a generous collection of some of the finest SF and fantasy from the best writers in the genre, do what I did and buy it now while it's still available.
Here's what we know about the stories:
Four artificial intelligences struggle towards life on the icy moon of Callisto; insect love means something deeply disturbing in a world of mantis wives; an elderly woman matches wits with Death in a battle for her life; a birthday party on a spaceship is haunted by ghosts from afar; a UFO researcher finds far more than she's looking for in the backwoods of Missouri; a grand tour of the solar system ends in an unexpected discovery; a researcher strives to make one last grand discovery before the stars wink out a final time…
And here's the complete table of contents.
"The Woman Who Fooled Death Five Times," Eleanor Arnason
"Great Grandmother in the Cellar," Peter S. Beagle
"Immersion," Aliette de Bodard
"Troll Blood," Peter Dickinson
"Close Encounters," Andy Duncan
"Blood Drive," Jeffrey Ford
"Adventure Story," Neil Gaiman
"The Grinnell Method," Molly Gloss
"Beautiful Boys," Theodora Goss
"The Easthound," Nalo Hopkinson
"Mantis Wives," Kij Johnson
"Bricks, Sticks, Straw," Gwyneth Jones
"Goggles c 1910," Caitlin R. Kiernan
"The Education of a Witch," Ellen Klages
"The Color Least Used by Nature," Ted Kosmatka
"Significant Dust," Margo Lanagan
"Two Houses," Kelly Link
"Mono No Aware," Ken Liu
"Macy Minnot's Last Christmas on Dione, Ring Racing, Fiddler's Green, the Potter's Garden," Paul McAuley
"Swift", Brutal Retaliation," Megan McCarron
"About Fairies," Pat Murphy
"Nahiku West," Linda Nagata
"Let Maps to Others," K.J. Parker
"Jack Shade in the Forest of Souls," Rachel Pollack
"Katabasis," Robert Reed
"What Did Tessimond Tell You?" Adam Roberts
"The Contrary Gardener," Christopher Rowe
"Joke in Four Panels," Robert Shearman
"Domestic Magic," Steve Rasnic Tem & Melanie Tem
"Reindeer Mountain," Karin Tidbeck
"Fade to White," Catherynne M. Valente
"A Bead of Jasper, Four Small Stones," Genevieve Valentine
The distinguished Mr. Strahan has made a name for himself editing some of the more notable anthologies and collections of the last few years, including Edge of Infinity, Life on Mars: Tales from the New Frontier, Engineering Infinity, and Swords & Dark Magic (with Lou Anders). He was also the editor of the acclaimed Eclipse series, which ran four volumes.
We looked at The Best Science Fiction and Fantasy of the Year, Volume Six — still in print — last year.
The Best Science Fiction and Fantasy of the Year, Volume Seven was published by Night Shade Books on April 18. It is 629 pages, priced at $19.99. There is no digital edition.