New Treasures: The Best of R. A. Lafferty, edited by Jonathan Strahan
New Treasures: The Best of R. A. Lafferty, edited by Jonathan Strahan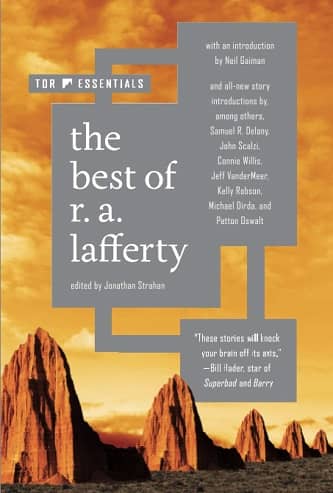 Two years ago, when The Best of R.A. Lafferty was published by Gollancz SF Masterworks, I wrote an excited New Treasures article that began like this:
Fabulous! Lafferty is one of my favorite short story writers, and far too much of his work — virtually all of it, really — is either long out of print, or available only in very expensive collector's editions from Centipede Press. The prospect of a generous collection of his best short fiction in a compact and affordable trade paperback edition… seemed too good to be true.
It almost was. The Gollancz edition was very hard to acquire in the US (and it still is). Fortunately Tor Books saw fit to reprint the book as part of their own Tor Essentials line earlier this month, and it's now widely available in a handsome and affordable trade paperback edition. Here's the publisher's description.
Tor Essentials presents science fiction and fantasy titles of proven merit and lasting value, each volume introduced by an appropriate literary figure.

Acclaimed as one of the most original voices in modern literature, a winner of the World Fantasy Award for lifetime achievement, Raphael Aloysius Lafferty (1914-2002) was an American original, a teller of acute, indescribably loopy tall tales whose work has been compared to that of Avram Davidson, Flannery O'Connor, Flann O'Brien, and Gene Wolfe.

The Best of R. A. Lafferty presents 22 of his best flights of offbeat imagination, ranging from classics like "Nine Hundred Grandmothers" and "The Primary Education of the Cameroi" to his Hugo Award-winning "Eurema's Dam."

Introduced by Neil Gaiman, the volume also contains story introductions and afterwords by, among many others, Michael Dirda, Samuel R. Delany, John Scalzi, Connie Willis, Jeff VanderMeer, Kelly Robson, Harlan Ellison, Michael Swanwick, Robert Silverberg, Neil Gaiman, and Patton Oswalt.
This is a joyous, wonderful, and wholly surprising book that belongs in the collection of every serious science fiction reader. Here the complete Table of Contents.
Not to Mention R.A. Lafferty: A Personal Introduction, Neil Gaiman
1. Slow Tuesday Night (Introduction by Michael Dirda)
2. Narrow Valley (Introduction by Michael Swanwick)
3. Nor Limestone Islands (Introduction by Michael Bishop)
4. Interurban Queen (Introduction by Terry Bisson)
5. Thus We Frustrate Charlemagne (Introduction by Jack Dann)
6. In Our Block (Introduction by Neil Gaiman)
7. Ride a Tin Can (Introduction by Neil Gaiman)
8. Nine Hundred Grandmothers (Introduction by Patton Oswalt/Afterword by Andy Duncan)
9. Land of the Great Horses (Introduction by Harlan Ellison/Afterword by Gregory Frost)
10. Eurema's Dam (Introduction by Robert Silverberg)
11. Selenium Ghosts of the Eighteen Seventies (Introduction by Kelly Robson)
12. The Primary Education of the Camiroi (Introduction by Samuel R. Delany)
13. Continued on Next Rock (Introduction by Nancy Kress/Afterword by R.A. Lafferty)
14. Sky (Introduction by Gwenda Bond)
15. Cliffs That Laughed (Introduction by Gregory Feeley)
16. Seven-Day Terror (Introduction by Connie Willis)
17. Boomer Flats (Introduction by Cat Rambo)
18. Old Foot Forgot (Introduction by John Scalzi)
19. The World as Will and Wallpaper (Introduction by Samuel R. Delany)
20. Funnyfingers (Introduction by Andrew Ferguson)
21. Thieving Bear Planet (Introduction by Jeff VanderMeer)
22. Days of Grass, Days of Straw (Introduction by Gary K. Wolfe)
Our previous coverage of R.A. Lafferty includes:
R.A. Lafferty: An Attempt at an Appreciation by Matthew David Surridge
R.A. Lafferty Literary Estate For Sale
Nine Hundred Grandmothers
Annals of Klepsis
R.A. Lafferty, the Past Master of Science Fiction
The Hilarity of the Strange: The Man Underneath: The Collected Short Fiction of R. A. Lafferty, Volume 3 by Steve Case
Birthday Reviews: R.A. Lafferty's "Sodom and Gomorrah, Texas" by Steven H Silver
Golden Age of Science Fiction: The 1973 Hugo Award for Best Short Story: "The Meeting," by Frederik Pohl and C. M. Kornbluth, and "Eurema's Dam," by R. A. Lafferty by Rich Horton
The Best of R. A. Lafferty, edited by Jonathan Strahan
The Best of R. A. Lafferty was published by Tor Books on February 2, 2021. It is 288 pages, priced at $18.99 in paperback and $12.99 in digital formats. The cover artist is uncredited.
See all our recent New Treasures here.