In 500 Words or Less: The Book of Dragons, edited by Jonathan Strahan
In 500 Words or Less: The Book of Dragons, edited by Jonathan Strahan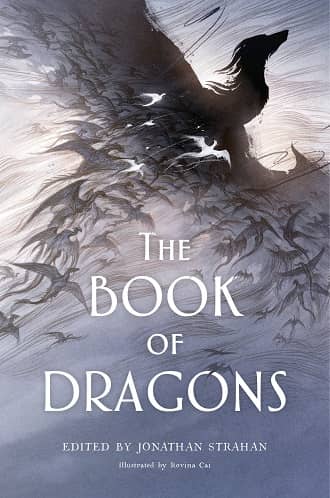 The Book of Dragons
Edited By Jonathan Strahan; illustrated by Rovina Cai
Harper Voyager (576 pages, $35 hardcover, $16.99 eBook, July 7, 2020)
More than a year ago now, I was hanging out with Kelly Robson and she mentioned a new anthology she'd been invited to contribute to. The topic? Dragons. When was it coming out? 2020 sometime, probably, and we promptly moved on to talking about other things.
It's now the middle of 2020 and that anthology is here, my friends.
Look at this freaking contributor list. You might think that an anthology about dragons is going to hit a few specific themes or styles, but you would be wrong and should know better, especially with Jonathan Strahan at the helm. I grinned with excitement reading JY Yang's "The Exile" – dragons that terraform new worlds! (Also a poignant piece about loneliness and consequence.) Pretty sure I muttered a silent "ooooooh" at how Ann Leckie and Rachel Swirsky present bee-like dragons dealing with hive collapse in "We Continue." Plus there's Elle Katharine White's story "Matriculation," about a young woman with tuition debt, her machinework dragon and a kindly vampire bookseller, which I already described on Twitter as an emotional gut punch.
If I had to pick a thematic through line (not sure if that's the right term, but I'm going with it) that seems to tie most of The Book of Dragons together, it would be family. In some cases, the focus is reforming bonds and learning to trust each other, like in Zen Cho's "Hikayat Sri Bujang, or The Tale of the Naga Sage" or Kelly's "La Vitesse" – an epic ride of Alberta school bus vs dragon. Or it's about the loss and heartache that sometimes comes with family – like the adopted human watching the hive collapse in "We Continue," or in R.F. Kuang's story "The Nine Curves River," about someone escorting their younger sister to be sacrificed to end a drought. Or the idea of found family, which Seanan McGuire captures brilliantly with "Hoard," about a long-lived dragon who cares for foster kids close to aging out the way others care about gold.
The idea of gold or treasure comes up often, too. Sometimes as more of an addendum than a focus, like in Sarah Gailey's "We Don't Talk About the Dragon." The real story there is a young girl growing up in a harsh, abusive family – though there's also a dragon living in the barn.
The original idea of how dragons shape the environment around them shows up, too, in "Naga Sage" and also Scott Lynch's "Maybe Just Go Up There and Talk to It," about a war veteran caught up in the sudden appearance of dragons reshaping the world after World War II.
I could go on and on (wait, I can't) but really you should just pick up this anthology. Dragons might have been written about a lot, but this proves that they are far from overdone.
---
An Ottawa teacher by day, Brandon has been published in On Spec, Pulp Literature, Electric Athenaeum, and elsewhere. His latest publications include his first comic, "True Balance," available on Comixology and DriveThruComics, and a reprint of his short story "Rainclouds," in A Dying Planet from Flame Tree Press. You can follow Brandon at brandoncrilly.wordpress.com or on Twitter: @B_Crilly.