Vintage Treasures: Sword-Dancer by Jennifer Roberson
Vintage Treasures: Sword-Dancer by Jennifer Roberson
Sword-Dancer by Jennifer Roberson. DAW paperback original, 1986. Cover by Kathy Wyatt
Jennifer Roberson was one of the 80s class of DAW women writers. Her first short short story, "The Lady and the Tiger," the genesis for the Tiger and Del series, appeared in Marion Zimmer Bradley's groundbreaking Sword and Sorceress 2 in 1985. Like Mercedes Lackey, Mickey Zucker Reichert, Cheryl J. Franklin (whom I covered last week) and others, Roberson was a fixture on bookstores shelves and the DAW catalog all through the 80s and 90s. She launched several popular paperback series that ran for decades, and helped transform DAW into an industry powerhouse.
Her first novel was Shapechangers (1984), the opening book in the long-running, 8-volume Chronicles of the Cheysuli. In September 1986, with the first three novels in that series under her belt, she released Sword-Dancer, the first book in perhaps her most popular series, Tiger and Del, which follows the adventures of Tiger, a legendary warrior and sword-dancer, and Del, the sword-singer who hires him to rescue her brother, and who turns out to be as good with a blade as he is — something that vexes him greatly at first.
Tiger and Del ran to seven volumes (so far). The first six were collected in a handsome trio of omnibus trade paperbacks in 2006 with new covers by Todd Lockwood, making a nicely complete set on my bookshelf… until Roberson released a seventh book, Sword-Bound, in 2013. It's tough being a collector sometimes.
As a series opener, Sword-Dancer is a little uneven, but still well worth reading. Here's a snippet from one of my favorite Goodreads reviews by Dana.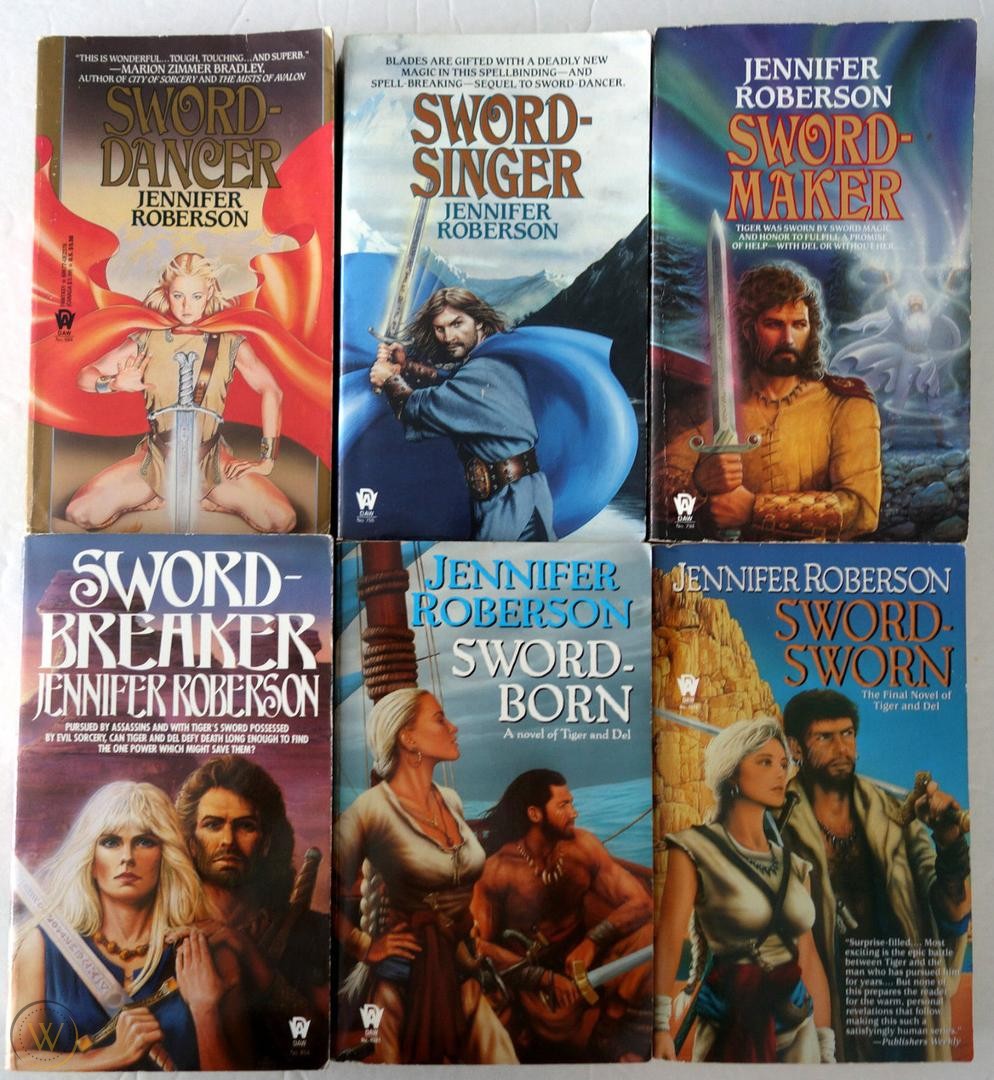 The first six Tiger and Del novels. Covers by Kathy Wyatt, Corey Wolfe, and Jim Burns
According to the S&S volume where they first appeared, MZB nearly threw Roberson's short story across the room at the beginning, responding to Tiger's apparent stereotypical barbarian-man behavior. By the end, though, she was forced to admit that it was an excellent counter-example of the type without actually being a parody. This book is an expanded version of that, telling the story of a strong and independent woman through the eyes of a man within a very traditionally male-dominated society. It works, and it explores some of the complexity of living in a traditional society…
Read Dana's complete review here.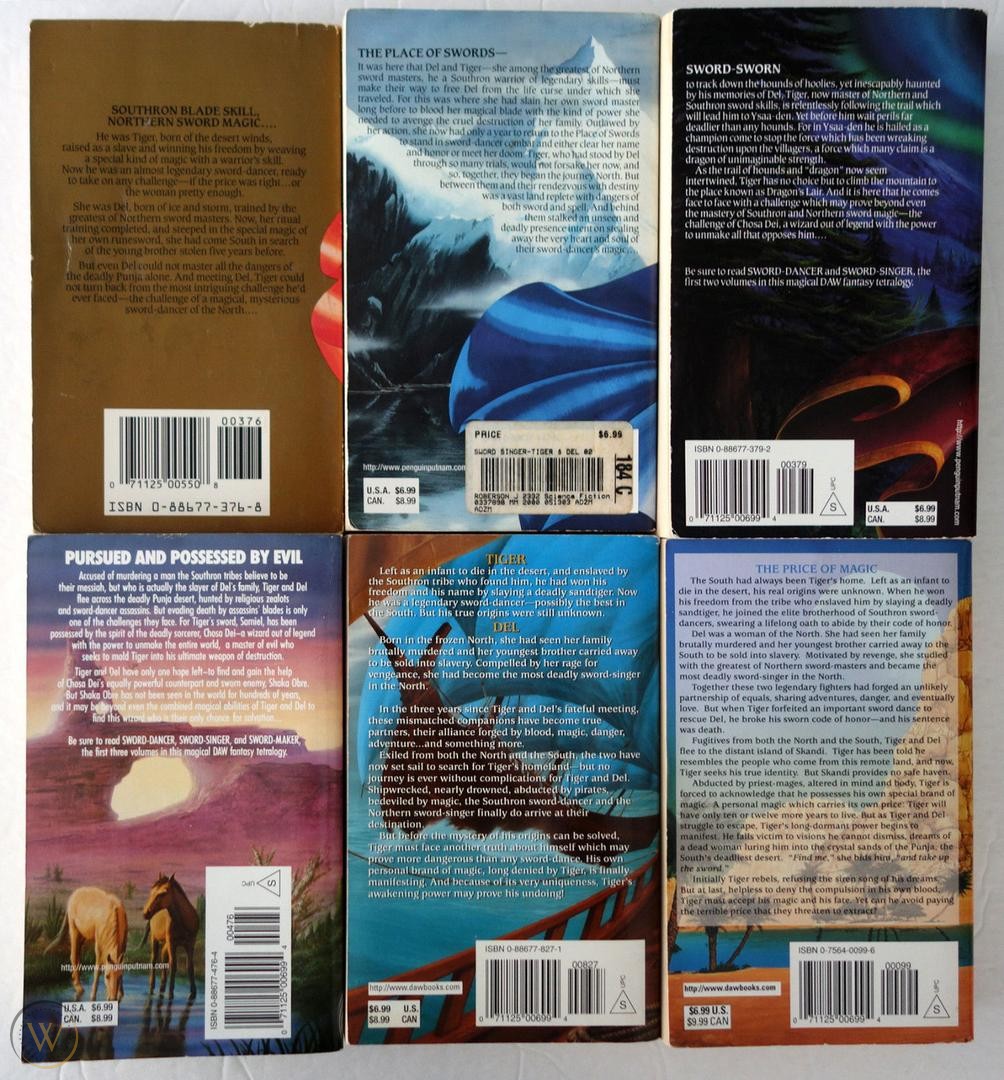 Back covers to the first six Tiger and Del novels
Thomas M. Wagner dives a little more deeply into the novel's strengths and weaknesses in his SF Review article. The review has serious problems of its own (not the least of which is his off-hand comment that her overuse of made-up words bothered him enough that "I could've smacked her." Note to male reviewers: the urge to smack around female writers for instructional purposes is not normal. At all.) so I'm not going to link to it here. But here's an excerpt so you can see if it's worth seeking out on your own.
Sword-Dancer is an admirable introduction to the six-volume adventures of Tiger and Del, one of fantasy's more popular and appealing odd couples. The tale begins when Del, a dazzling blonde swordsmistress from the frozen north, tracks down the Sandtiger (Tiger for short), a smug, rascally rapscallion in the "young Clint Eastwood by way of a young Brando by way of every romance novel studmuffin ever written" mode, who plies his trade as a "sword-dancer" in the harsh Southron desert country… The story is narrated by Tiger, and though his rakishness is the stuff of cliché Roberson writes him with enough wit and self-awareness that objections are handily overcome. In particular, I admired how she made Tiger as likable as he is while keeping all of his macho cockiness and prurient interests intact…

What I found even more impressive was her characterization of Del. Again, I hate to focus on the gender issue here, but all too often I see female fantasists turning their heroines into exceedingly earnest, almost saintly archtypes of stalwart heroism… Del is a massive bundle of neuroses. She's a true master with her blade — about which there is a provocative secret, by the way — and is frustrated by the way the men of the south, Tiger included, simply refuse to take her seriously… she's a character who wins over your sympathies because her flaws are believable and all too human, and her love for the sibling she has lost is burning brightly beneath the cold and hard exterior.

Is there anything terribly original about Tiger and Del's growing relationship? Not at first. Roberson handles the inevitable sexual tension so ham-fistedly it just doesn't register as tension of any kind… But in the last hundred pages Roberson comes out swinging and delivers some dramatically powerful sequences with such aplomb you realize she's deftly saved her best for last. And the finale is entirely satisfying. While I might have liked a bit more consistency throughout, a bottom-of-the-ninth comeback is always a glorious thing to behold. There's no denying that by the end of Sword-Dancer, Roberson will have fantasy fans dancing in the streets.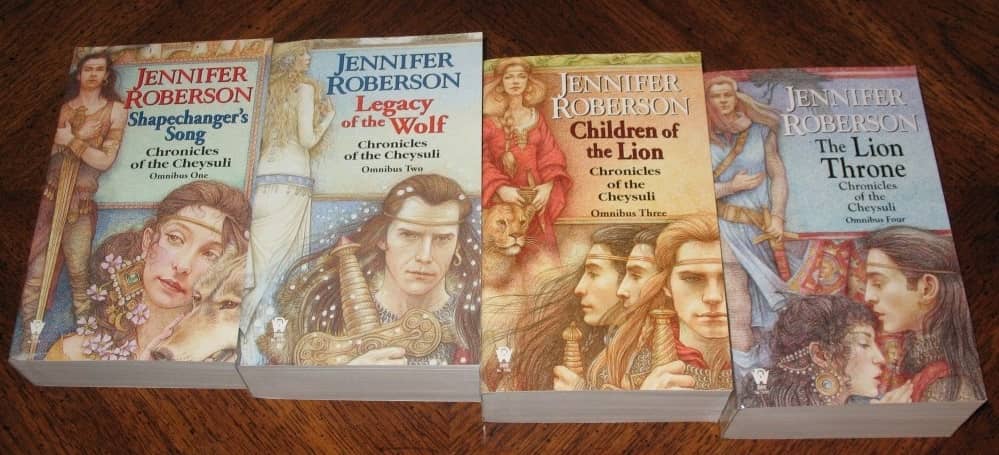 Jennifer Roberson's Chronicles of the Cheysuli. Covers by Yvonne Gilbert
The first four Tiger and Del novels were published as paperback originals; starting with Sword-Born they were released in hardcover first. All seven were published by DAW; the release dates were:
Sword-Dancer (1986) — cover by Kathy Wyatt
Sword-Singer (1988) — cover by Kathy Wyatt
Sword-Maker (1989) — cover by Corey Wolfe
Sword-Breaker (1991) — cover by Corey Wolfe
Sword-Born (1998) — cover Jim Burns
Sword-Sworn (2002) — cover Jim Burns
Sword-Bound (2013) — cover Todd Lockwood
The first six were collected in three omnibus collections, all of which appeared in 2006.
The Novels of Tiger and Del, Volume I
The Novels of Tiger and Del, Volume II
The Novels of Tiger and Del, Volume III
All three omnibus volumes have covers by Todd Lockwood.
The Tiger and Del omnibus editions. DAW, 2006. Covers by Todd Lockwood.
Sword-Dancer was published by DAW Books in September 1986. It is 286 pages, priced at $3.50 in paperback. The cover is by Kathy Wyatt.
See all our recent Vintage Treasures here.