Vintage Treasures: The Inquisitor by Cheryl J. Franklin
Vintage Treasures: The Inquisitor by Cheryl J. Franklin
The Inquisitor by Cheryl J. Franklin. DAW, 1992. Cover by Les Edwards
Cheryl J. Franklin was one of a reliable stable of women writers upon whom DAW built a mighty paperback dynasty in the late 80s and early 90s. While science fiction of the 60s and 70s was dominated by slender volumes of male-focused adventure, DAW (and others) shook things up at the end of the century — and grabbed an impressive share of the market in the process — by showcasing female writers and sprawling SF and fantasy operas with (gasp) a hint of romance. Melanie Rawn, Mercedes Lackey, C. S. Friedman, Kate Elliot, Mickey Zucker Reichert and Cheryl J. Franklin were right there in the front lines, and you got used to seeing their names on the paperback racks.
Franklin produced two series with DAW, both of which were fairly popular: the fantasy Tales of Taormin (Fire Get and Fire Lord), and the four-volume Network/Consortium. By 1996, however, she had stopped writing for good, beyond a brief appearance in Science Fiction: DAW 30th Anniversary anthology in 2002.
If Goodreads is any judge, Network/Consortium is still read today. Lynn Hall recently called the third volume The Inquisitor "Good old hard core scifi, with a believable alien world and great characters." John Clute, in the online Encyclopedia of Science Fiction, describes the series as "fantasy-like… set in a Planetary Romance venue, into which interstellar vampires are imported." I'm pretty much sold based on that description alone.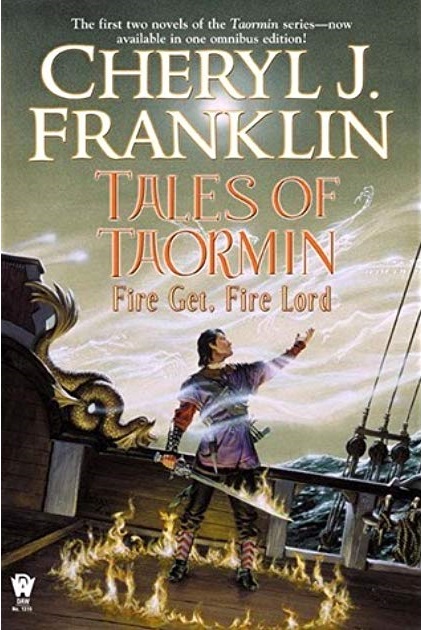 The Tales of Taormin omnibus (DAW 2005) containing
Fire Get and Fire Lord. Cover by Richard Hescox
The Inquisitor is a sprawling sci-fi epic, and the first novel in the series set in the alien-run worlds of the Consortium. I've always been more intrigued by it than the other books in the series; perhaps it's the setting, or perhaps it's Les Edwards' terrific cover. I don't know if I'll get the chance to dip into the series this month, but if I do, I'll start with this one.
Here's an extract from a more substantial review by Goodreads reader Emilee.
It's definitely nostalgic for that older era of sci-fi, and is very enjoyable in that regard. The characters were likable and distinct, something that doesn't happen for me half the time as I grow older and more picky about my protagonists. You can also expect interesting and unique aliens in the book, though they're at times hard to visualize…

Tori and Jace are great characters, and despite being a longer book than average, it's paced really well… Pick this one up for a good sci-fi experience with hints of romance.
Here are the other books in the series, each with a cover  by a different DAW artist.
The Light in Exile, Fire Crossing, and Ghost Shadow. Covers by Richard Hescox, Sanjulian, and Romas Kukalis
Here's the complete pub details on the Network/Consortium novels.
1 The Light in Exile (334 pages, $3.95, January 1990) — cover by Richard Hescox
2 Fire Crossing (541 pages, $4.99, March 1991) — cover by Sanjulian
3 The Inquisitor (544 pages, $4.99, May 1992) — cover by Les Edwards
4 Ghost Shadow (559 pages, $5.99, October 1996) — cover by Romas Kukalis
See our recent Vintage Treasures here.