Tales of Adventure and Exploration from the Pre-Spaceflight Era: Mike Ashley's British Library Science Fiction Classics
Tales of Adventure and Exploration from the Pre-Spaceflight Era: Mike Ashley's British Library Science Fiction Classics

All ten anthologies in the British Library Science Fiction Classics edited by Mike Ashley,
plus his non-fiction survey Yesterday's Tomorrows, and interior art from Moonrise (bottom right).
Covers by Chesley Bonestell, David A. Hardy, Warwick Goble, Frederick Siebel, et al
Mike Ashley is a fascinating guy. He interviewed me years ago about founding the SF Site (sfsite.com), one of the first science fiction websites, back in 1995, for his book The Rise of the Cyberzines, the fifth volume of his monumental History of Science Fiction Magazines. He's edited dozens of SF anthologies over the years, including 19 volumes in The Mammoth Book series (The Mammoth Book of Comic Fantasy, The Mammoth Book of Extreme Science Fiction, The Mammoth Book of New Sherlock Holmes Adventures, etc.)
But I'm currently obsessed with his latest project, a sequence of terrific anthologies published under the banner of the British Library Science Fiction Classics. There are nineteen volumes in the British Library Science Fiction Classics so far, including long-forgotten novels by William F. Temple, Charles Eric Maine, and Muriel Jaeger, and even a new collection of previously-abridged novellas from John Brunner, The Society of Time, which looks pretty darn swell.
But the bulk of the series — eleven books — consists of ten anthologies and a non-fiction title from Mike Ashley. And what books they are! They gather early fiction across a wide range of themes, heavily focused on pulp-era and early 20th Century SF and fantasy. Mining classic tropes like the Moon and Mars, sinister machines, creeping monsters, and looming apocalypses, Ashley has produced a veritable library of foundational SF and fantasy. Reasonably priced in handsome trade paperback and affordable digital editions, these volumes are an essential addition to any modern SF collection. And they are positively packed with fun reading.
[Click the images for British Library versions.]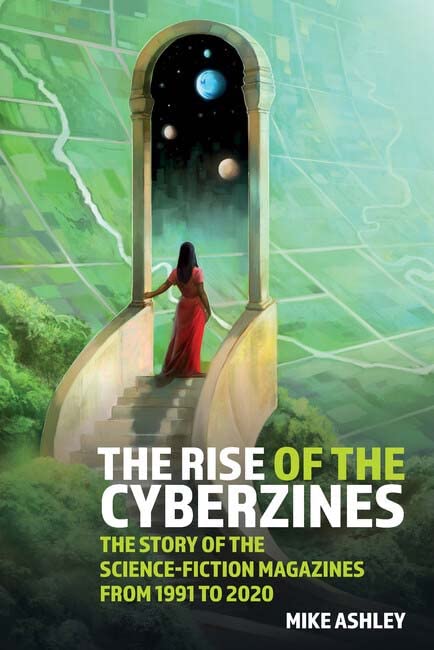 The Rise of the Cyberzines: The Story of the Science-Fiction
Magazines from 1991 to 2020, Volume V of The History of the
Science-Fiction Magazines (Liverpool University Press, April 1, 2022)
Writing as Todd McAulty, I reviewed the first two here back in 2018:
Lost Mars: The Golden Age of the Red Planet, which collects pulp-era tales (and pre pulp-era tales) from Wonder Stories, Amazing Stories, Astounding, and Worlds of If, was published in April 2018. Its sister anthology Moonrise: The Golden Era of Lunar Adventures, with stories from F&SF, Amazing, Tales of Wonder, Astounding, New Worlds, and Fantastic, arrives in September. Both are part of the British Library Science Fiction Classics, which I've never heard of, but for which I immediately have a deep and passionate love. Near as I can figure out, it's a relatively new imprint devoted to early 20th Century SF. Or maybe just stories of Mars and the Moon, I dunno. But either way, love love love.

These are very welcome books. They include tales of adventure and exploration from the pre-spaceflight era (the most recent stories are from 1963, only two years after the start of the Apollo space program), which means they're not particularly concerned with getting the science right. Scientific verisimilitude was the province of late 20th Century SF; these stories concern themselves chiefly with imagination and adventure.

And when it comes to the Moon and Mars, human imagination has been pretty darn fertile. These books contain some of the greatest SF ever written, including Arthur C. Clarke's brilliant tale "The Sentinel," which inspired 2001: A Space Odyssey, and Stanley G. Weinbaum's groundbreaking "A Martian Odyssey," which Isaac Asimov said, "had the effect on the field of an exploding grenade. With this single story, Weinbaum was instantly recognized as the world's best living science fiction writer." There's also a Martian Chronicles tale by Ray Bradbury, an excerpt from H.G. Wells' classic First Men in the Moon, and stories by Walter M. Miller Jr, J. G. Ballard, Gordon R. Dickson, Edmond Hamilton, John Wyndham, E. C. Tubb, and many others.
These books deserve a more detailed inspection than I can give them here (especially the monster and evil AI volumes — I'm dying to get to those). I hope to dig into them individually in more detail here in the coming weeks and months.
But for the time being, here's a quick list of the all ten anthologies:
Moonrise: The Golden Age of Lunar Adventures (348 pages, April 5, 2018) — cover by Chesley Bonestell
Lost Mars: The Golden Age of the Red Planet (224 pages, April 5, 2018) — cover by Chesley Bonestell
Menace of the Machine (347 pages, April 11, 2019) — cover by David A. Hardy
The End of the World and Other Catastrophes (328 pages, May 16, 2019) — cover by David A. Hardy
Menace of the Monster: Classic Tales of Creatures from Beyond (362 pages, September 12, 2019) — cover by Warwick Goble
Beyond Time: Classic Tales of Time Unwound (272 pages, October 17, 2019) — cover by Frederick Siebel
Born of the Sun: Adventures in Our Solar System (320 pages, August 6, 2020) — cover by Chesley Bonestell
Nature's Warnings: Classic Stories of Eco-Science Fiction (352 pages, August 27, 2020) — cover uncredited
Spaceworlds: Stories of Life in the Void (336 pages, March 25, 2021) — cover uncredited
Future Crimes (320 pages, May 20, 2021) — cover uncredited
All ten volumes were published by British Library Publishing. Most have a cover price of £8.99 in paperback (Amazon charges $14.95-$16.95 in the US), and £2.99 for the digital versions (when available). The last three (Nature's Warnings, Spaceworlds, and Future Crimes) are priced at £9.99.
The non-fiction volume is:
Yesterday's Tomorrows: The Story of British Science Fiction in 100 Books (336 pages, £20 in paperback/$24.95 US, October 22, 2020) — cover uncredited
I don't know if there will be any more forthcoming in the series; the last one appeared in May of last year. But I'll keep an eye out.
Our recent coverage of Mike Ashely includes:
From the Moon to Mars: The British Library Science Fiction Classics
The Stark House Algernon Blackwood, edited by Mike Ashley
Fighters of Fear: Occult Detective Stories, edited by Mike Ashley
Vintage Treasures: The Best of British SF 1 and 2, edited by Mike Ashley
See all of our recent New Treasures here.