A Fine Addition to any SF Library: Isaac Asimov's Wonderful Worlds of Science Fiction, edited by Isaac Asimov, Martin H. Greenberg, and Charles G. Waugh
A Fine Addition to any SF Library: Isaac Asimov's Wonderful Worlds of Science Fiction, edited by Isaac Asimov, Martin H. Greenberg, and Charles G. Waugh
Tin Stars (Signet, 1986), volume 5 of Isaac Asimov's Wonderful Worlds of Science Fiction. Cover by JAV
Isaac Asimov published more than 500 books in his lifetime. Now Asimov was amazingly productive — averaging around 1,700 words published per day over the last two decades of his life — but no one is that prolific. In later years he became a proficient book packager, working with editors like Charles G. Waugh and especially Martin H. Greenberg to churn out dozens and dozens of science fiction anthologies in which he contributed little more than an introduction and perhaps some editorial guidance.
If this sounds dismissive, oh my friends, it is not meant to be. Asimov was interested in a great many things, but one of his earliest and most enduring passions was short fiction. It was his love for early science fiction pulps that set him firmly on the path towards being a successful SF writer by his later teens, and in his later years he became one of the staunchest champions of the science fiction short story — and in particular those stories and authors that, by the 70s and 80s, were in growing danger of being forgotten. Between 1979 and his death in 1992 he put his name (and the considerable selling power behind it) on numerous SF anthologies and long-running anthology series edited with Greenberg and Waugh, including The Great SF Stories (25 volumes, 1979-92), The Mammoth Book series (6 books, 1988-93), Isaac Asimov's Magical Worlds of Fantasy (12 books, 1983-91), and others. I don't know if it was ever made explicit, but it seemed pretty clear that Waugh made the selections, Greenberg handled the rights paperwork, and Asimov was sort of a godfather over the whole process. In any case, the success of these books helped inspire other reprint anthologies, and for many decades life was good for classic science fiction lovers.
Those days, of course, are long over, and mass market reprint genre anthologies are scare as hens teeth today. But when times are tough, the tough get creative, and so I've been on the hunt for older science fiction anthologies I may have overlooked all those years ago. That's how I rediscovered Isaac Asimov's Wonderful Worlds of Science Fiction — and it is a delight.
Like many of his other popular series it was edited with Greenberg and Waugh, and included 10 volumes published between 1983-90. Each had a different theme: Intergalactic Empires, Space Shuttles, Monsters, Invasions, and so forth. They were generously sized (300-400 pages) and came packed with wonderful stories selected by an editor with a keen eye. These books have never been reprinted, but they're not hard to find. In fact I recently bought a set of five in nearly brand new condition for significantly less than original cover price.
[Click the images for wonderful-sized versions.]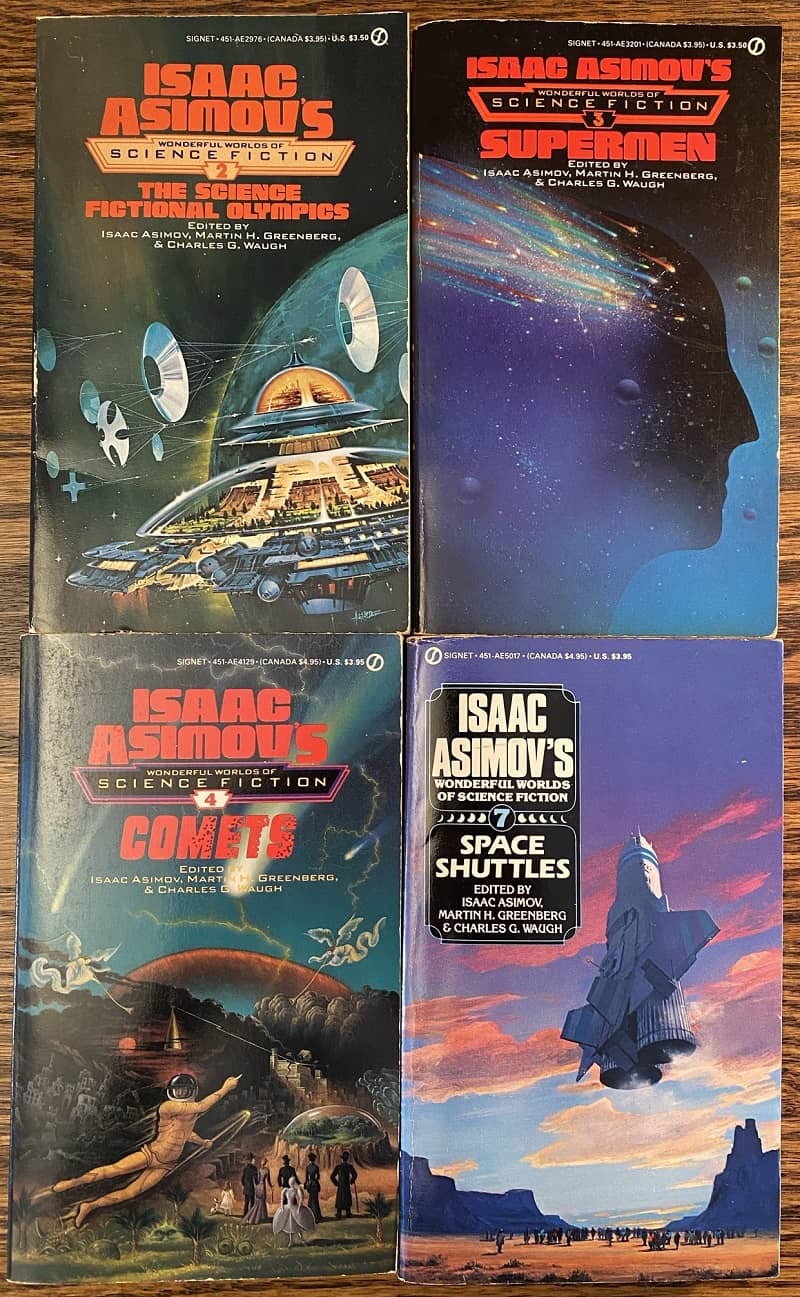 The other four volumes in the lot. Purchased for $12.50 on eBay.
I bought all five (The Science Fictional Olympics, Supermen, Comets, Tin Stars, and Space Shuttles) on eBay for for $12.50.
They all have their charms, but for me the clear favorite is Tin Stars, which collects "detective stories of crime, men and robots." No small part of its considerable charm comes from the stellar cover by JAV, featuring two hard-boiled robots with attitude, but it also contains some terrific fiction.
Here's the inside cover flap.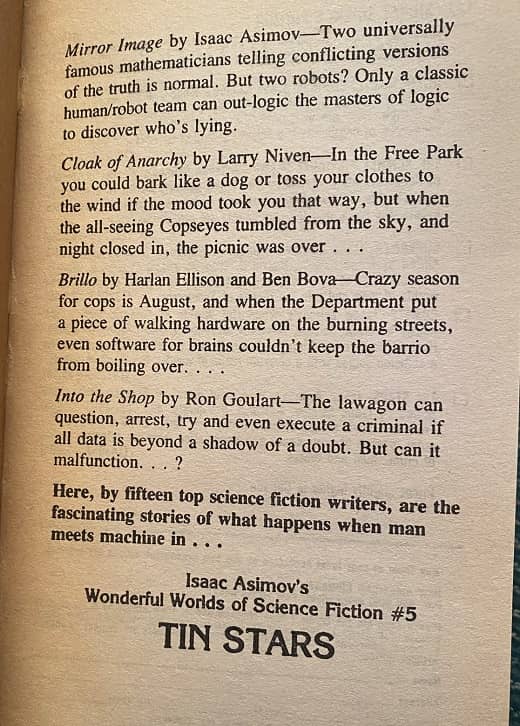 And here's a snippet from Asimov's 4-page intro.
I thought at once of my own "Mirror Image," which appeared in the May 1972 Analog. It was the only short story about Baley and Daneel that I ever wrote… although the story had appeared in two of my own short story collections, it has never been anthologized…

Immediately after my story, by the way, we have placed "Brillo" by Harlan Ellison and Ben Bova. There is a distant connection here, for Harlan sued some television people for rejecting his television script based on "Brillo" and for then running a television program that, to Harlan's eyes, seemed indistinguishable from his script. He sued, and the television people advanced the astonishing defense that Harlan had no grounds for the suit because he himself had borrowed the story from The Caves of Steel…. I gladly bore formal witness that "Brillo" had a human-robot detective team but was otherwise in no way similar to my novel, and Harlan won his case (and a large sum in damages).

We start the anthology, however, with "Into the Shop" by Ron Goulart, which, in my opinion, is the best short story about a human-robot detective team that has yet been written. It's got one of those terrific last sentences…

There is "Examination Day" by Henry Slesar, which I had to read three times before I saw the crucial role of a machine and was able to agree with Charles that it belonged in the anthology. (The writing was so smooth and concise that I slid right over that point in my first two readings.)

Then there is "The Fastest Draw" by Larry Eisenberg, a particularly ingenious story, and Edward Wellen's "Finger of Fate," in which there is only one detective, no time, and which is a private-eye story to end all private-eye stories…

One word about the title of the anthology. Ben and Harlan called their story "Brillo" because it was about a robot detective, which could be referred to as "metal fuzz," and what is Brillo but — oh, you get the point, I see.

Well, in "tin star," the "tin" refers to a robot and the "star" refers to a sheriff. Oh, you get that, too? If it weren't for the play on words, I would have preferred to call the anthology Robots in Judgment.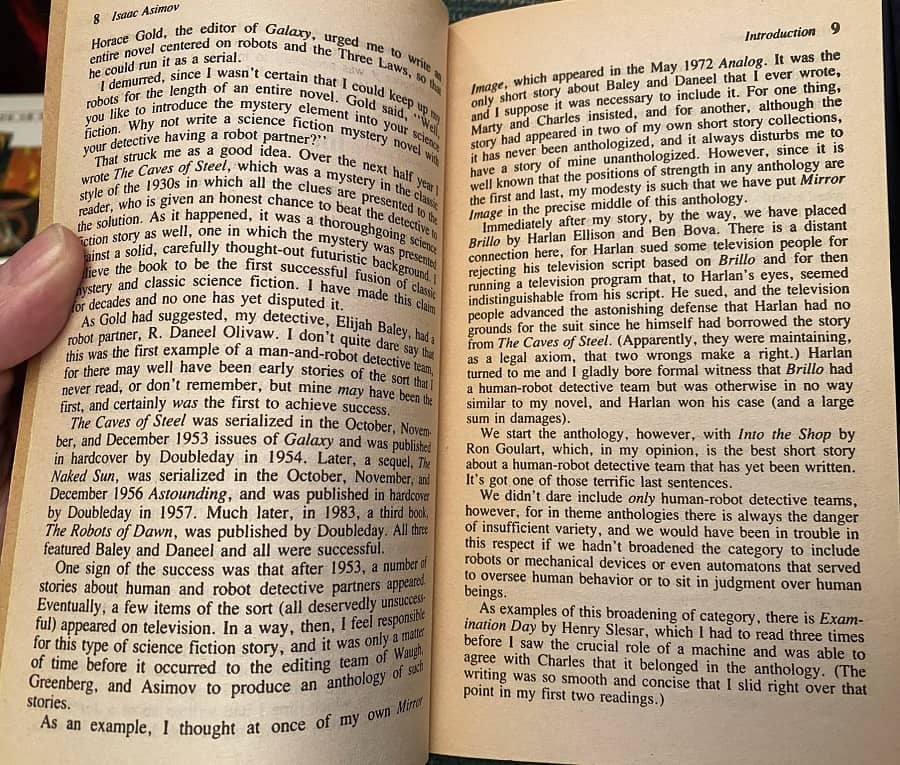 Part of Asimov's introduction to Tin Stars
Tin Stars also contains a Known Space novelette by Larry Niven, a story set in Christopher Anvil's Federation of Humanity popular milieu, a novella by Stephen R. Donaldson, an original story by Donald Wismer, and a pair of tales by Harry Harrison. Here's the complete Table of Contents.
Introduction by Isaac Asimov
"Into the Shop" by Ron Goulart (The Magazine of Fantasy and Science Fiction, April 1964)
"Cloak of Anarchy" by Larry Niven (Analog Science Fiction/Science Fact, March 1972)
"The King's Legions" by Christopher Anvil (Analog Science Fiction -> Science Fact, September 1967)
"Finger of Fate" by Edward Wellen (The Magazine of Fantasy & Science Fiction, June 1980)
"Arm of the Law" by Harry Harrison (Fantastic Universe, August 1958)
"Voiceover" by Edward Wellen (Sherlock Holmes Through Time and Space, 1984)
"The Fastest Draw" by Larry Eisenberg (Amazing Stories, October 1963)
"Mirror Image" by Isaac Asimov (Analog Science Fiction/Science Fact, May 1972)
"Brillo" by Ben Bova and Harlan Ellison (Analog Science Fiction/Science Fact, August 1970)
"The Powers of Observation" by Harry Harrison (Analog Science Fiction -> Science Fact, September 1968)
"Faithfully Yours" by Lou Tabakow (Astounding Science Fiction, December 1955)
"Safe Harbor" by Donald Wismer (original, 1985)
"Examination Day" by Henry Slesar (Playboy, February 1958)
"The Cruel Equations" by Robert Sheckley (Can You Feel Anything When I Do This?, 1971)
"Animal Lover" by Stephen R. Donaldson (Stellar #4: Science-Fiction Stories, 1978)
Here's the back covers to the four other volumes.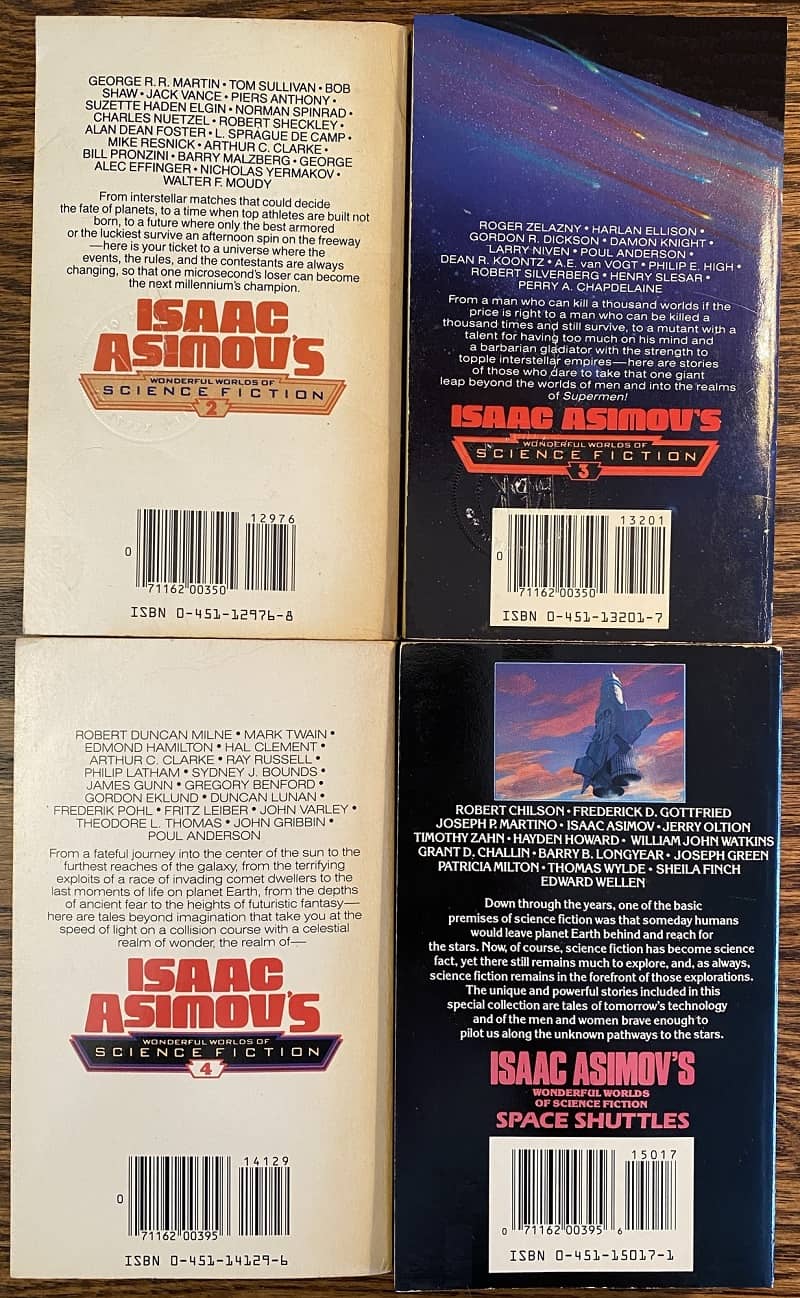 Back covers to The Science Fictional Olympics, Supermen, Comets, Tin Stars, and Space Shuttles
Altogether there were ten volumes, and they make an attractive addition to any science fiction library. Mine is sorely lacking several in the series, but here's a handsome set of all ten I found online shared by Imgur user aflegeal8.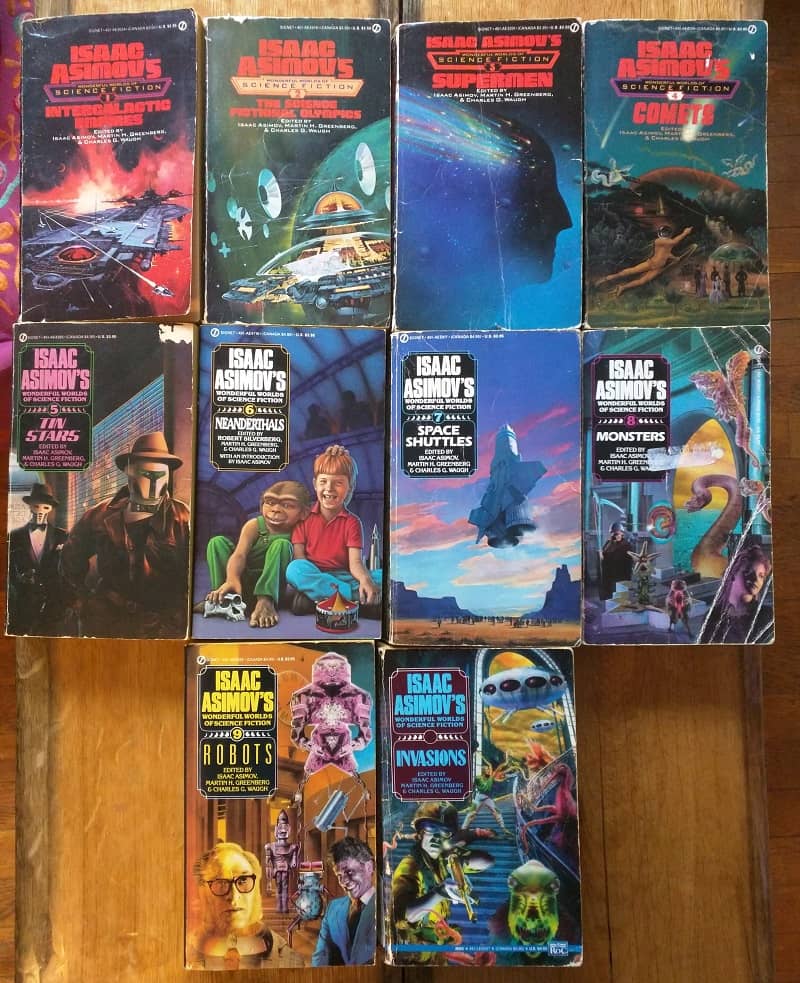 All ten volumes in the series
Here's all ten volumes. All were published as paperback originals by Signet. They have never been reprinted.
1 Intergalactic Empires (1983)
2 The Science Fictional Olympics (1984)
3 Supermen (1984)
4 Comets (1986)
5 Tin Stars (1986)
6 Neanderthals (1987)
7 Space Shuttles (1987)
8 Monsters (1988)
9 Robots (1989)
10 Invasions (1990)
Tin Stars was published by Signet in July 1986. It is 352 pages, priced at $3.95 in paperback. The marvelous cover is by JAV. The book has never been reprinted, and there is no digital edition.
See all our coverage of the best vintage SF and fantasy books here.