New Treasures: It Will Just Be Us by Jo Kaplan
New Treasures: It Will Just Be Us by Jo Kaplan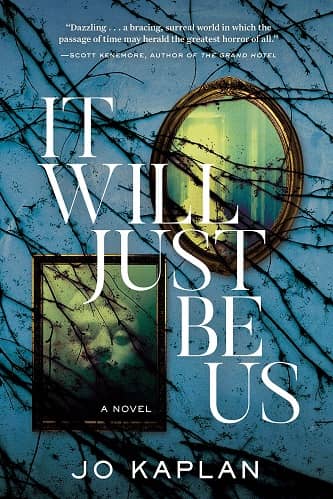 Jo Kaplan is a fast-rising writer who's worth keeping an eye on. Under the name Joanna Parypinski she's published stories in Black Static, Nightmare Magazine, and Vastarien, and in prestigious anthologies like Haunted Nights and Miscreations.
Her debut novel It Will Just Be Us appeared in September to wide praise. Publishers Weekly called it "A rich, dense supernatural thriller," Manhattan Book Review hailed it as "A fantastic ghost story," and Bram Stoker Award-winner John Palisano proclaimed it "A chilling, poetic, modern Gothic masterpiece."
When nights are long and the wind blows chill through the snow drifts in my back yard, that's when I long to burrow into blankets with a chilling book. This looks like it will do the trick nicely. Here's the publisher's description.
A terrifying new gothic horror novel about two sisters and a haunted house that never sleeps, perfect for fans of Shirley Jackson's We Have Always Lived in the Castle.

They say there's a door in Wakefield that never opens… Sam Wakefield's ancestral home, a decaying mansion built on the edge of a swamp, isn't a place for children. Its labyrinthine halls, built by her mad ancestors, are filled with echoes of the past: ghosts and memories knotted together as one. In the presence of phantoms, it's all Sam can do to disentangle past from present in her daily life. But when her pregnant sister Elizabeth moves in after a fight with her husband, something in the house shifts. Already navigating her tumultuous relationship with Elizabeth, Sam is even more unsettled by the appearance of a new ghost: a faceless boy who commits disturbing acts — threatening animals, terrorizing other children, and following Sam into the depths of the house wielding a knife. When it becomes clear the boy is connected to a locked, forgotten room, one which is never entered, Sam realizes this ghost is not like the others. This boy brings doom… As Elizabeth's due date approaches, Sam must unravel the mysteries of Wakefield before her sister brings new life into a house marked by death. But as the faceless boy grows stronger, Sam will learn that some doors should stay closed — and some secrets are safer locked away forever.
It Will Just Be Us was published by Crooked Lane Books on September 8, 2020. It is 272 pages, priced at $26.99 in hardcover and just $1.99 in digital formats. Get all the details at Jo Kaplan's website here.
See all our recent coverage of the best new SF and fantasy releases here.