Goth Chick News: And Then We Went to the Midwest Haunters Convention…
Goth Chick News: And Then We Went to the Midwest Haunters Convention…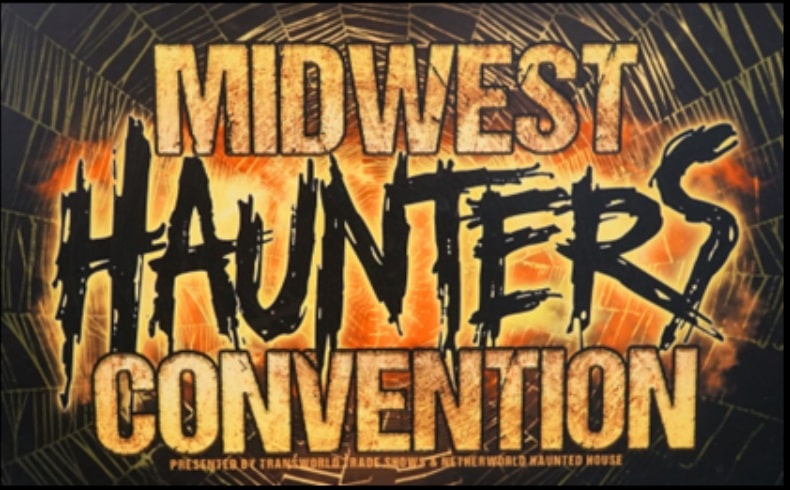 Last week I told you all about the adventures Black Gate photog Chris Z and I had on the Haunted House Bus Tour which was the appetizer for the Midwest Haunters Convention. The MHC, held in Chicago in early June, is the largest Halloween show of its kind in the US, targeted at haunt actors, attraction owners, home haunters and Halloween enthusiasts, making it the place to be for all aficionados of scary stuff.
Unlike a lot of shows we cover for Black Gate, the MCH is open to the public and we met attendees from all over North America, which helped explain why my favorite season is a $10B+ annual money spinner.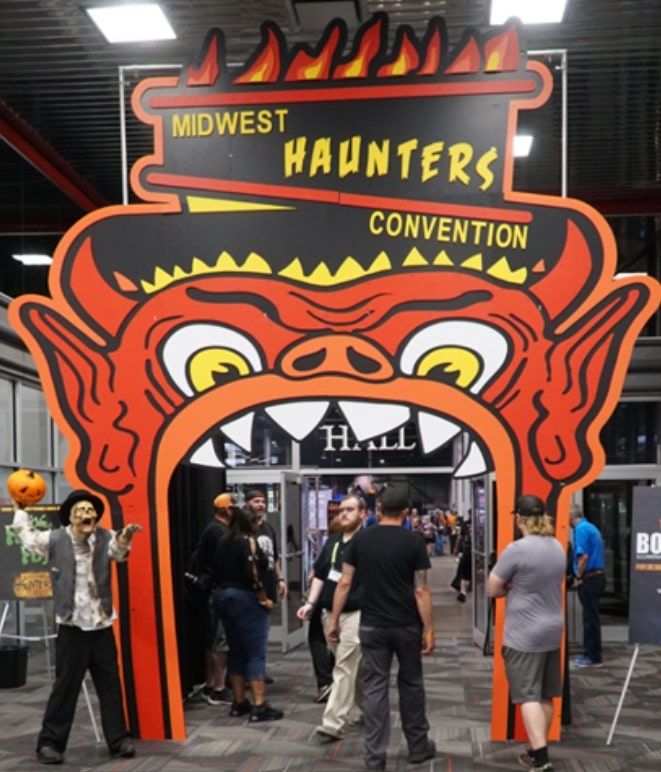 With an agenda which spanned the entire weekend, the MCH was chock full of seminars, demonstrations and vendors which showcased what is on trend for the upcoming Halloween season.
We couldn't help but notice that demonic clowns have (thankfully) run their course, but "hospital horror," in the form of creepy nurses and brain-removing doctors, is definitely in, likely mirroring our lives for the last two years.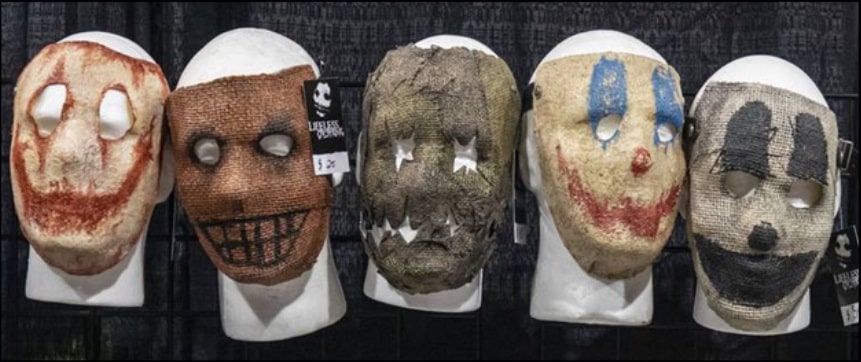 Though hyper-realistic masks never go out of style, we saw quite a lot of "low tech" costuming in the form of burlap masks, which are easily coupled with resale-store clothing finds, perfect for striking terror in the hearts of your fellow Fall party guests.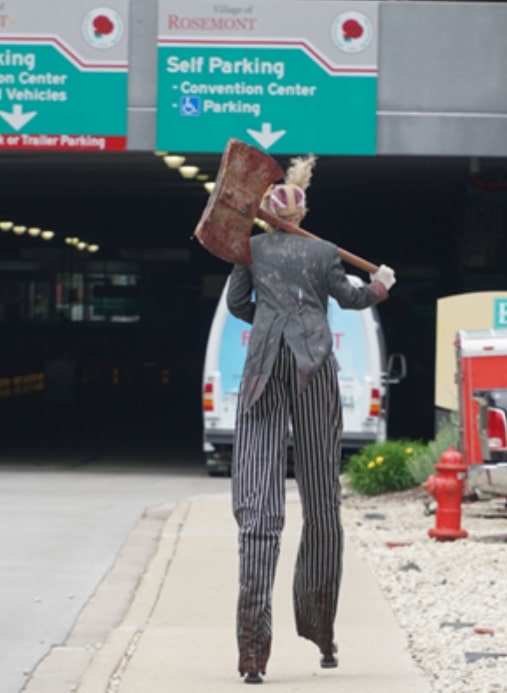 Only when the MHC is in town…
Also, much like the last 2 years, we noted a continued focus on elaborate visuals, be this in the form of props, fog, or digital decorating: no detail is overlooked when creating the perfect Halloween atmosphere in your space.
Though walking you through all the offerings we perused would take several weeks of articles, we did pick out a few vendors who caught our eye particularly.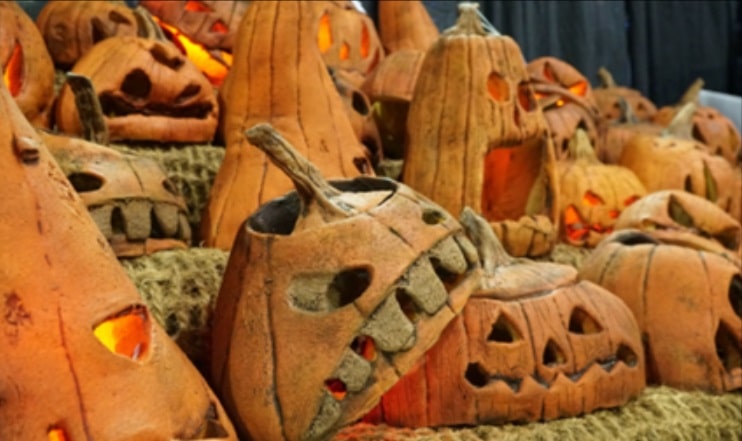 Toxic FX: Speaking of creating atmosphere, Toxic FX, makers of professionally hand-crafted masks and props since 2011, had an incredible display of rotting pumpkins. Several of these lit and grouped together would make the perfect front porch display without the smell or mess of the real thing. As you can see, they are available in a variety of shapes and sizes, and all are suitable for outside (or inside) year after year. They even come in bundles which include just the right combination of designs. All the pumpkins along with masks and more kid-friendly props are available on their website.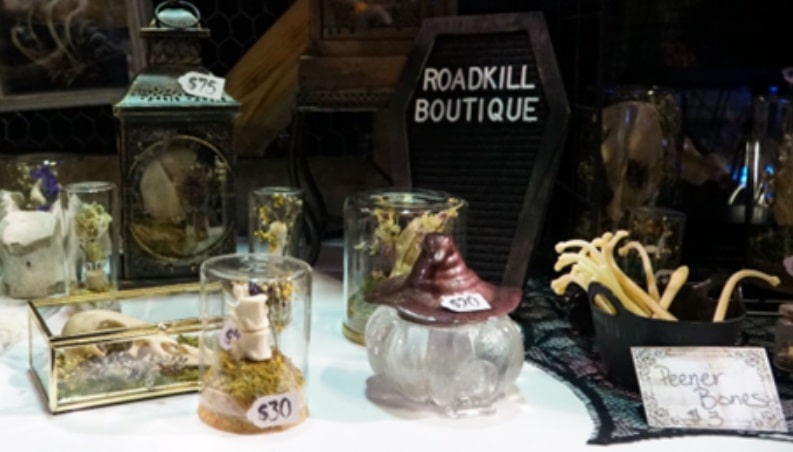 Roadkill Boutique: For those of you committed to recycling, you're going to love that Kim Meyers helps keep America's roads beautiful by collecting up the unfortunate flora and fauna that didn't make it to the other side; then turning it all into art. I couldn't look away from her unique designs, none of which were resin casts but the actual real thing. And what the heck is that jar marked "peener bones?"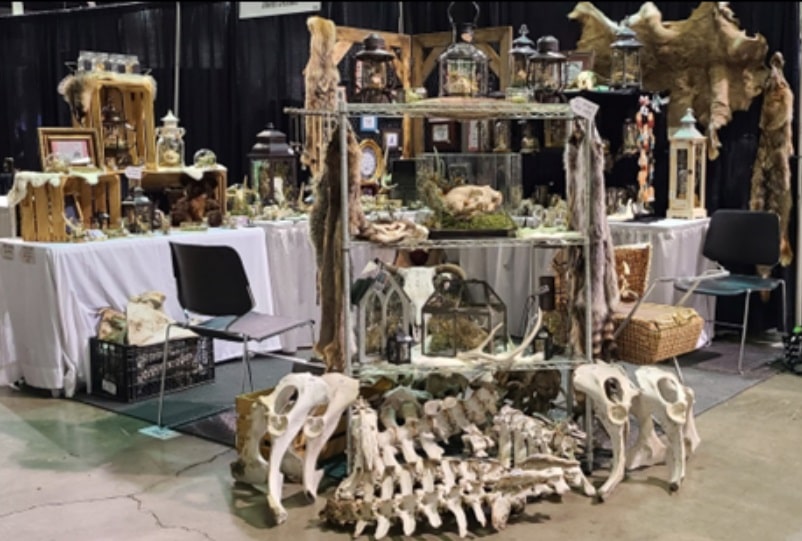 This job is nothing if not endlessly educational and at the MHC I learned that almost all mammals have a baculum or "penis bone," with the exceptions being humans, horses, donkeys, rhinoceros, marsupials, rabbits, whales, dolphins, elephants and hyenas. This means that quite a few woodland creatures such as racoons and badgers who don't successfully cross traffic, also have penis bones, which is why there is a display of them Meyers' booth.
Anyway… for the friend who has everything, or to add what will certainly be the conversation piece of the century to your Halloween décor, check out Meyers' site.
The Halloween Shirt Company: Finally, we met Clint and Lori Cobb, purveyors of fine holiday attire. We absolutely loved their unique vintage t-shirt designs that are far from typical. Even cooler was their selection of Halloween bowling shirts which would be perfect for the Chris Z in your life who wants to be different without foregoing the professionalism of a collared shirt. Tees start at around $20 with button-downs going for around $50, and all designs available on the company website.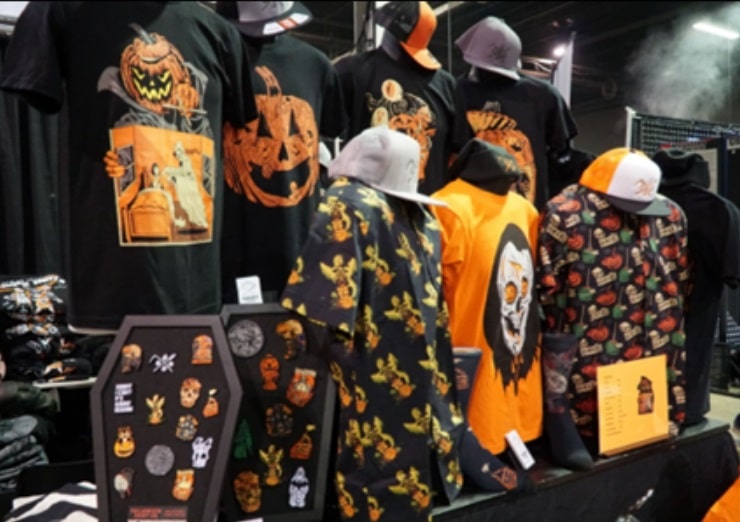 So instead of saying, "concerts," or "camping" or "went to Disney" when asked what we did over the summer, Chris Z and I can confidently say we and around 100 of our industry friends took a 14-hour bus tour to visit four fully-functional haunted attractions in June, mixed every category of adult beverage, with every category of junk food, then finished off the weekend scoping out the latest trends for the upcoming Halloween season while learning about peener bones.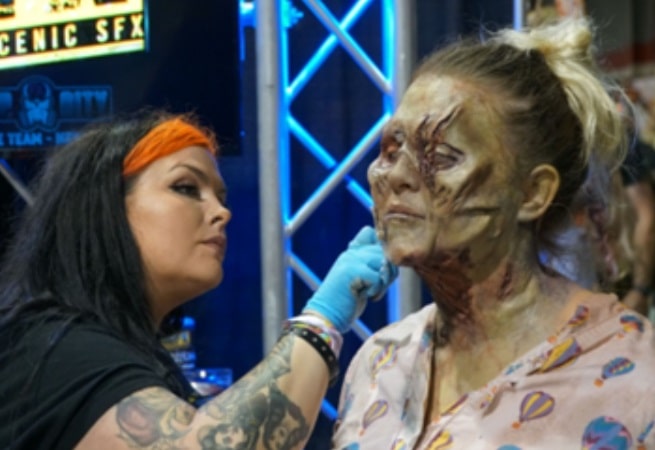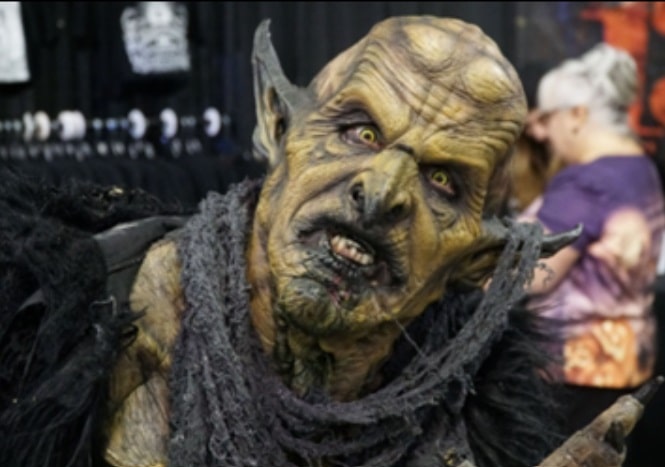 In other words, it was a pretty perfect summer…