Goth Chick News: Midwest Haunters Bus Tour – Because Its Only 130 Days Until Halloween
Goth Chick News: Midwest Haunters Bus Tour – Because Its Only 130 Days Until Halloween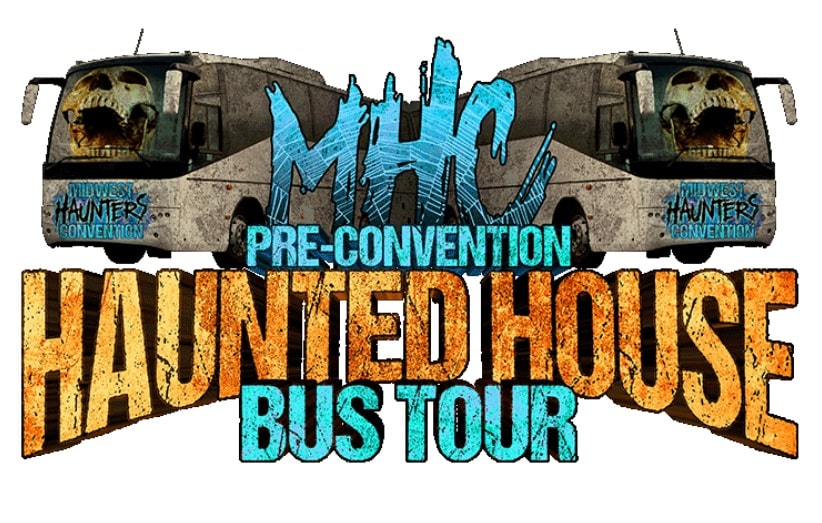 I'm going to go ahead and say it, because I know you're thinking it. Yes, its only June and yes, there are a solid four months until Halloween.
But all the spooky wonderfulness that pops up in the month of October doesn't materialize overnight. Nope, it requires months of planning, therefore making it necessary for Black Gate Photog Chris Z and I tool around the Midwest wracking up enormous expense reports to bring you news from this incredible unseen world; a world which is moving year-round, and ultimately generates $10B plus annually in the US alone (NRF, 2021).

Massacre Haunted House, Montgomery, IL
Which brings us to one of the seminal events of the pre-season: Midwest Haunters Convention which happened on June 11-12. Unlike Transworld's Halloween & Attractions show, though run by the same organizers, the MHC is open to the public and targets regional haunted attractions like those you may find in your neighborhood in October. There are also seminars, demonstrations and keynotes aimed at actors, makeup artists, prop makers and designers making it the largest show of its kind in the US. Held in Chicago for the past several years, the MHC kicks off in a very unique way. The Pre-Convention Haunted House Bus Tour is an annual tradition in which three luxury coaches are packed with MHC attendees for a 15-hour odyssey, crisscrossing Chicagoland visiting the best haunted attractions the city has to offer.
But wait you say, its June and aren't all these places closed for the season?

Basement of the Dead, Aurora, IL
Technically yes, except for this one magical day during which the attractions are fully staffed and opened for a few private hours to welcome the MHC bus tour. Chris Z and I have been lucky enough to get an invite to ride along since the MHC moved to Chicago, but under very specific conditions. Though we are allowed to photograph and report on the attractions, the bus ride itself is strictly off limits. No pictures, no talking about what may or may not had been going on when fifty haunt-industry conventioneers are on the ultimate road trip or why such a road trip requires an MC (read chaperone) named Tater.
I can tell you we met haunters from as far away as Canada and California, and were provided with all manner of adult sustenance throughout the journey. For someone who loves all things Halloween, this is pretty much the perfect day.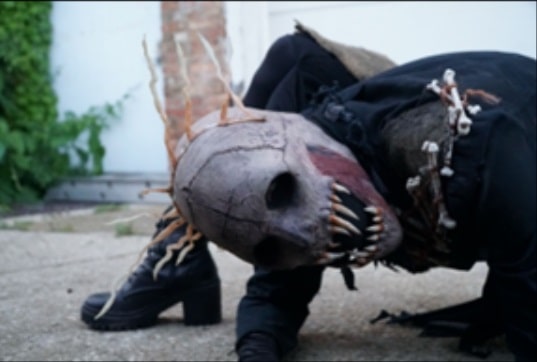 Evil Intentions, Elgin, IL
As these attractions are all located around Chicagoland, meaning many of you won't get to experience them when they open for the season, I'll give you a brief explanation of the best bits. However, if you are in the area, or fancy a road trip to our fair city this fall, allow me to press upon you the need to visit all four, in addition to several more you will find here. Chicago can boast one of the largest collections of haunted attractions in a major city, which is part of the reason I've never moved.
So, grab a handful of airplane sized bottles of Fireball, and let's wade in…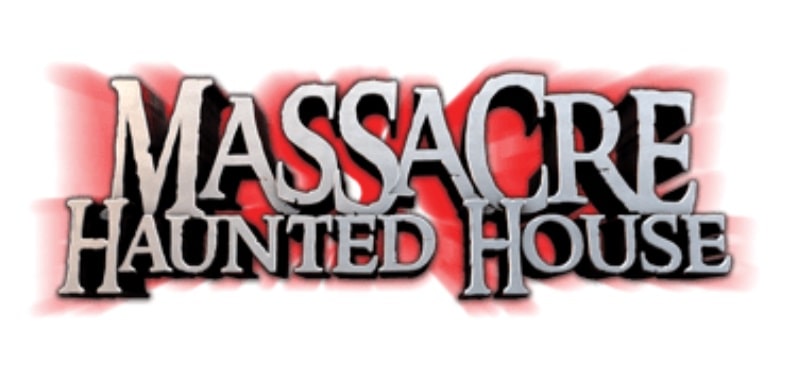 Stop #1: Massacre Haunted House, Montgomery, IL
Massacre Haunted House has been voted one of the top 10 haunted houses nationally by USA Today and the number 1 haunted house in Illinois by the Chicago Tribune, and it was easy to see why. Newly renovated every year and ready to deliver the scares, Massacre is comprised of over 20,000+ sq. ft. of enjoyable madness.
It's a fully-custom-built attraction where visitors walk through in small groups, and is designed to give mature audiences the scare of their lives. Our favorite part was when we exited a very realistic freight elevator into "apocalyptic Chicago" where we got onto an actual El-car for brief ride with some very deranged residents.
You get a glimpse of both in Massacre's 2021 ad:
Stop #2: Basement of the Dead, Aurora, IL
Hauntworld Magazine has bestowed multiple honors on Basement of the Dead as has the website Buzzfeed. The location itself is scary, as you are literally in the basement of a large industrial building and the proprietors take maximum advantage of its damp creep-factor.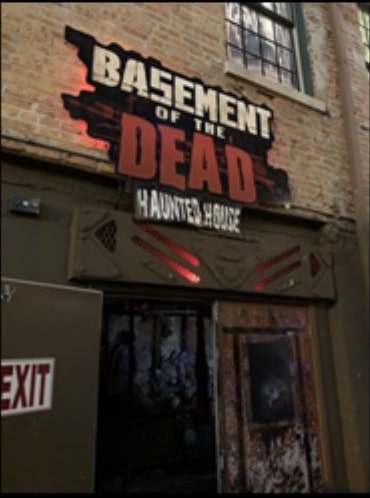 You can see where the Basement gets its soul. Silent Hill, The Hills Have Eyes, Saw, Texas Chainsaw Massacre and Insidious are definitely the horror movie inspirations. We encountered killer clowns, possessed nuns, flesh-eating zombies and mutilated animal-humans.
It took us nearly an hour to traverse Basement's two separate attractions and the best bits were the pitch-dark rooms requiring us to feel along the walls for the exit, while hoping we didn't touch something else in the process, and the rotating room which was ingenious.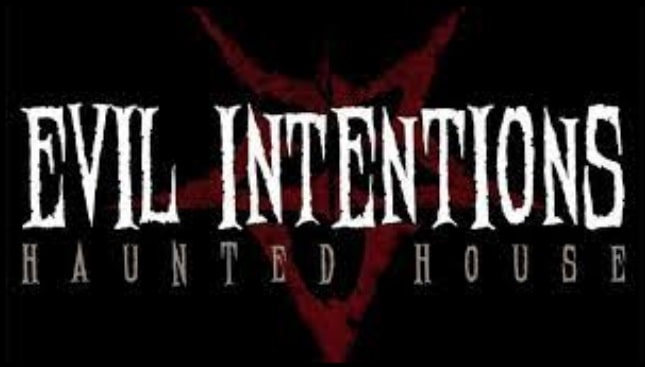 Stop #3: Evil Intentions, Elgin, IL
Chris Z and I have a long history with Evil Intentions, our most local haunt. We first met the owners of what was once a coffin factory in 2015 at the Halloween and Attractions show. Back then Evil Intentions was a very low-tech attraction in which the dilapidated building was the main character.
In the off season it played home to paranormal investigators who I joined for an overnight expedition, and for which Chris Z was conveniently unavailable. Seven years later and the part of the building which originally housed Evil Intentions has been literally condemned, requiring the haunt to move from the area that was the coffin "factory floor" into the multi-story office part of the building.

Evil Intentions, Elgin, IL
And that's not all that has changed. EI is one of the most elaborately decorated attractions we have visited. From the moment you enter the labyrinth by walking through an actual coffin, the attention to detail is mind-blowing. Our favorite part was the life-sized dilapidated church which you get to by wandering through an outdoor graveyard, which is actually indoors, though you wouldn't know it.
EI was also just dimly lit enough, to allow you to fully appreciate the visual story-telling throughout, which may be why they have been smothered in awards the last several years. If the bus hadn't been getting ready to leave, we'd have gone through again.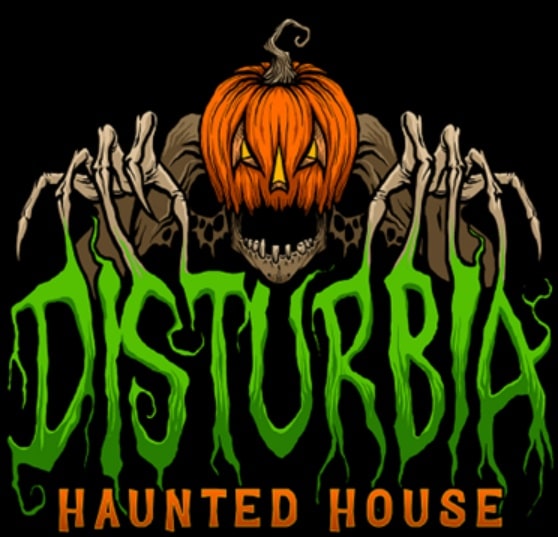 Stop #4: Disturbia Haunted House, Downers Grove, IL
We already knew Disturbia Haunted House would be awesome because not only is it under the same ownership as Basement of the Dead, but because Chris Z and I hit it up last season strictly for the fun of it.
Like its sister property, Disturbia is all about the realism. The mausoleum set was incredible down to the smallest detail such as actual names and dates on graves. From there we moved into a catacomb with the classic skull walls, which looked like the real deal, and as someone with serious "white coat syndrome" the hospital from hell sets actually got to me.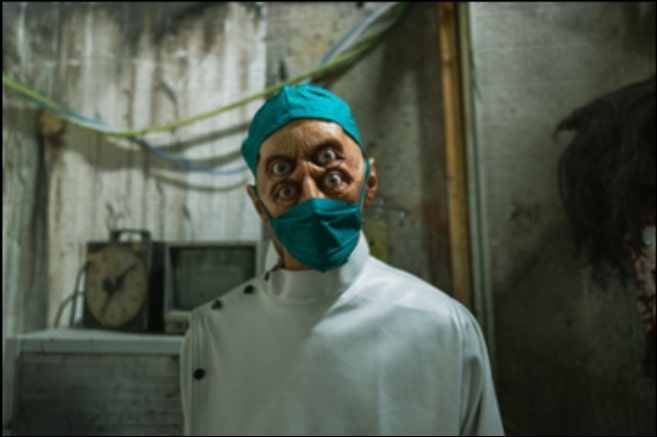 We also loved the dilapidated house with the outside and inside leaving us speechless. Disturbia's combination of high-end animatronics and actors in elaborate costumes/makeup provided an entertaining and fully immersive experience.
We'll definitely hit some of these places up again when "the season" kicks off in a few months, adding them to our other favorites. And this was only the pre-show event. I haven't even told you about the actual Midwest Haunters Convention, which I'll do next week.
As usual, the answer Chris Z and I have to the question "What did you do over the summer?" makes people look at us weird.