Vintage Treasures: The Best of Robert Silverberg
Vintage Treasures: The Best of Robert Silverberg

The Best of Robert Silverberg (Pocket Books, February 1976). Cover by Alan Magee
Recently James McGlothlin wrapped up an ambitious multi-year review project at Black Gate, reading each of the 23 volumes in Del Rey's Classic Science Fiction Series from the 70s, including The Best of Fritz Leiber, Edmond Hamilton, John Brunner, Philip K. Dick, C.L. Moore, Robert Bloch, and over a dozen others. Over the years many of our contributors have shared their love for these seminal volumes, including Ryan Harvey, Jason McGregor, and others.
Del Rey wasn't the only publisher to pick up on the idea of promoting authors in their catalog with Best of volumes, however. Between 1976 and 1980 Pocket Books produced nearly a dozen weightily collections showcasing their own impressive stable of SF authors, including Poul Anderson, Jack Vance, Harry Harrison, John Sladek, Keith Laumer, Damon Knight, Barry N. Malzberg, Mack Reynolds, and Walter M. Miller. Pocket (and others) did a splendid job keeping these fine books in print over the years, sometimes freshening up the covers in the process.
One of my favorites in the set is The Best of Robert Silverberg (1976), published no less than half a dozen times over the next decade by five different publishers. It's a terrific volume that's still easy to find to today.

The Best of Robert Silverberg (Orbit/Future, August 1978). Cover by Peter Jones
Robert Silverberg is the grand old man of American science fiction. He began writing and submitting to SF magazines in the early 50s, published his first novel Revolt on Alpha C in 1955, and won his first Hugo in 1956 (for "Best New Writer"). Over the next few years he was to win every major award the field has to offer, including four Hugos and six Nebulas.
In addition to his major novels — including Downward to the Earth (1969), Dying Inside (1972), The Stochastic Man (1975), Lord Valentine's Castle (1980), Gilgamesh the King (1984), and The Face of the Waters (1991) — Silverberg is one of the best editors in the field. His groundbreaking anthologies include 9 volumes in the Alpha series (1970-78), a dozen volumes of New Dimensions (1971-81), Legends (2 volumes, 1988 and 2003), and the bestselling The Science Fiction Hall of Fame, Volume One (1970).

All nine volumes of the reprint anthology series Alpha,
edited by Robert Silverberg (Volume 1-5: Ballantine Books, 6-9: Berkley Medallion. 1970-78)
Silverberg was made a SFWA Grand Master in 2005. Among his other accomplishments, he's attended every Hugo Awards ceremony since the first, in 1953.
The Best of Robert Silverberg contains a total of ten stories, including the novella "Hawksbill Station" (1967), nominated for both the Hugo and Nebula Award, and perhaps his most famous story, "Nightwings" (1968), which was nominated for Nebula Award, and won the Hugo for Best Novella.

The Best of Robert Silverberg (Pocket Books, September 1980). Cover by Gerry Daly
Here's the complete Table of contents for The Best of Robert Silverberg.
Thinking About Silverberg by Barry N. Malzberg
Introduction by Robert Silverberg
"Road to Nightfall" (Fantastic Universe, July 1958)
"Warm Man" (The Magazine of Fantasy and Science Fiction, May 1957)
"To See the Invisible Man" (Worlds of Tomorrow, April 1963)
"The Sixth Palace" (Galaxy Magazine, February 1965)
"Flies" (Dangerous Visions, 1967)
"Hawksbill Station" (Galaxy Magazine, August 1967) — Hugo and Nebula nominee
"Passengers" (Orbit 4. 1968) — Hugo nominee, Nebula award winner
"Nightwings" (Galaxy Magazine, September 1968) — Nebula nominee, Hugo Award winner
"Sundance" (The Magazine of Fantasy and Science Fiction, June 1969)
"Good News from the Vatican" (Universe 1, 1971) — Nebula winner
The Best of Robert Silverberg was reprinted in the UK by Orbit Books in 1978, and reissued by Pocket in 1980 with a frankly better cover by Gerry Daly (see above). It was last reprinted by Baen in 1986 (see below), this time with a cover by Tom Kidd.

The Best of Robert Silverberg (Baen, August 1986). Cover by Tom Kidd
The Best of Robert Silverberg was a paperback original published by Pocket Books in February 1976. It is 272 pages (including introductions), priced at $1.95. The original cover was by Alan Magee.
It has been out of print for over 30 years. There is no digital edition.
Our previous coverage of the Pocket Best of volumes includes:
The Pocket Best
Barry Malzberg on the Pocket Best Of…. Volumes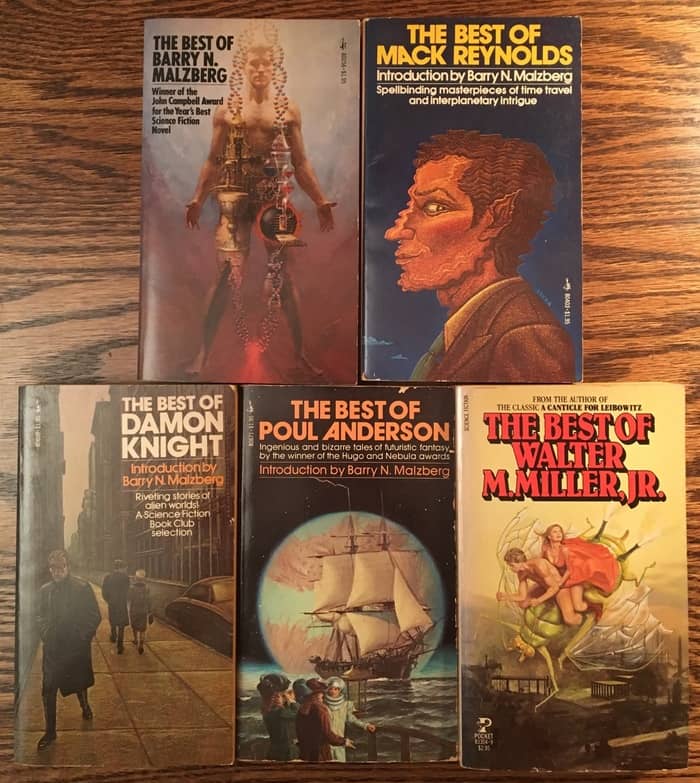 A few of Best Of collections published by Pocket Books: Barry N. Malzberg
Mack Reynolds, Damon Knight, Poul Anderson, and Walter M. Miller
Most of the Pocket Best of volumes contained introductions written by Barry Malzberg. When I wondered in print if the books had been edited (or ghost-edited) by Malzberg, Alvaro Zinos-Amaro contacted Malzberg personally. Here's Barry's reply.
The eight Best of collections were conceived by Robt. Gleason, the sf editor at the time [my novel] Beyond Apollo was acquired for sublicense from Random House and he remained there from 1972-1976. Those collections were acquired by him; he was fired in 1974 (went over to Playboy Press) and succeeded by his young assistant (b. 1952) Adele Leone Hull.

It was her idea to commission me for the eight Introductions (at $75 apiece!) and she wrote the cover copy; I had nothing to do with the collections beyond the Introductions. Hull was the sf editor at Pocket Books until 1978, went over very briefly to Pyramid and when Pyramid in 1979 was fully absorbed (under the Jove imprint) into Harcourt she became an agent.
Not sure why Barry acknowledges only eight volumes in the series; my count is at least ten, and possibly more. A mystery worth exploring!
See all our recent Vintage Treasures here.