Goth Chick News: Netflix Original Series Midnight Mass Is the Perfect Halloween Offering
Goth Chick News: Netflix Original Series Midnight Mass Is the Perfect Halloween Offering
Admittedly, the numerous streaming services make the month of October a whiplash of incredible viewing opportunities. Gone are the days of rehashing classic horror movies on commercial TV. In October 2021 you can navigate to "horror" or "Halloween Favorites" on everything from HBO Max, to Netflix, to Amazon Prime and find movies from Carpenter's Halloween (1978) to brand new original series such as Jason Blum's Welcome to Blumhouse horror anthology.
Dedicated goth chick that I am, I've committed myself to watching some version of horror every day (sometimes more) in the month of October. It was important to include classics while liberally peppering in new works as well. October 1st kicked off with Young Frankenstein (what else?), and thus far I have worked my way through Bram Stoker's Dracula (1992), Kenneth Branagh's Frankenstein (1994), all the original Universal Studios monster classics (which I own in multiple formats), Brendan Fraser's Mummy (1999), Johnny Depp's Ed Wood (1994) and several of the "firsts" such as the first Nightmare on Elm Street, Friday the 13th and Halloween. However, I simply couldn't ignore the new entries in the binge-watchable series, of which there are a plethora to choose from.
Enter Midnight Mass, an original from Netflix.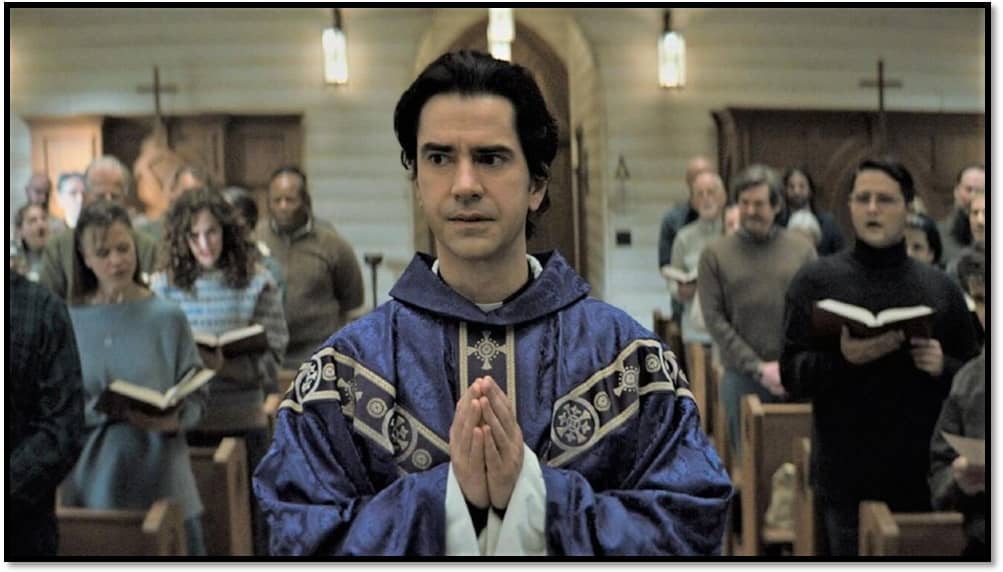 Created and directed by Mike Flanagan, I had mixed feelings about whether or not Midnight Mass would be worthy of my sacred, 31-day celebration. Flanagan is responsible for one of my most recent, crushing disappointments: the movie version of Stephen King's Shining sequel, Doctor Sleep. However, he also created, produced and served as showrunner on the Netflix supernatural horror anthology series The Haunting which consisted of The Haunting of Hill House (2018), a fabulous, nail-biter of a season based on Shirley Jackson's novel of the same name, and The Haunting of Bly Manor (2020), a season based on the horror novella The Turn of the Screw by Henry James. So, in my mind, Flanagan is zero for one on the big screen, and two for two on Netflix; meaning I had to give it a go.
Midnight Mass follows the citizens of a very small, isolated community on Crockett Island. Roughly an hour from the mainland of somewhere very east (Maine maybe?), the island has a population 127, primarily consisting of a handful of fishermen who remember when times weren't so lean and the place was perfect for raising a family.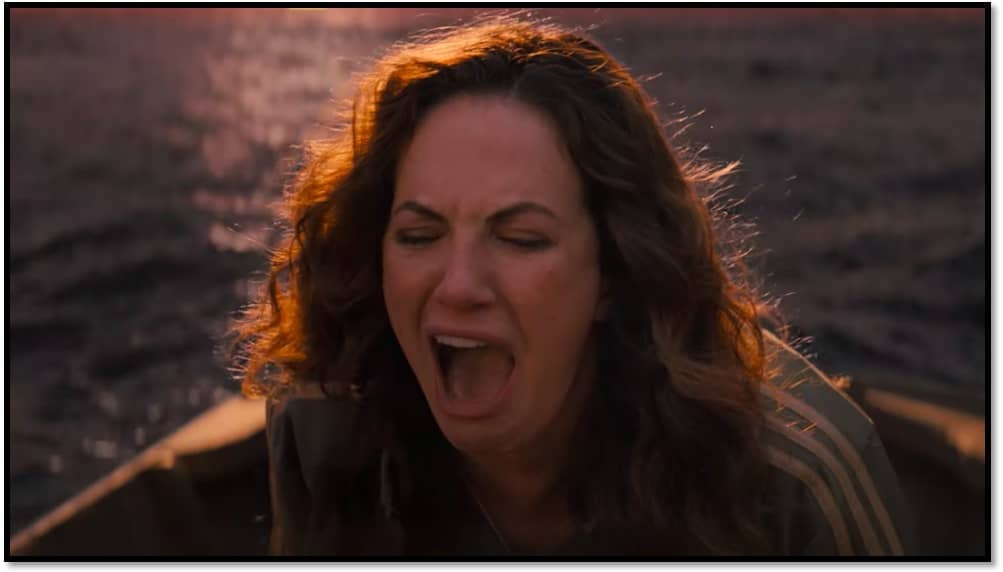 There a few restless teenagers around, biding their time until they can leave. There's the town doctor, who takes care of her ailing, geriatric mother, and the town drunk who, because of a tragedy years ago, has an unfortunate connection to the mayor. There's the town handyman, who keeps everything from boat engines to the island's electrical grid up and running. Crockett just got a new sheriff as well, a widower with a son who works out of the back of the general store. Because the new lawman hails from the city and is a Muslim, he's had a harder time integrating with his largely Christian neighbors.
There are a few black sheep who have recently returned to the fold as well. Once upon a time, Riley Flynn (Friday Night Lights' Zach Gilford) went to Chicago to find his fortune. He made a pile of money, killed a young girl while driving drunk, and did a four-year prison sentence for manslaughter. Now he's returned to live with his younger brother, his caring mother (Kristin Lehman) and chilly, stoic blue-collar father (Henry Thomas) while he picks up the pieces of his life. Also back is Erin Greene (Kate Siegel), who ran away during her younger, wilder years. She's now pregnant, and has taken her late mother's place as the town's teacher.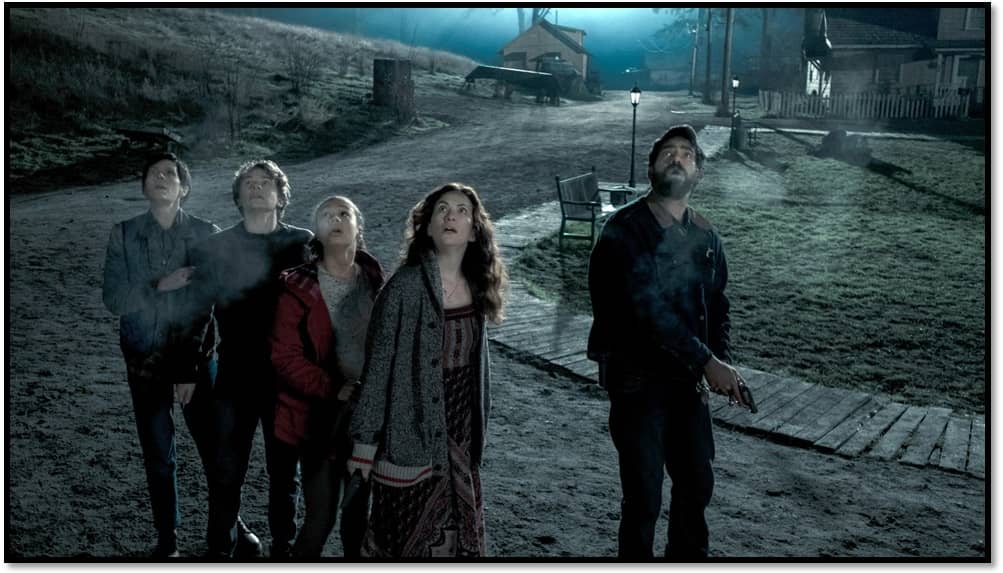 And then there's Father Pruitt, the monsignor who's held mass at church for longer than anyone can remember. He's so beloved that everyone pitched in to send the octogenarian on a pilgrimage to the Holy Land. He was supposed to come back on the afternoon ferry this very day, in fact, right before a storm shuts down everything on the island. Only no one's seen him, much to the consternation of the local judgmental busybody Bev Keane (Samantha Sloyan), who helps out at the rectory. Instead, a younger priest has arrived. His name is Father Paul (Hamish Linklater). This friendly, charismatic man of God informs the congregation that Pruitt has taken ill while abroad and the diocese has asked Paul to fill in for the time being.
The locals don't much like strangers, though they treat Father Paul kindly enough. Then the miracles start occurring. The paralyzed can suddenly walk, the sick start to recover, and the elderly seem to be aging in reverse. Soon, the church has re-established itself as the spiritual center of this once-desolate village.
You've just got to know this isn't going to end well, so check out the trailer.
Without giving anymore away, this is one of the most innovative takes on a classic horror tale, that I have witnessed in a long time. I have managed to binge five of the seven episodes of Midnight Mass currently available on Netflix, and only stopped because Mr. Goth Chick wanted to catch up so we could watch the smashing end-of-the-season together. The acting and storytelling is exceptional, mixing abject horror with truly emotional character development.
Rolling Stone magazine labels Midnight Mass "the single most terrifying thing on TV right now" and "your perfect Halloween binge." Flanagan has gone on record calling Midnight Mass, "the best thing he has ever done." The storyline drives home the notion that the evil that men do is bad, but the evil done by the good and the pious in the name of righteousness is even worse. Though I haven't finished the last two episodes, I'm already wondering and wishing there would be more to this riveting story. Usually, I'd bet money on a renewal if viewing figures are strong enough, but Flanagan has already signed a multi-year overall TV deal with Netflix, which involves several new projects. He will undoubtedly have other ideas in the pipeline as part of that contract, so taking all that into consideration, I wouldn't be surprised if Midnight Mass really is a limited, seven-episode run.
In which case, we have been truly blessed.