New Treasures: Nebula Awards Showcase 54 edited by Nibedita Sen
New Treasures: Nebula Awards Showcase 54 edited by Nibedita Sen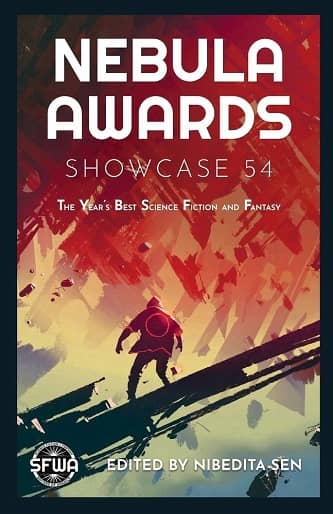 The Nebula Awards Showcase is one of the most auspicious and long running anthology series in science fiction. Founded way back in 1966 by Damon Knight (the man who founded the Science Fiction Writers of America), the series was originally created to help fund the annual Nebula Awards, and in that regard it's had a successful run for over five decades — and produced a great many top-notch anthologies in the process.
Want examples? Just have a look at the first three volumes, which contained such stories as "Repent, Harlequin!" Said the Ticktockman" by Harlan Ellison, "The Doors of His Face, the Lamps of His Mouth" by Roger Zelazny, "The Saliva Tree" by Brian W. Aldiss, "Light of Other Days" by Bob Shaw, "The Last Castle" by Jack Vance, "We Can Remember It for You Wholesale" by Philip K. Dick, "Aye, and Gomorrah…" by Samuel R. Delany, "Behold the Man" by Michael Moorcock, and "Gonna Roll the Bones" by Fritz Leiber.
This year's volume is unusual in that it's the first to be published directly by SFWA (technically SFWA, Inc, which as far as I know was created solely to publish this book). Otherwise, it hews pretty close to tradition. It's edited by a rising star in the industry — in this case Bengali writer Nibedita Sen — and contains as many of last year's Nebula Award winners and nominees as they could cram between two covers.
The book was released last month in trade paperback; digital editions are coming soon. Here's a look at the complete Table of Contents.
Intro & Essays
Introduction by Nibedita Sen
"It's Dangerous to Go Alone" by Kate Dollarhyde
"Into the Spider-verse: A Classic Origin Story in Bold New Color" by Brandon O'Brien
Best Short Story
"The Secret Lives of the Nine Negro Teeth of George Washington" by P. Djèlí Clark — Nebula winner
"Interview for the End of the World" by Rhett C. Bruno
"And Yet" by A. T. Greenblatt
"A Witch's Guide to Escape: A Practical Compendium of Portal Fantasies" by Alix E. Harrow
"The Court Magician" by Sarah Pinsker
Best Novelette
The Only Harmless Great Thing by Brooke Bolander — Nebula winner
"The Last Banquet of Temporal Confections" by Tina Connolly
"An Agent of Utopia" by Andy Duncan
"The Substance of My Lives, The Accidents of Our Births" by José Pablo Iriarte
"The Rule of Three" by Lawrence M. Schoen
"Messenger" by R.R. Virdi & Yudhanjaya Wijeratne
Best Novella (Excerpts)
The Tea Master and the Detective by Aliette de Bodard — Nebula winner
"Fire Ant" by Jonathan P. Brazee)
The Black God's Drums by P. Djèlí Clark
Alice Payne Arrives by Kate Heartfield)
Gods, Monsters, and the Lucky Peach by Kelly Robson
Artificial Condition: The Murderbot Diaries by Martha Wells
Best Novel (Excerpt)
The Calculating Stars by Mary Robinette Kowal) — Nebula winner

Biographies
Nebula Awards Showcase 54 was published by SFWA, Inc. on November 17, 2020. It is 480 pages, priced at $19.99 in trade paperback. According to the SFWA website, digital editions will be announced Not sure who did the cover, but I like it.
Our previous coverage of Nebula anthologies includes:
Nebula Awards One and Two
Nebula Award Stories 3, edited by Roger Zelazny, reviewed by William I. Lengeman III
Nebula Winners Fourteen, edited by Frederik Pohl
Nebula Awards Showcase 2014, edited by Kij Johnson
Nebula Awards Showcase 2015, edited by Greg Bear
Nebula Awards Showcase 2016, edited by Mercedes Lackey
Nebula Awards Showcase 2017, edited by Julie E. Czerneda
Nebula Awards Showcase 2018, edited by Jane Yolen
Nebula Awards Showcase 2019, edited by Silvia Moreno-Garcia
See all our recent coverage of the best in upcoming fantasy and SF here.