Capture the Magic of the Nebulas With Nebula Awards Showcase 2016, edited by Mercedes Lackey
Capture the Magic of the Nebulas With Nebula Awards Showcase 2016, edited by Mercedes Lackey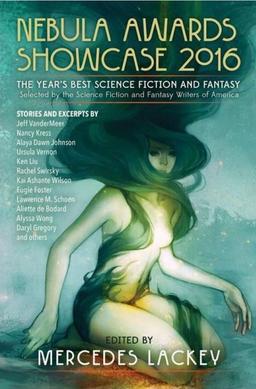 The buzz here at the Black Gate rooftop headquarters for the past week has been all about the Nebula Awards weekend, held just a few blocks away in the Palmer House in downtown Chicago. Half of the staff attended — including me, Tina Jens, C.S.E. Cooney, Derek Kunsken, and Zeta Moore — and we had a terrific time, mingling with the great writers, editors, and publishers in the field. It culminated, of course, in the Nebula Awards presentation Saturday night (see our detailed report on the Awards here, and the entire weekend here).
The Nebulas are a celebration of the finest writing of the year, and even if you can't attend the weekend, you can still enjoy that — in the form of the annual Nebula Awards Showcase. The latest volume, edited and assembled by Mercedes Lackey, gather the winners from last year in a handsome trade paperback.
The Nebula Awards Showcase volumes have been published annually since 1966, reprinting the winning and nominated stories of the Nebula Awards, voted on by the members of the Science Fiction and Fantasy Writers of America (SFWA). The editor, selected by SFWA's anthology Committee (chaired by Mike Resnick), is American science fiction and fantasy writer Mercedes Lackey. This year's Nebula winners are Ursula Vernon, Alaya Dawn Johnson, Nancy Kress, and Jeff VanderMeer, with Alaya Dawn Johnson winning the Andre Norton Award for Young Adult Science Fiction and Fantasy Book.
Mercedes Lackey took the rather unusual approach of including every short story and novelette nominee and winner, and limiting herself to excerpts in the novella category (with the exception of the winner). See the complete Table of Contents here.
You can find the complete list of 2015 Nebula nominees here.
And we previously covered several earlier volumes in the Nebula Awards Showcase series:
Nebula Awards One and Two From Stealth Press
Cloud Sculptors, Dragon Riders, and an Unearthly Craps Game: Nebula Award Stories 3, edited by Roger Zelazny
Nebula Awards Showcase 2014, edited by Kij Johnson
Nebula Awards Showcase 2015, edited by Greg Bear
Nebula Awards Showcase 2016 was published by Pyr Books on May 3, 2016. It is 320 pages, priced at $18 in trade paperback, and $9.99 for the digital edition. The cover is by Reiko Murakami.
See all of our coverage of the best in new fantasy books here.