Weird Tales Deep Read: November 1934
Weird Tales Deep Read: November 1934
Weird Tales, November 1934. Cover by Margaret Brundage (for "Queen of the Lillin")
We're back on more familiar ground with this issue of Weird Tales from its classic period. More familiar authors are represented, and although not every story is a classic the editors at least avoided any real stumbles this. The issue grades out to a 2.1, which all in all is pretty decent.
Both Howard and Lovecraft appear, although the Lovecraft tale is a reprint and the Howard is the last installment of a serial. E. Hoffman Price, Paul Ernst, and August Derleth, seasoned pulp veterans all, also contributed stories. Price tale's is part of his Pierre d'Atois stories; , d'Atois, like another Frenchman who appears in a series of WT stories, is an occult detective. The Ernst is one of his slighter efforts. The Derleth is somewhat more unusual, although, as is common, also rather slight. We have to cover already trodden ground with two serials this time around. I've included the information on those stories for those who haven't read all the posts in this series.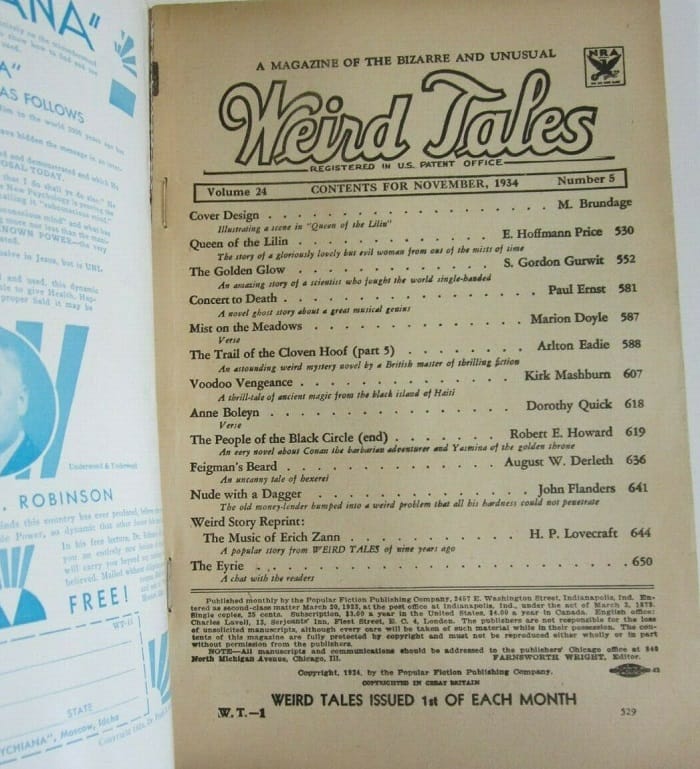 Nine stories in total, 7 with contemporary settings (78%) and one each set in the future and in the past (11%, each). Four take place in the United States (44%), two each in France and the UK (22%), and one in a fictitious realm (11%). Three of the stories are part of a series (33%). I suppose you could quibble with the Lovecraft, but although he certainly uses common themes in "The Music of Erich Zann," I find its connection to the Cthulhu Mythos negligible. Howard gets the nod for the best story for this issue.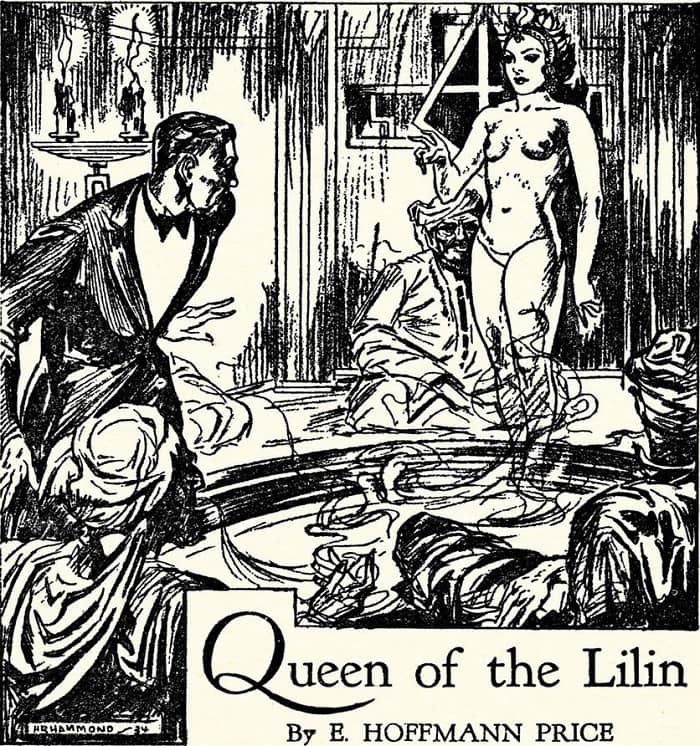 E. Hoffmann Price. (2) [Pierre d'Atois] "Queen of the Lilin" [Bayonne, France; Contemporary] Occult scholar Pierre d'Atois battles the "materialized thought form" of the demon known as Lilith, recalled to contemporary times by a rather feckless occult student. D'Atois is a more realistic occultist than the other Frenchman who inhabits the pages of this magazine, if somewhat less colorful, and Price's knowledge runs usually runs deeper. [Occult investigator. Hypnotism. Demon, evocation. Demon, exorcism. Occult object, crux ansata. Occult object, statuette. Death, by sword. RFD, animated corpses. Death by magic, animated corpses.]
S. Gordon Gurwit (2) "The Golden Glow." [US, NYC and Colorado; Future, 1942 from 1934] A scientist invents a plethora of weapons, all based on various "rays," and through the voice of a popular newspaper, forces mankind to give up war. Then he disappears. Naive, but welcome idealism. [SF. Scientist. Weather control. Invulnerability. Pacifism. Forced government reform.]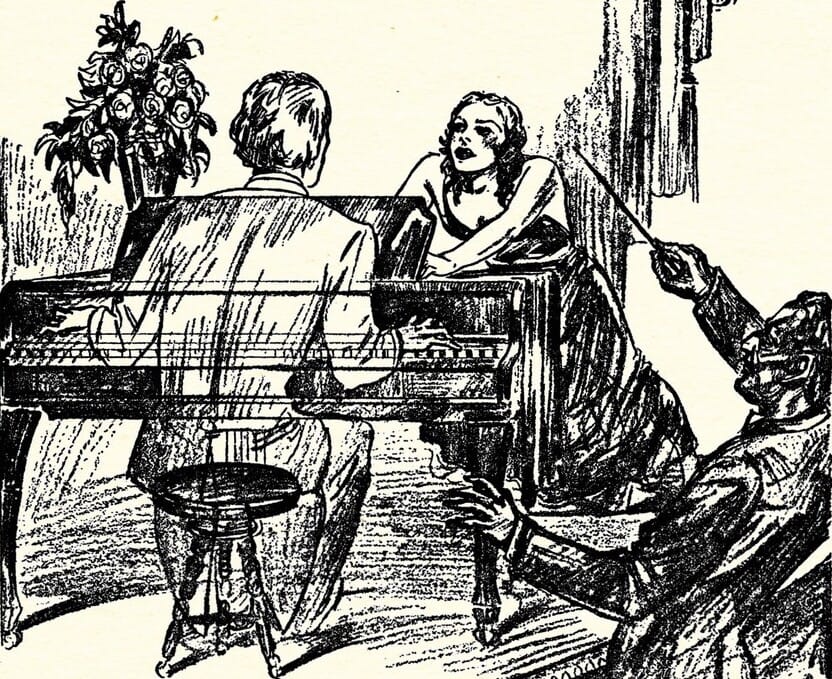 Paul Ernst (3) "Concert to Death" [US, Urban; Contemporary] A memorial concert for a famous composer is held on the first anniversary of his death, with his personal piano on the stage. His ghost appears to play his lost last composition, whose score is discovered concealed inside the piano, to benefit his destitute widow. [RFD, ghost. Grateful dead.]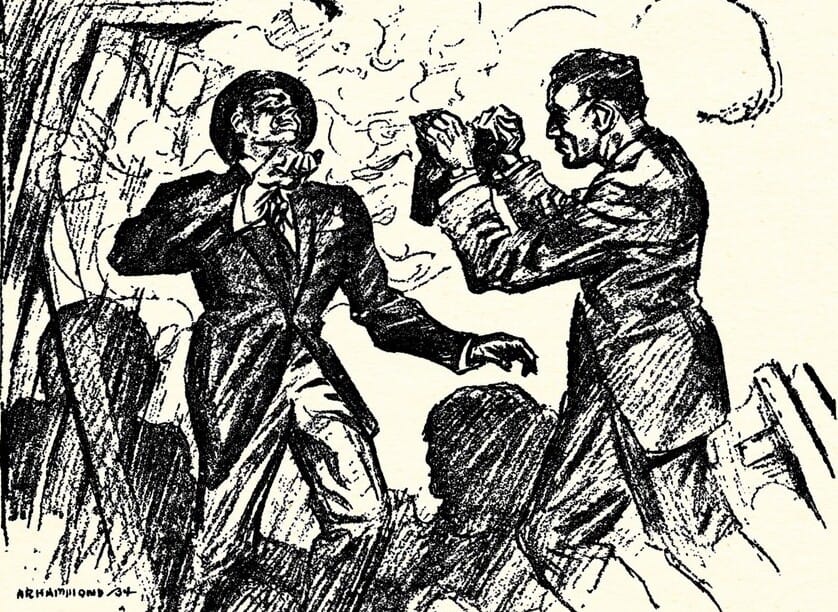 Arlton Eadie. "The Trail of the Cloven Hoof." (v/vii) (2) "Trail of the Cloven Hoof, The." (iv/vii) (UK, Exmoor; Contemporary) Doctor on a hiking tour runs into mystery on the moor as he finds a man apparently attacked by a creature that left a trail of cloven hoof prints. This leads to an (under-utilized) sanitarium of dubious propriety, murder, a powerful secret weapon (gas that causes people to explode), love at first sight, and medical experiments that culminate in a human/stag centaur. Fairly interesting, but an over-reliance on a capture/release plot combined with long conversations grinds down the narrative. [SF. Asylum, faux. Secret lab. Mad scientist, medical doctor. Super weapon, explosive gas. Foreign spy, German. Scientist, chemist. Murder. Medical experiment, human/animal transplant, stag. British Secret Service. Love at first sight.]
W. K. [Kirk] Mashburn. (3) "Voodoo Vengeance" [US, Contemporary] An ex-soldier once stationed in Haiti takes his wife to a psychiatrist because her mulatto step-brother is trying to gain control of their father's estate by driving her insane. The psychiatrist realizes that she's the victim of a voodoo curse and preforms a counter ceremony to exchange the step-brother's spirit with that of his vicious dog. They kill the dog and the step-brother's body, now containing the dog's mind, is confined to a sanitarium. [Scientist, psychiatrist. Evil step-brother. Inheritance scheme. Voodoo. Soul transference, man to animal (dog). Sanitarium.]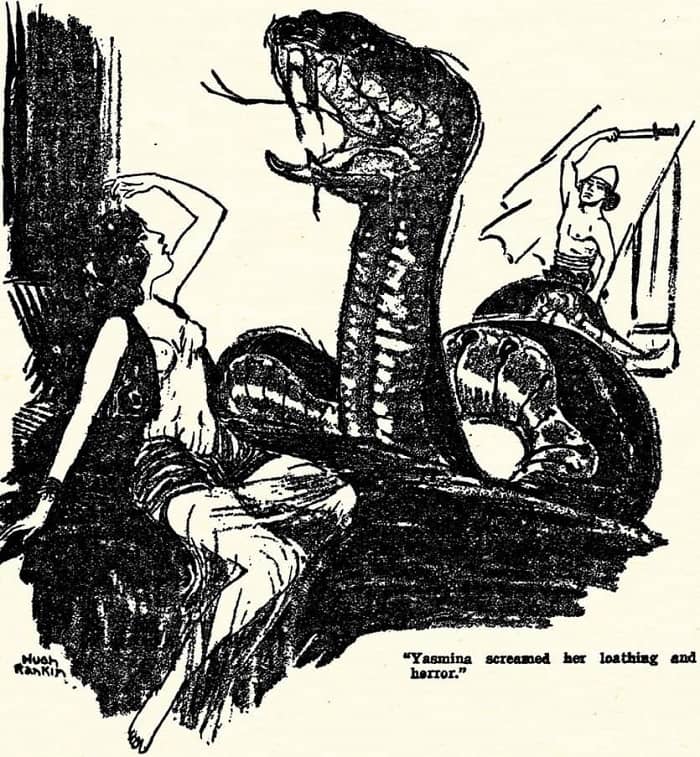 Robert E. Howard. (1) [Conan] "The People of the Black Circle" (iii/iii) [Vendhya (fictitious realm), Peshkhanri (fictitious city), Afghulistan (fictitious realm), Past, far: Hyborean Age (fictitious)] A sprawling plot turning on political intrigue between the realms of Vendhya and Turan that Conan, chief of a clan of Afghuli hillmen, gets drawn into after he kidnaps the Devi of Vendhya to use as a bargaining chip to free captive men. To complicate the situation a spy has hired a cabal of sorcerers, The Black Seers, to aid Turanian interests, one of which is seduced into furthering his own worldly ends. One of Howard's most complicated and ambitious stories. [Political intrigue between nations. Spy. Sorcerers, evil. Mercy killing. Kidnaping, political. Occult spells, death, flying, mind control, telepathy, telekinesis, matter transmutation. Sword fight. Death by animal, horse. Magic item, charm, girdle (belt). Vision, past lives. Death by occult animal, hawk and serpent. Assault on castle. Battle of armies.]
August Derleth. (2) "Feigman's Beard" [US, Rural; Contemporary] Sister seeks vengeance on her abusive brother when he refuses to turn over her share of the money received from selling hogs. She asks a local hex woman for help, and supplies her with the necessary ingredients to place a curse on him, but she also fails to heed the woman's warnings resulting in her own death. [Death by magic. Miser. Sorrorial abuse. Magic item, mirror. Magic manuscript. Warnings, ignored.]
John Flanders (Jean Ray).(3) "Nude With a Dagger." Translation of "Le Tableau" (1925) [UK, Contemporary] A miserly moneylender who ruins many clients, takes a painting from an artist as a payment. The struggling artist dies from fumes from a coal fire lit to keep him warm and the picture changes to the image holding a dagger exactly like the moneylender's who is discovered with a slit throat. The dagger in the painting drips blood. [Magic item, painting. Just vengeance. Death, by magic.]
H. P. Lovecraft. (1) "The Music of Erich Zann" (rpt. WT 5-25) [France, Urban; Contemporary] A university student studying metaphysics shares a cheap boarding house with a musician whose music somehow opens alien dimensions and keeps his body functioning after death. Shares themes with the Cthulhu Mythos without specific connections. [Magic, music. Return from dead, animated corpse.]
Our previous Deep Reads include:
Weird Tales, March 1933
Weird Tales, June, 1923
Weird Tales, July 1933
Weird Tales, August 1934
Weird Tales, October 1934
---
John Jos. Miller's latest publication is "An Annotated Long Night at the Palmer House." Next up: Death Draws Five (Tor, January 2021). See: www.facebook.com/john.j.miller .9883