Weird Tales Deep Read: August, 1934
Weird Tales Deep Read: August, 1934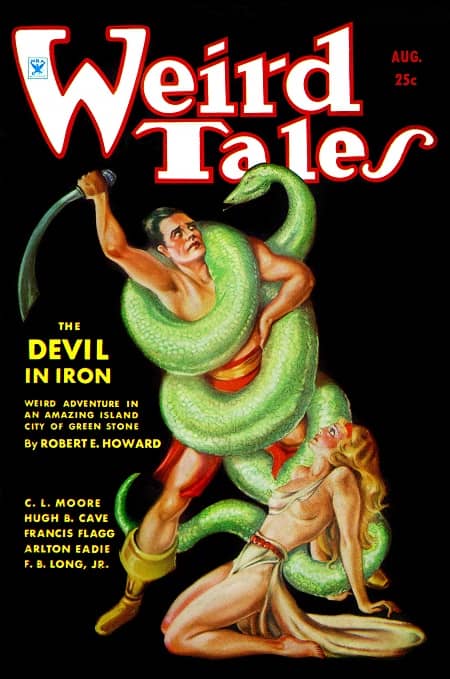 Yet another Brundage cover
We have another nine stories to consider this time around, but what is particularly noteworthy is that all nine of the authors are at least somewhat well known. The most obscure on the list is probably Anthony Rud (here writing under the name of R. Anthony, perhaps best known for his story "Oooze," arguably the best offering in WT's initial issue [3-23]), which is partially due to his passing in 1942 at the relatively young age of 49. Also unknown today is Arlton Eadie, who died even earlier (1935) also at 49, but everyone else had long writing careers, although some, of course, have fallen by the wayside due to the relentless march of time.
Of the nine stories, eight (89%) are either fantasy or science fiction, several actually in the gray area between the two genres. Seven stories (78%) have contemporary settings, one (11%) is set in the far past and one (11%) in the future. Four (44%) take place in the United States, and one each in a fictitious realm in the far past, on the planet Mars, in the South Seas (mostly), Great Britain, and a fictional Central European country. Three (33%) are part of a series.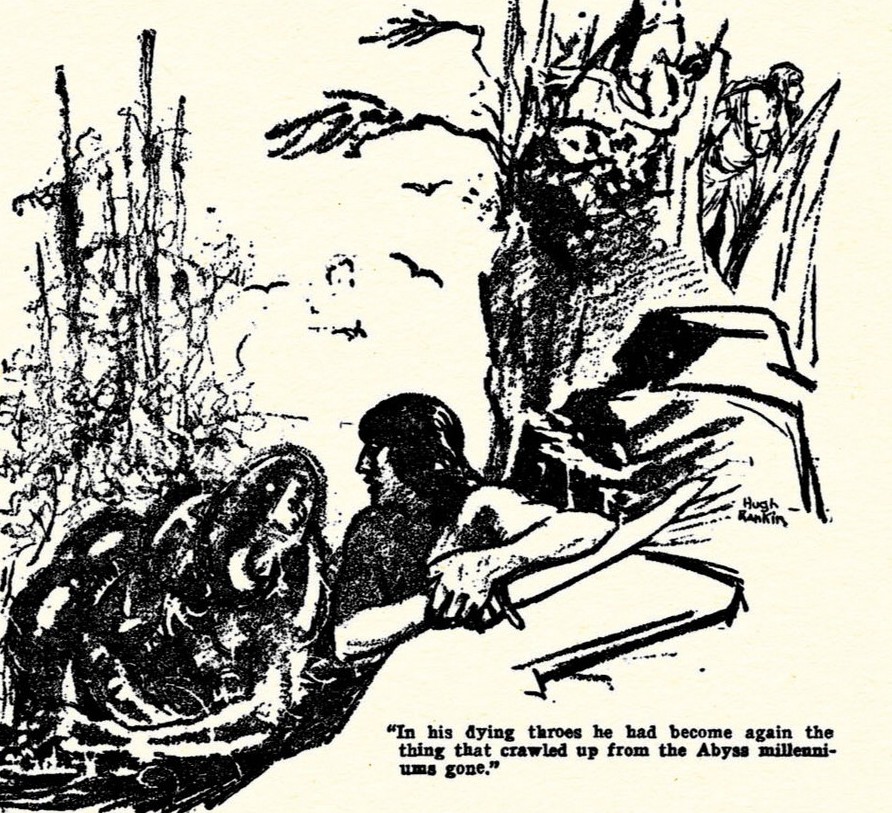 Howard, Robert E. [Conan] (2) "Devil In Iron, The" (Turan, fictitious realm; Hyborian Age, far past, fictitious.) As chief of the upstart kozaki, Conan is a thorn in the side of the Turanian king who hatches a plot wherein a slave girl lures Conan to an island deserted but for the ruined city of Dagon, which has recently been reconstituted by its revived god, much to the consternation of Conan and the Turanian agents sent to slay him. Written with the usual Howard verve, although the plot relies too heavily on coincidence and vague prophetic visions to supply the necessary details. [God, alien. Giant animal, snake. Magic artifact, knife. Ruined city, reconstituted. Deicide, by magic artifact. Sword fight. Death, by sword.]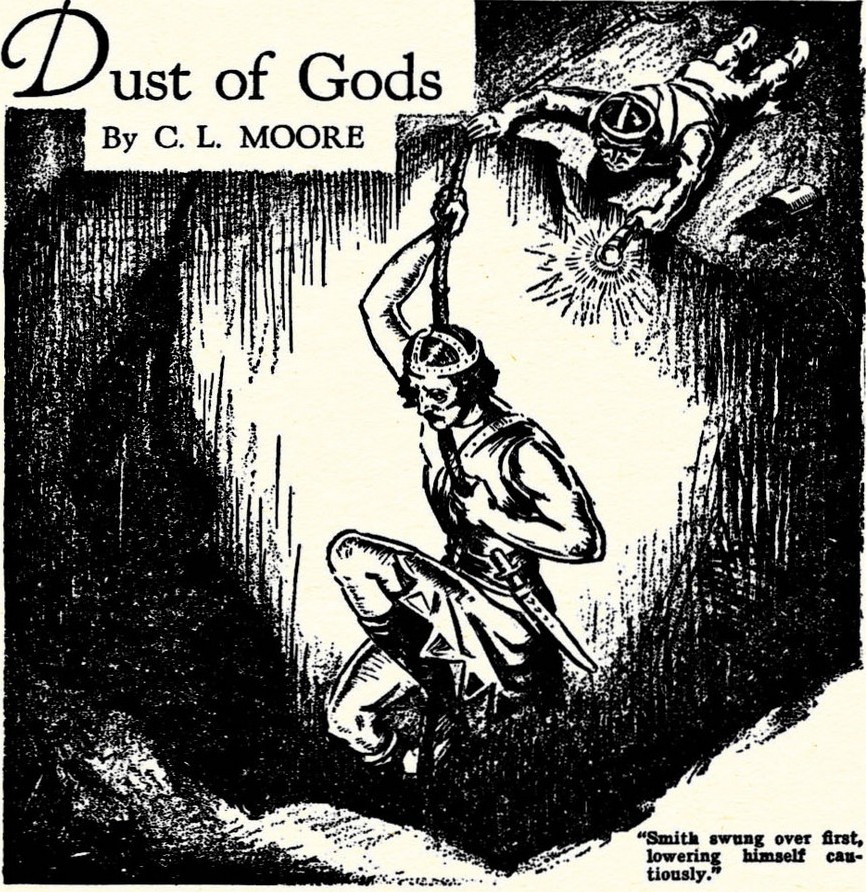 Moore, C. L. [Northwest Smith] (1) "Dust of Gods" (Mars, Future) Northwest Smith seeks the dust which is all that remains of a primal god. Interplanetary adventure, which, considering the subject matter, tips to the fantasy side. Atmospheric, original, well-written. [God, alien primal. Ruined city.]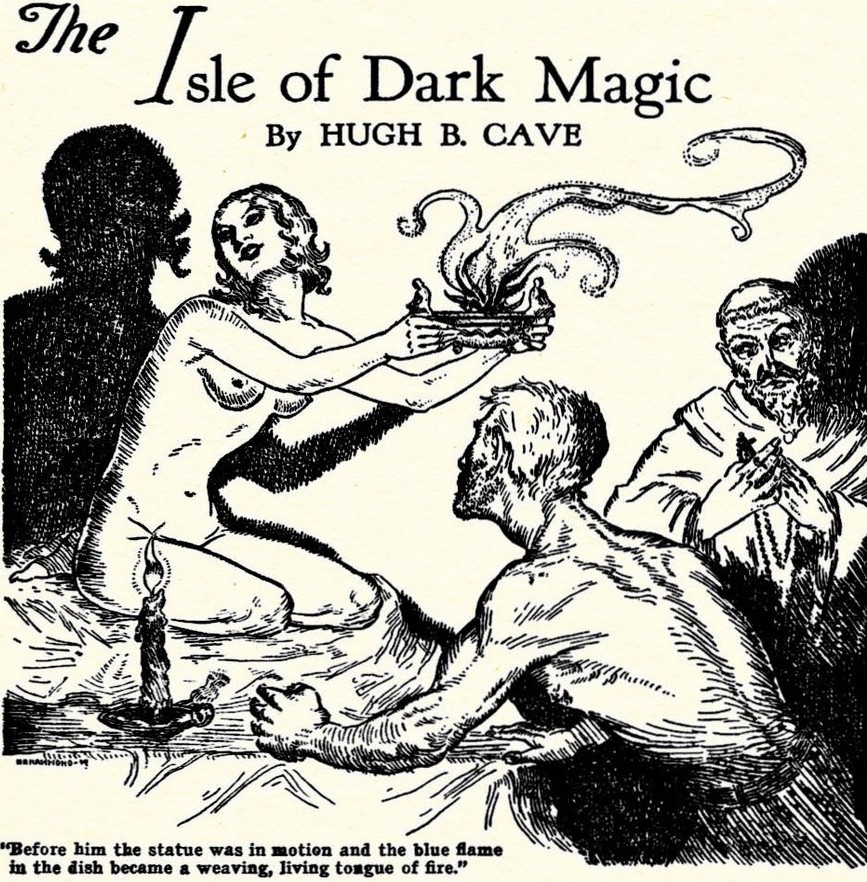 Cave, Hugh. [Cthulhu Mythos.] (2) "Isle of Dark Magic" (South Seas, Contemporary) A rich young guy expelled from med school because of dubious experiments comes to a remote island with the hope of resurrecting his dead lover by animating a statue using a combination of a Black Mass and beseeching Cthulhu Mythos entities, but his incantations also reanimates her corpse. It travels across the world to be with him and kills both him and the statue out of jealousy. Well-written for most part and kind of original, but doesn't entirely make sense. [Love triangle. Murder. Sorcerer, black. Black Mass. Cthulhu Mythos, Nyarlathotep. RFD, revitalized corpse. Magic object, statue, animated.]
Long, Frank Belknap. (3) "Beast-Helper, The" [Central Europe, Trivania, fictional country; Contemporary] A dictator controls a gorilla with a "brain tube" and sends it to assassinate his rivals. When an American reporter kills the beast, the dictator dies. [Mind control, by technology, animal, gorilla. Death by animal, gorilla.]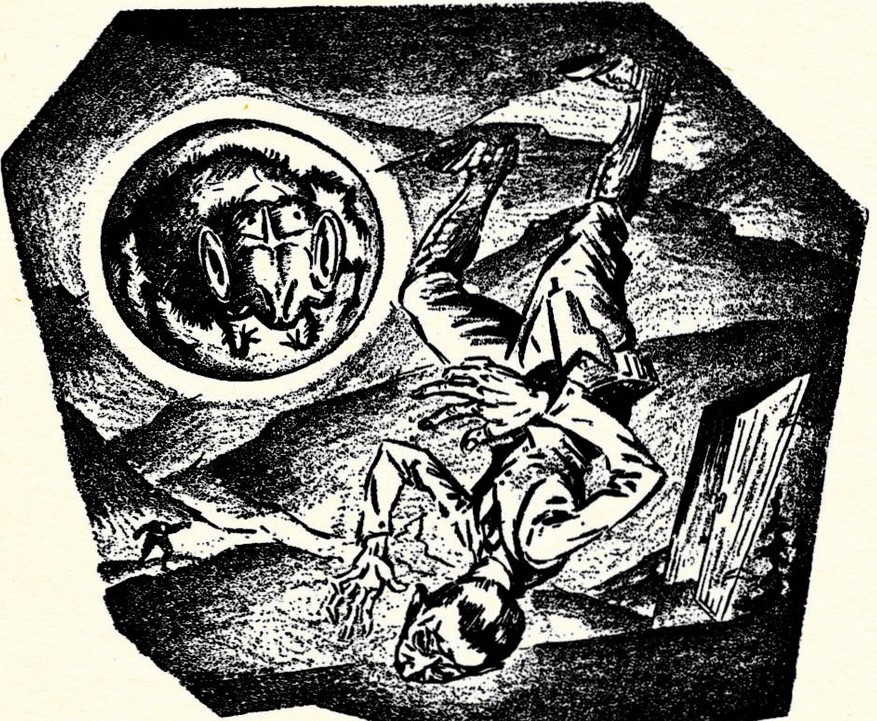 Flagg, Francis [George Henry Weiss] (1) "Distortion Out Of Space, The" [Western US, Contemporary.] A meteor, which is actually an interstellar spaceship, crashes into a house, disrupting the space continuum and exposing alien vistas. The house's inhabitant accidentally kills the alien and space returns to normal. [SF. Alien. Dimensional disruption. Death, accidental.]
Eadie, Arlton (2) "Trail of the Cloven Hoof, The" (UK, Exmoor, Contemporary) (ii/vii) Doctor on a hiking tour runs into mystery on the moor as he finds a man apparently attacked by a creature that left a trail of cloven hoof prints. This leads to an (under-utilized) sanitarium of dubious propriety, murder, a powerful secret weapon (gas that causes people to explode), love at first sight, and medical experiments that culminate in a human/stag centaur. Fairly interesting, but an over-reliance on a capture/release plot combined with long conversations grinds down the narrative. [SF. Asylum, faux. Secret lab. Mad scientist, medical doctor. Super weapon, explosive gas. Foreign spy, German. Scientist, chemist. Murder. Medical experiment, human/animal transplant, stag. British Secret Service. Love at first sight.]
Counselman, M(ary) E(lizabeth). (2) "Three Marked Pennies, The" (Southern US town, fictitious, Contemporary] A bizarre contest in which three marked pennies have been placed in circulation in a small town. After a week, three "prizes" will be awarded to those who have the coins: a hundred thousand dollars, a trip around the world, and death. Original concept with a minor pay off. [Murder, poison, snake venom]
Ernst, Paul (-/1) "Marvelous Knife, The" [US, Contemporary] A murderer sets a madman up to take the rap by telling him that a knife is magic and can do no harm. [Murder, by knife. Insanity.]
R. Anthony [Anthony M. Rud] (1) "Parasite Hand, The" (Reprint from 11-26) (US, Contemporary) Parasitic hand – all that remains of an absorbed twin – murders his host, after being surgically removed. Authentically creepy. [Medical doctor. Prophetic dream. Murder]
This was a very strong issue, with honors for best story going, in my opinion, to C. L. Moore. The supporting stories were stronger than usual, contributing to the high 1.67 rating, making this, so far, the second best issue. But there's still a long way to go.
Speaking of which – what would you readers out there in internet land like to see covered in future installments? Any particular issue? Any particular writer? I have some very early issues – including the first – almost ready, but I hesitate to post reviews of writers who are largely obscure and stories which are totally forgotten (many for good reason). I like the idea of examining WT's evolution, but what do you think?
Previous Weird Tales deep reads:
---
John Jos. Miller's latest publication is: "An Annotated Long Night at the Palmer House" at https://www.wildcardsworld.com/the-annotated-a-long-night-at-the-palmer-house/. Next up: Death Draws Five (Tor, January 2021). See: www.facebook.com/john.j.miller .9883