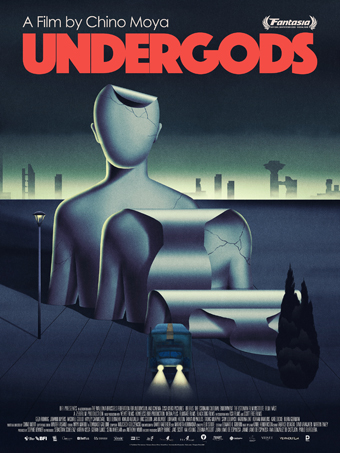 There is a certain tone I find in some works of science fiction, almost all from Europe, a 'literary' approach that uses science-fictional imagery with self-conscious irony in a way that at least approaches allegory and often satire. In prose I associate this approach with Lem and indeed Kafka; in film, with Tarkovsky's science-fiction (adapting Lem and the Strugatskys) and Alphaville and On The Silver Globe. The focus in these works is less on world-building than on symbolism, and often on a narrative structure that layers stories within stories and plays with chronology. At their best, these tales emphasise the purely fantastic essence at the heart of science fiction: a type of wonder that uses a modern vocabulary.
This year's Fantasia Festival had a film in that tradition called Undergods. Written and directed by Spaniard Chino Moya, it's officially a co-production from Estonia, Sweden, Belgium, and the UK. A series of interlaced stories told by a couple of bored men on a long journey by truck, it openly refers to the work of E.T.A. Hoffmann, one of the early masters of the kind of fiction I described above. That made Undergods the second Hoffmann-influenced film I saw at Fantasia after Tezuka's Barbara, which was inspired by the tales of Hoffmann at several removes. Hoffmann was a writer who played about with doubles and alter-egos — one of his unfinished novels, Kater Murr, imagined the autobiography of a complacent bourgeouis housecat written on the back of letters by a frenzied Romantic composer — so it's interesting to note that Barbara evoked the content of Hoffmann's stories without their complexity of form, while Undergods had the form of stories commenting on stories without much of the fantastic content.
The film opens with the truckers (Johann Myers and Géza Röhrig), gathering corpses in a ruined city. They start talking about their dreams, which leads to them telling three stories. In the first, an older man (Michael Gould) and his wife (Hayley Carmichael) take in another man (Ned Dennehy) who claims to be a tenant in their building who's locked himself out of hs room; he's helpful, but doesn't leave, and soon appears to be manipulating them for some unknown reason. From there we pass to a father telling his young daughter about the aftermath of those events, and then launching into a bedtime story. That story's about an old and wealthy businessman (Eric Godon) who betrays a brilliant but naive architect (Jan Bijvoet); in revenge the architect kidnaps the businessman's daughter (Tanya Reynolds), leading the businessman to team up with her boyfriend to try to find her — eventually ending up in the city of the corpse-gatherers. The last story begins where the last ended, with a prison in the ruined city, where an inmate (Sam Louwyck) is released to return to his family in a modern city in the developed world; Sam's wife (Kate Dickie), thinking him dead, has long since married Dominic (Adrian Rawlins) whose perspective we follow as the family tries to adapt to Sam's reappearance.
---