Vintage Treasures: So Bright the Vision by Clifford D. Simak
Vintage Treasures: So Bright the Vision by Clifford D. Simak
So Bright the Vision by Clifford D. Simak (Ace, 1976). Cover uncredited, but likely Michael Whelan
Over the last few weeks I heartily enjoyed writing a pair of lengthy articles on the way Berkley Books packaged and marketed Poul Anderson in 1976-79, and Ace Books did the same thing with Robert Silverberg in 1977. I think I had so much fun because it allowed me to indulge in my favorite past time (obsessing over old paperbacks) for hours, and dress it up as legit research. Yes, I did relentlessly track down every single Poul Anderson paperback published by Berkley in the 70s, including The High Crusade, even though I already had four editions of that damn book. But I did it for science. Well, paperback science. Which is totally a thing, and not a form of hoarding or mental illness or anything. Look, I have these scholarly articles to prove it.
In any event, my thoughts have now turned to what author/publisher combo I should examine next (for science, naturally). There are lots of possibilities of course, but ideally it should be a terrific writer, paired with a cover artist who knocked it out of the park. And the more I think about it, the more I think it should be the four Clifford D. Simak paperbacks published by Ace in a single month in September, 1976.
Simak had been a steadfast earner at Ace for decades, but despite having many of his titles in their back catalog, they'd never done any author branding for him. When the Ace editorial team simultaneously secured the rights to a set of Simak reprints in 1976 — City, So Bright the Vision, The Trouble with Tycho, and Time and Again — they gave him a consistent cover design for the first time, and paired him with a young 26-year old up-and-coming artist named Michael Whelan, who'd done only four previous covers for Ace in his short career.
Needless to say, Whelan did indeed knock it out of the park, delivering iconic illustrations for all four books. Well unofficially, anyway. Because while the cover art for the sole collection in the set, So Bright the Vision, is clearly by Michael Whelan, officially the cover artist remains unidentified.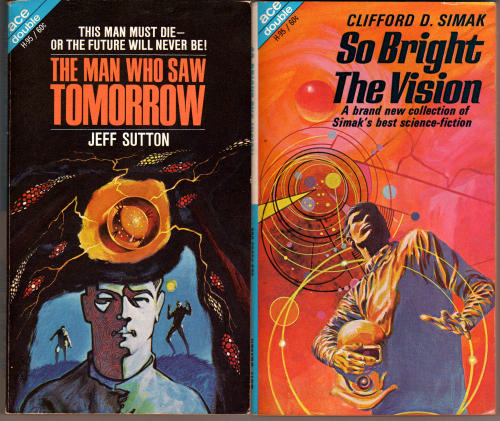 Ace Double, 1968. Covers by Jack Gaughan and Gray Morrow
So Bright the Vision was first published as half of an Ace Double in 1968, where it was paired with The Man Who Saw Tomorrow by Jeff Sutton. The 1976 Ace reprint was the first time it appeared as a standalone book. It includes four long tales, each averaging around 16,000 words (total word count: 63,000). All the stories were written between 1956-60.
Here's the complete TOC.
"The Golden Bugs" (The Magazine of Fantasy and Science Fiction, June 1960)
"Leg. Forst." (Infinity Science Fiction, April 1958)
"So Bright the Vision" (Fantastic Universe, August 1956)
"Galactic Chest" (Science Fiction Stories, September 1956)
Who do we know who reviews Ace Doubles? The distinguished Mr. Rich Horton, of course, who has been systematically reviewing them all on his blog Strange at Ecbatan for the past decade or so. Here's his thoughts on So Bright the Vision.
The Simak half is a collection of not terribly well-known longer stories, from the late 50s basically… They are all enjoyable, none really ranks among Simak's best work.

In "The Golden Bugs" a man discovers a strange sort of rock in his back yard, and soon also some very odd insects in his house. Insects that for a short time appear quite helpful …

In "Leg. Forst." an aging con man and stamp collector discovers a remarkable property of a curious stamp he receives from another planet, when said stamp is accidentally mixed with beef broth. The result is marketable as an efficiency enhancer, but it does so in somewhat surprising ways. The conclusion is a little bit unexpected in a sly way.

"So Bright the Vision" is probably the best of these stories. It's set in a future in which Earth's only contribution to Galactic society is fiction — it seems only humans among intelligent races can lie. The necessity to turn out product has led to automation of writing: actually thinking up plots and writing prose by yourself is taboo. A struggling hack gets in trouble with an alien race — a couple of alien races, in the end. That the resolution will involve the possibility of actual writing, not just programming a writing machine, is predictable from the start, but Simak gets to that point in unexpected ways: and where he ends up isn't quite exactly the cliche ending we might have expected.

Finally, "Galactic Chest," as with a number of Simak's stories, involves a newspaperman as protagonist. (Simak of course was a newspaperman himself.) This man is stuck writing the Community Chest column for a local newspaper when he runs a story about "brownies" causing runs of good luck and then realizes to his surprise that the story might actually be true. The solution, again, is mostly what we expect but just slightly different — I'd say that in three of these four stories ("The Golden Bugs," my least favorite, excepted) the stories are distinguished by a slightly new resolution to a fairly familiar situation.
Read the complete review here.
So Bright the Vision was published by Ace Books in September 1976. It is 214 pages, priced at $1.50. The cover is (unofficially, but trust us) by Michael Whelan. The book has been out of print in the US since 1976, and there is no digital edition.
See all out recent Vintage Treasures here.