Goth Chick News: Throwback Thursday: The Disturbing Insanity of The Cell
Goth Chick News: Throwback Thursday: The Disturbing Insanity of The Cell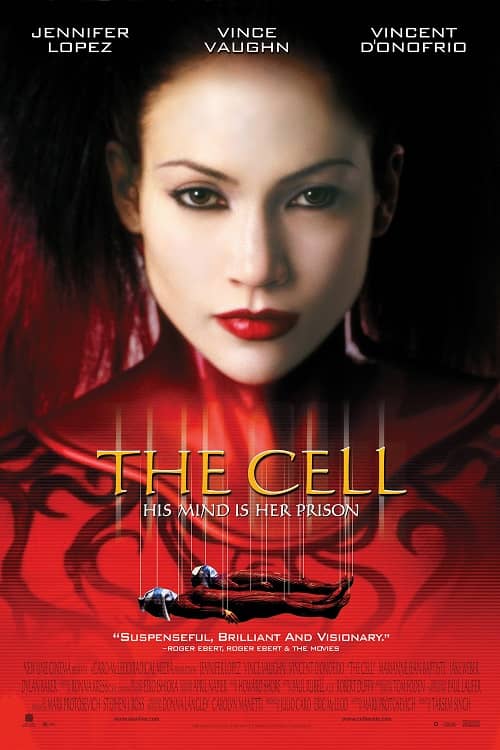 Last week's robust discussion about the 2002 horror flick Ghost Ship, got me to thinking about the look of the genre in the early 2000's. A peruse through Rotten Tomato's top horror movies of the 90's reveals a trend toward monsters in all their iterations. Werewolves, vampires and demons were primary themes, so it is interesting to see the change brought on by the new decade. With the new millennium came introspective horror of the psychological kind. Collider's list has titles like Saw, American Psycho and The Orphan where the frights came from our fellow humans. Even Ghost Ship had the mortals onboard being the victims of their own human failings. Maybe what we learned by the end of the 20th Century is that the human psyche is the scariest monster of all. So, when The Cell popped up on one of my feeds on its 20th anniversary this month, I thought it was worth looking at it again – especially if you haven't seen it.
When The Cell hit theaters on August 18, 2000, audiences either loved it or hated it. There was literally no middle ground. On one hand Roger Ebert awarded The Cell four out of four stars, while dozens of other critics took issue with the subject matter and violence, not to mention the sympathetic slant the plot has toward an entirely deranged serial killer.
Now, 20 years later, The Cell, with its insane costume design, over-the-top production values and an Oscar-worthy performance by Vincent D'Onofrio, is well worth a look.
Bloody Disgusting does a nice job of summing up the plot:
Protagonist and child therapist Catherine Deane (Jennifer Lopez) is working for an advanced tech company that allows her to enter the mind of her patients. It's a sort of virtual reality therapy for the comatose; Catherine traverses the subconscious of her patients to help them with what they can't voice in waking reality. Her latest is a young boy, Edward Baines (Colton James), who has developed schizophrenia caused by a viral infection. In his mind, he's haunted by a monstrous manifestation of himself amidst a sprawling desert oasis. This short scene masterfully sets up everything before diving into the meat of the narrative, which sees Catherine enlisted by the FBI agents Peter Novak (Vince Vaughn) and Gordon Ramsey (Jake Weber) to enter the mind of comatose serial killer Carl Stargher (D'Onofrio) to obtain the location of his final kidnap victim before it's too late.
Production designer Tom Foden (The Village) paired with the visually over-the-top costumes by designer Eiko Ishioka (Bram Stoker's Dracula) are both big parts of what make The Cell so all-consuming.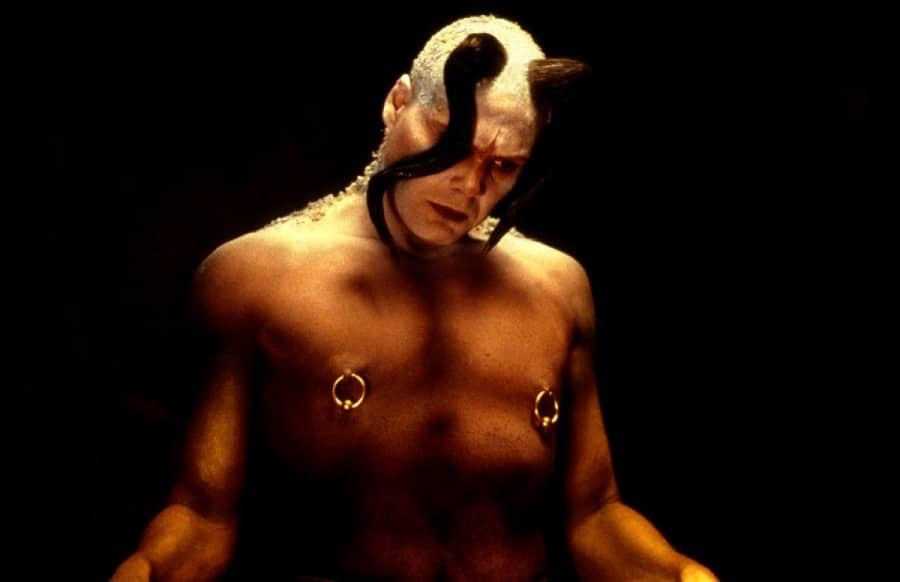 Vincent D'Onofrio in The Cell
The horrifying landscapes of both Baines' and Stargher's subconscious are capable of giving you your very own nightmares; at least it did for me when I re-watched it this week. In fact, according to an anecdote on IMBD, D'Onofrio's wife refused to sleep in the same bed with him for several weeks after watching his performance.
The scenes are masterfully crafted, tapping into psychological terror in an unforgettably unique way. If you're aware ahead of time, you may notice several artistic influences when traversing the damaged minds with Lopez's character. Imagery is borrowed from Fantastic Planet, Nine Inch Nails and Marilyn Manson videos, as well as artists like Odd Nerdrum and Damien Hirst.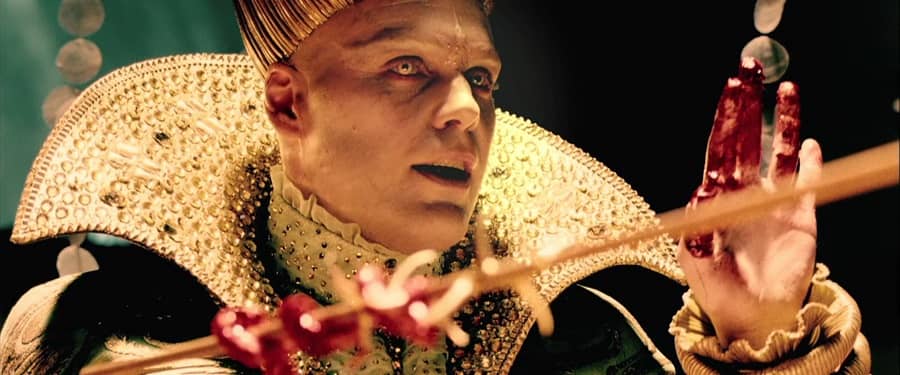 The Cell is not for the squeamish, so be warned. It is nothing short of a serious mind-f, wrapped in an extravagant package.