Future Treasures: The Southern Book Club's Guide to Slaying Vampires by Grady Hendrix
Future Treasures: The Southern Book Club's Guide to Slaying Vampires by Grady Hendrix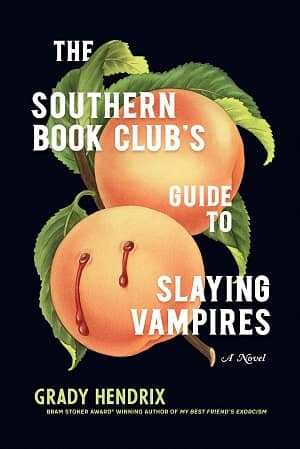 Grady Hendrix knows horror. His Paperbacks from Hell, which Goth Chick said "takes readers on a tour through the horror paperback novels of the 1970s and '80s… I couldn't have found a more perfect beach read," won the Stoker Award, and is one of the most talked-about nonfiction genre books of the last decade. His novels include Horrorstör (2011) and My Best Friend's Exorcism (2016).
His latest is The Southern Book Club's Guide to Slaying Vampires, which is already getting a TV adaptation. In a starred review Publishers Weekly calls it a "clever, addictive vampire thriller.. This powerful, eclectic novel both pays homage to the literary vampire canon and stands singularly within it." It arrives in hardcover in two weeks. Here's the description.
Patricia Campbell's life has never felt smaller. Her husband is a workaholic, her teenage kids have their own lives, her senile mother-in-law needs constant care, and she's always a step behind on her endless to-do list. The only thing keeping her sane is her book club, a close-knit group of Charleston women united by their love of true crime. At these meetings they're as likely to talk about the Manson family as they are about their own families.

One evening after book club, Patricia is viciously attacked by an elderly neighbor, bringing the neighbor's handsome nephew, James Harris, into her life. James is well traveled and well read, and he makes Patricia feel things she hasn't felt in years. But when children on the other side of town go missing, their deaths written off by local police, Patricia has reason to believe James Harris is more of a Bundy than a Brad Pitt. The real problem? James is a monster of a different kind — and Patricia has already invited him in.

Little by little, James will insinuate himself into Patricia's life and try to take everything she took for granted — including the book club — but she won't surrender without a fight in this blood-soaked tale of neighborly kindness gone wrong.
The Southern Book Club's Guide to Slaying Vampires will be published by Quirk Books on April 7, 2020. It is 408 pages, priced at $22.99 in hardcover and $13.99 in digital formats.
Check out Matthew David Surridge's Black Gate interview with Hendrix here, and see all our coverage of the best in upcoming fantasy and horror here.