Goth Chick News: Future Treasures – My Best Friend's Exorcism by Grady Hendrix
Goth Chick News: Future Treasures – My Best Friend's Exorcism by Grady Hendrix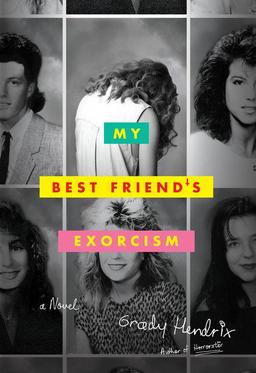 Quirk Books, publishers and seekers of all things awesome, more than live up to their self-proclamation.
They have been my personal source of quirky awesomeness since I was first introduced to them in 2013 via The Resurrectionist, a quintessentially odd bit of literature indeed. Following this came a litany of titles, all of which were so decidedly strange, so that I could not help but assign all Quirk publications a place of honor on the shelves of Goth Chick News.
It follows that in order to be the source of peculiar books Quirk must court very unusual authors, who by design, must be up to the task of…well… being quirky. This was made clear when I sought out the publisher's booth at this year's C2E2 event in Chicago, where I inquired whether or not The Resurrectionist would ever be followed by second book. I was informed the author had not submitted anything quite "strange enough" to date, but they would keep me informed.
I really do love these people.
What I was given instead was the first two works by an author who was currently living up to Quirk's standards of "odd"; Mr. Grady Hendrix — Horrorstör, (a horror novel which takes place in an Ikea-like establishment and is documented inside an Ikea-like catalog for lack of a better description), and My Best Friend's Exorcism.
Unsure of which one to dive into first, I decided to learn a bit more about Hendrix by visiting his rather minimalist webpage.
Grady Hendrix writes fiction, also called "lies," and he writes non-fiction, which people sometimes accidentally pay him for. He is the author of Horrorstör, the only novel about a haunted Scandinavian furniture store you'll ever need. It has been translated into 14 languages and is being turned into a television show by Gail Berman (Buffy the Vampire Slayer), Charlie Kaufman (Eternal Sunshine of the Spotless Mind), and Josh Schwartz (Gossip Girl). They have never met Grady, but that is their loss. His next novel is called My Best Friend's Exorcism, about demonic possession, friendship, exorcism, and the Eighties.
This did not help, as I now felt I might be forming a serious literary crush on this man.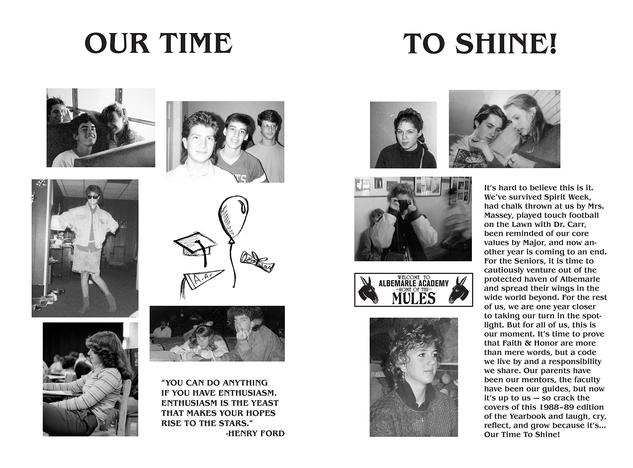 Interior spread from My Best Friend's Exorcism, which is designed like a high school yearbook
So rather than agonize about it any further, let's just talk about the new release since we're getting a look at it before it hits store shelves in May.
A heartwarming story of friendship and demonic possession.

The year is 1988. High school sophomores Abby and Gretchen have been best friends since fourth grade. But after an evening of skinny-dipping goes disastrously wrong, Gretchen begins to act…different. She's moody. She's irritable. And bizarre incidents keep happening whenever she's nearby. Abby's investigation leads her to some startling discoveries — and by the time their story reaches its terrifying conclusion, the fate of Abby and Gretchen will be determined by a single question: Is their friendship powerful enough to beat the devil?
My Best Friend's Exorcism reminds us of the old adage that high school is, indeed, hell. Much like one of my favorite underrated horror flicks Jennifer's Body, everyone (but certainly we girls) can relate to the insanity of watching one's childhood friend transform in their teens, becoming almost unrecognizable as they begin experimenting with dating, sex and alcohol, or (the goth chick horror of horrors) give in to peer pressure to conform. Hendrix's novel takes that idea to the extreme, but never stops being relatable as we root for Abby to save her friend.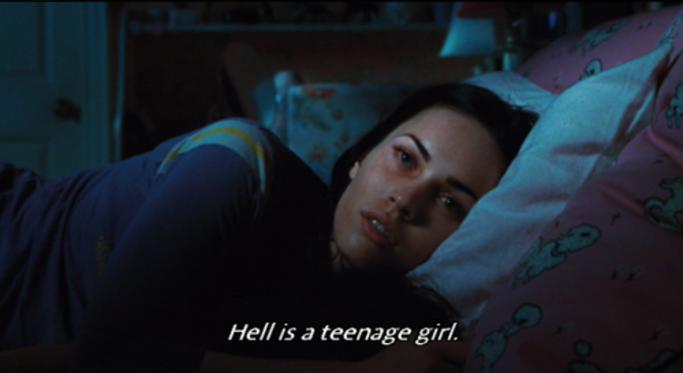 I also enjoyed the 80's high-school-yearbook nostalgia factor of the novel, with Hendrix making frequent references to the music (Phil Collins), movies (ET), and TV shows (Moonlighting) of the period. Adding a bit of visual fun to his work seems to be a Hendrix signature and one I hope he continues.
My Best Friend's Exorcism isn't horror in the strictest sense, though there are some sincerely gross moments, but like his publisher, Hendrix's work is indeed totally awesome (Tubular? Gnarly?). It's available now for preorder and will be published on May 17.