io9 on All the New SF & Fantasy You Need to Know About in February
io9 on All the New SF & Fantasy You Need to Know About in February
As the months go by I feel the loss of the Barnes & Noble Sci-Fi & Fantasy Blog keenly. It shut down on December 16th of last year, firing all freelancers and halting production of new content. That included Jeff Somers' monthly survey of the best genre books, which I'd grown to depend on to keep me reliably informed. Fortunately there are fine other resources for book junkies, like Cheryl Eddy's monthly new book column at io9/Gizmodo. This month Cheryl looks at 43 new titles from Seanan McGuire, Alastair Reynolds, Marshall Ryan Maresca, Ken Liu, Ben Aaronovitch, Katharine Kerr, Gareth L. Powell, R.E. Stearns, C.L. Polk, Sarah Gailey, Melissa de la Cruz, Justina Ireland, Cate Glass, and many others.
Here's a few of the highlights. First up is the sequel to The Lost Puzzler, Eyal Kless' tale of a lowly scribe sent out in world full of puzzles, tattooed mutants, and warring guilds, which we covered last year.
The Puzzler's War by Eyal Kless (Harper Voyager, 560 pages, $17.99 trade paperback/$11.99 digital, February 4, 2020)
This follow-up to sci-fi adventure The Lost Puzzler finds a variety of characters — including an assassin, a warlord, and a mercenary — tracking down a teenage boy who may the only person able to save the world by solving the ultimate puzzle.
My underground contacts tell me The Puzzler's War is the second novel in what's being called The Tarakan Chronicles.
[Click the images for February-sized versions.]
Next up: the debut novel from Luke Arnold.
The Last Smile in Sunder City by Luke Arnold (Orbit, 368 pages, $15.99 paperback/$9.99 digital, February 25, 2020)
In the wake of a war that wiped magic out of the world, ne'er-do-well Fetch Phillips scrapes by doing odd jobs — like tracking down a 400-year-old vampire who shouldn't still exist.
The Last Smile in Sunder City is the first novel in The Fetch Phillips Archives; book two, Dead Man in a Ditch, is due in October.
The Firmament of Flame by Drew Williams (Tor Books, 368 pages, $30.99 hardcover/$9.99 digital, February 4, 2020)
The third book in the Universe After series reveals a new enemy in a world where only gifted children can keep the universe safe: Alien beings who seek the children for their own nefarious purposes.
The Firmament of Flame is Book three in the The Universe After. We covered the first two books in the series here.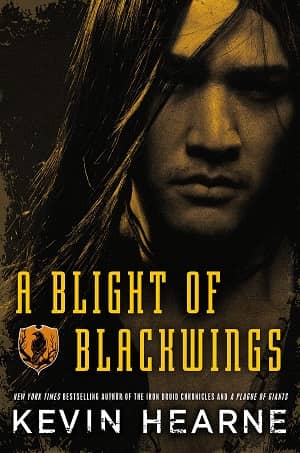 A Blight of Blackwings by Kevin Hearne (Del Rey, 592 pages, $28.99 hardcover/$14.99 digital, February 4, 2020)
This sequel to A Plague of Giants explores the characters who're leading the resistance against the giant invaders who've devastated their land — including a grieving warrior and his men, the captain of an all-female sailing crew, and a woman whose ability to talk with fantastic beasts will be a valuable weapon in the war to come.
A Blight of Blackwings is Book 2 of The Seven Kennings. We covered the opening volume, A Plague of Giants, back in 2017, and Brandon Crilly interviewed Kevin Hearne for us at Can*Con 2018.
See the complete list of February's best new books at io9 here.
io9's been pretty good to us over the years. Here's a few examples.
io9 on Seven Princes
io9 Looks at the Megadungeon
io9 on The 20 Most WTF Magical Items in Dungeons & Dragons
io9 on All the New Scifi and Fantasy Books You Absolutely Must Read This Fall (2016)
io9 on January's Must-Read Science Fiction and Fantasy (2017)
io9 on the Must-Read Science Fiction and Fantasy Books for March (2017)
io9 on 20 Amazing New SF and Fantasy Books in May (2017)
io9 on the Must-Read Science Fiction and Fantasy of July (2017)
io9 on 28 New Sci-fi and Fantasy Books to Add to Your Shelves in May (2018)
See all our recent New Treasures coverage here.