Bringing to Life an Ancient Mystery: Cries From the Lost Island by Kathleen O'Neal Gear
Bringing to Life an Ancient Mystery: Cries From the Lost Island by Kathleen O'Neal Gear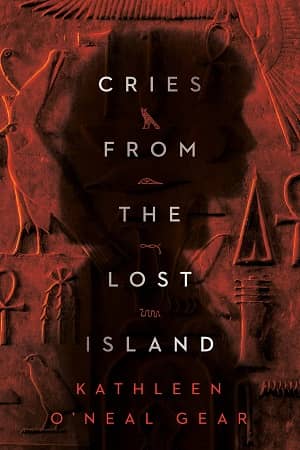 Cries From the Lost Island
by Kathleen O'Neal Gear
DAW (320 pages, $26 in hardcover/$13.99 digital, March 10, 2020)
Sixteen-year-old Hal Stevens is an outcast. His friend group consists of two people: Robert, a witch and Cleo Mallawi, who believes herself to be the reincarnation of the Egyptian Queen Cleopatra.
Hal is a budding historian, who just happens to be obsessed with Egypt. He and Cleo spend every moment of their free time discussing ancient Roman Egypt, which Cleo claims to remember intimately. She provides details Hal could never find in a book or online. Listening to her describe the landscape, politics and the great love between Cleopatra and Marc Anthony fills Hal with wonder.
A bit that fills him with fear is the demons that Cleo also describes, specifically Ammut, the Devourer of the Dead, whom she believes is hunting her in present day.
The stories Cleo has told Hal since they were children quickly transition from fantasy to reality when Hal finds Cleo murdered outside her home. Left with her pleas to help her find eternal rest, a mysterious medallion forced into his hands by his dying friend, and questions that may never be answered, Hal finds himself headed to Egypt with famed archeologist (and Cleo's uncle) James Moriarity. Robert the witch completes the adventurous trio, bringing along his wards of protection and his sense of humor, which truly does entertain.
Cries From the Lost Island weaves fantasy and history together to create a beautiful adventure that the reader won't be able to put down. O'Neal Gear, a nationally award-winning archeologist, has created an engrossing quest that spans Colorado to Egypt and brings to life an ancient mystery – what actually happened to Cleopatra and Marc Anthony?
The author's expertise shines through. She creates a stunning backdrop of both present day and ancient Egypt through Hal Stevens' eyes. The sights, sounds and smells of a new culture are felt immediately as Hal and Robert touch down in Port Said. We see the weedy marshes, smell the damp green air, and feel the humidity cling to our skin and our clothes. And we smell the crush of bodies as they navigate the city to get to the ruins of Pelusium. As Hal and Robert explore, they bring us along and teach us how to excavate, show us ancient artifacts hidden under 2,000 years of sand and share the secrets of the long dead.
I loved this book. It not only was a fantastic story with well-developed characters, an engrossing backdrop and enough suspense to keep the reader turning page after page, but it also gives the reader an education about ancient Roman Egypt. I found myself looking up information on Cleopatra, her tragic love story and her ultimate demise.
While I appreciate a stand-alone story, I would absolutely read more about Hal and his adventures and will be seeking out other titles by this author.
---
Caitlin is the COO of Workbox in Chicago. With the bulk of her career based in hospitality at luxury-level resorts, her path has been an interesting one! No matter where that path has led, building great teams has always been at the core. Caitlin acquired a multicultural perspective through her many experiences traveling and living abroad in the United States, Europe and South America. Her last review for us was Now Then and Everywhen by Rysa Walker.