Yes, Weird Tales is Back
Yes, Weird Tales is Back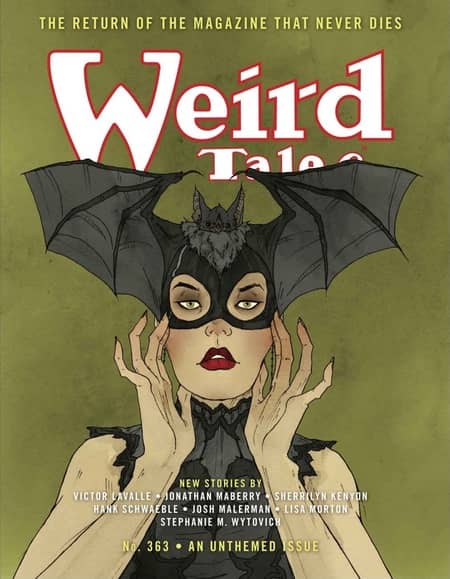 Cover by Abigail Larson
A few months ago I started to hear rumors that Weird Tales, the most storied and collectible American fantasy magazine of all time, had returned. Whispers, really. But I'd been hearing whispers for the last six years, ever since the last issue appeared from Nth Dimension Media, and especially since I published the article "Is Weird Tales Dead… Again?" in 2016. So I didn't pay much attention.
But then I heard more reliable reports, and started to see listings online…. and then I ordered a copy, and right now I'm holding it in my hot little hands. And I can report that, in fact, Weird Tales is back.
It returns with a new publisher, Weird Tales Inc., but the same editor, Marvin Kaye, who took over the editorial reins from Ann VanderMeer in 2011, and managed only three issues in the last nine years. But the magazine looks terrific, with glossy paper and full color interiors, and an impressive Table of Contents, including stories by Victor LaValle, Jonathan Maberry, Sherrilyn Kenyon, and others. Not to mention an eye-catching cover by Abigail Larson, a tribute to perhaps the most iconic Weird Tales image of all time, the famous bat woman cover by Margaret Brundage.
Is Weird Tales back for good? Too early to tell — though to be fair Weird Tales has never exactly been a stable publication. (There's a reason it's called "The Magazine That Never Dies," it keeps having to be resurrected.) There are the usual troubling signs already, including the fact that the website they proudly promote on the back page (weirdtales.com) is down already. But this looks like a quality package, and I'm hopeful. Let's have a closer look at the contents.
[Click the images for weirdly big versions.]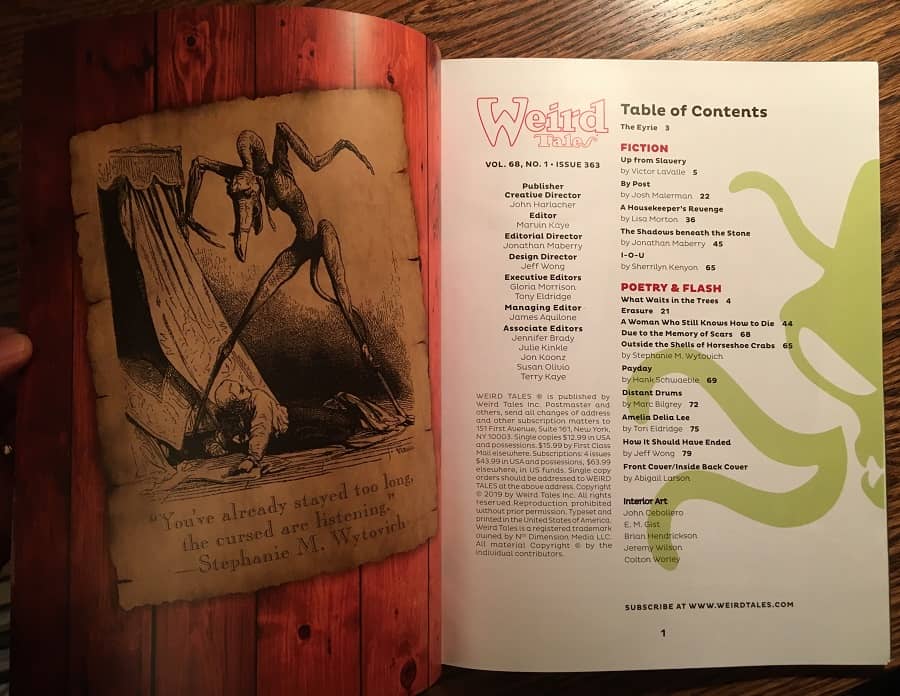 Interior front cover art for "What Waits in the Trees" by Verveil, and Table of Contents
Here's the complete fiction contents.
The Eyrie, by Marvin Kaye
"Up from Slavery" by Victor LaValle
"By Post" by Josh Malerman
"A Housekeeper's Revenge" by Lisa Morton
"The Shadows Beneath the Stone" by Jonathan Maberry
"I-O-U" by Sherrilyn Kenyon
"Payday" by Hank Schwaeble
"Distant Drums " by Marc Bilgrey
There's also a nice mix of poetry.
What Waits in the Trees, by Stephanie M. Wytovich
Erasure, by Stephanie M. Wytovich
A Women Who Still Knows How to Die, by Stephanie M. Wytovich
Due to the Memory of Scars, by Stephanie M. Wytovich
Outside the Shells of Horseshoe Crabs, by Stephanie M. Wytovich
Amelia Delia Lee, by Tori Eldridge
Here's a look at some of the interior artwork.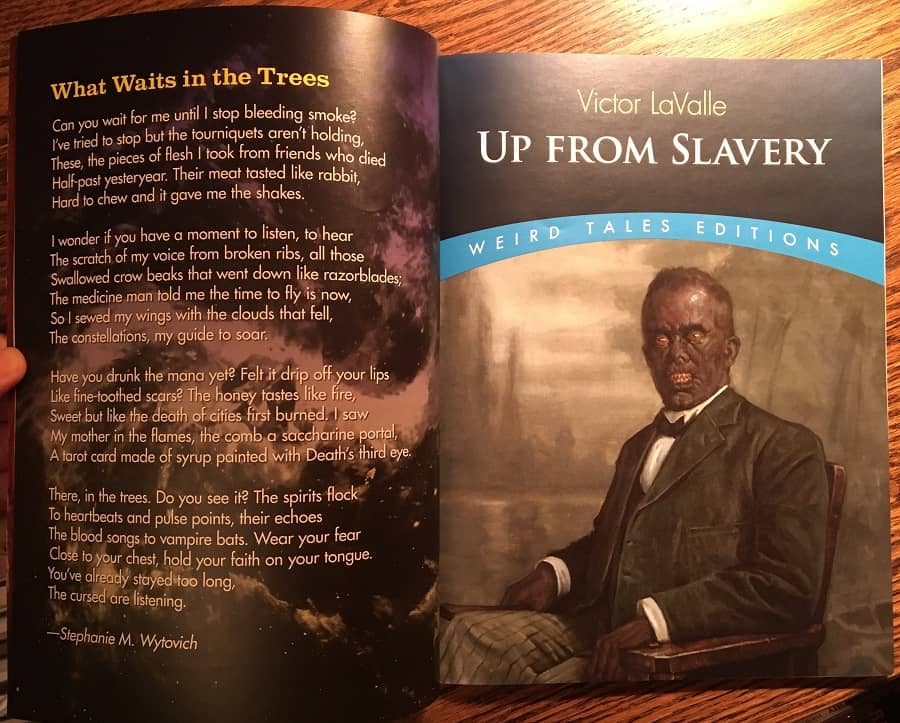 Artwork for "Up from Slavery" by E. M. Gist
Weird Tales first appeared in March 1923, and its last issue appeared in Spring 2014 — an impressive 91-year run. In its early days it published groundbreaking work by Robert E. Howard, H.P. Lovecraft, and Clark Ashton Smith, and classic fiction by Edmond Hamilton, C.L. Moore, Henry Kuttner, Algernon Blackwood, E. Hoffmann Price, Robert Bloch, Manly Wade Wellman, Seabury Quinn, Ray Bradbury, Fritz Leiber, Eric Frank Russell, Fredric Brown, Mary Elizabeth Counselman, Theodore Sturgeon, and hundreds of others. It remains the most collectible and desirable fantasy pulp, and individual issues sell for hundreds (sometimes thousands) of dollars.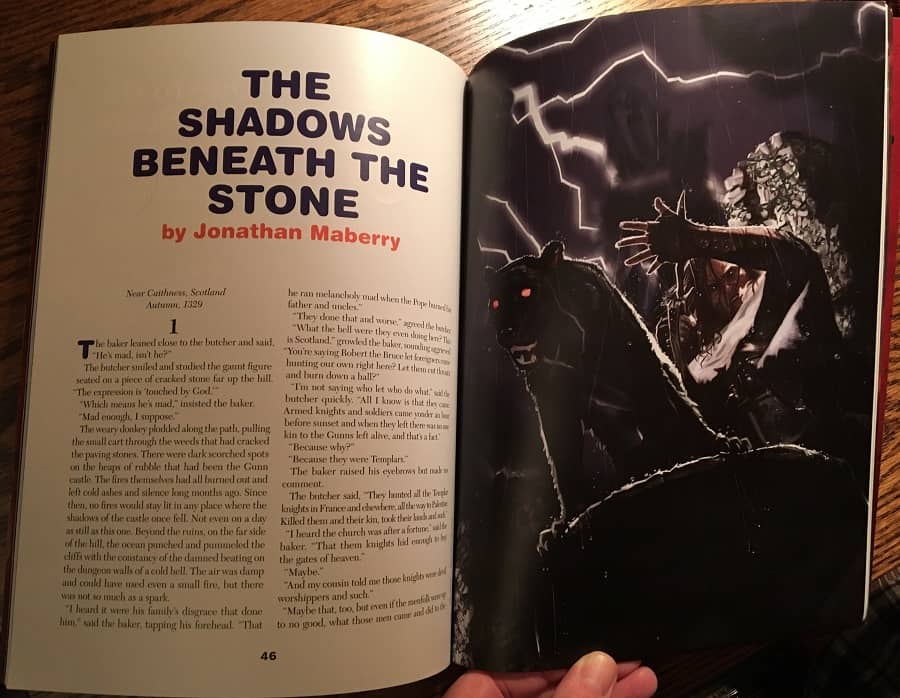 Interior art for "The Shadows Beneath the Stone" by Colton Worley
Some of our recent Weird Tales coverage includes:
The Weird Tales Anthologies by John O'Neill (2019)
Goth Chick News: A Unique Musical Take on a Weird Tales Classic by Sue Granquist (2017)
Weird Tales Reprints Published by Goodman Games by Howard Andrew Jones (2016)
Joe Bonadonna Reports on Weird Tales (2016)
Is Weird Tales Dead… Again? by John O'Neill (2016)
New Treasures: The Unique Legacy of Weird Tales edited by Justin Everett and Jeffrey H. Shanks by John O'Neill (2015)
Vintage Treasures: Weird Tales #1, edited by Lin Carter by John O'Neill (2014)
Vintage Treasures: Weird Tales #290 by John O'Neill (2014)
Weird Tales 362 on Sale Soon! by John O'Neill (2014)
Weird Tales is edited by Marvin Kaye and published by Weird Tales, Inc. This issue is 80 pages, priced at $12.99 for the print edition and $9.99 for the digital version. The cover is by Abigail Larson. Purchase issues directly at the website here (assuming they get the site fixed at some point).
See all our recent magazine coverage here.