Joe Bonadonna Reports on Weird Tales
Joe Bonadonna Reports on Weird Tales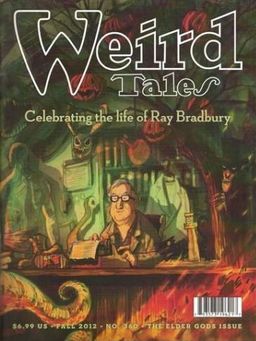 Back in May I wrote a brief post asking "Is Weird Tales Dead… Again?"
Since then there's been no shortage of rumors, grumblings, and premature death announcements… but not a lot of facts. But this week, Black Gate roving reporter Joe Bonadonna checks in with the latest news.
In spite some talk concerning the possible demise of Weird Tales, I'm happy to report that it is still alive and well. I spoke with editor Marvin Kaye and he told me plans are in the works for the future. They had some financial issues, but all is well. The publisher plans to do an "unthemed" issue, followed by a "Halloween Edition" before all else.

I am hoping that the planned "Sword and Sorcery Special Edition" will follow after that. I was not given any specific timeline for the publication of these issues, but let's hope they'll all see the light of day within a short amount of time, without too much time-lag between issues. I keep checking Weird Tales websites for updates, but so far haven't been able to learn anything. Let's all hope for the best, and I'll try to keep you all in the loop when and if I learn anything more.

As for new submissions, they are overstocked with fiction. No need to submit. That is all.
We'll keep you posted as we learn more.