Is Weird Tales Dead… Again?
Is Weird Tales Dead… Again?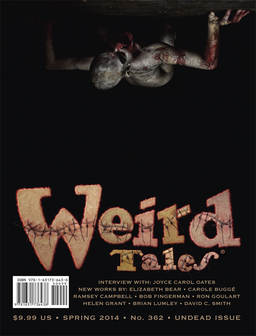 Weird Tales magazine, the oldest and most storied fantasy magazine in America, has died and returned numerous times in its near century-long history. And I'm beginning to wonder if it's dead again.
Marvin Kaye took the editorial reins from Ann VanderMeer five years ago with much fanfare, but since then has produced only three issues — the last of which was two years ago. The magazine's website has not been updated in well over two years. And worst of all, I'm now hearing reports from authors who sold work to the magazine that they've had stories returned with little or no explanation.
In fact, the lead story about Weird Tales these days is the complete lack of communication coming out of the editorial offices. At the Nebula Awards conference here in Chicago, which began yesterday, all mentions of the magazine have been accompanied by a shroud of gloom. And earlier today I received this from Black Gate author Joe Bonadonna, who sold a story to them several years ago:
Weird Tales is supposed to print one of my novellas on the online version of their Sword & Sorcery Special Edition — it's too long for their print version. But it's been 3.5 years since I heard from them, so who knows when that issue will be out? They are not very good at answering emails, and their website is terrible — no news on that either.
When a magazine essentially stops publishing, that's bad news. When it fails to update its website for years, that worse. But when it goes dark for three years or more, it's usually dead. So far, that yardstick has proven pretty reliable.
Weird Tales has been deader than this, and surged out of the grave before. I hope it does so again. But I'm beginning to doubt it.