New Treasures: A Shadow All of Light by Fred Chappell
New Treasures: A Shadow All of Light by Fred Chappell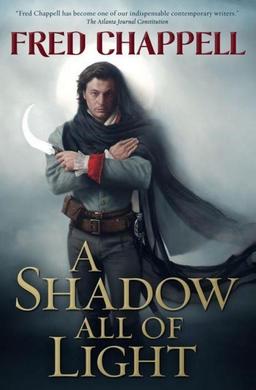 Back in March, when I posted a Future Treasures article about the upcoming fantasy novel A Shadow All of Light by the distinguished poet Fred Chappell, Sarah Avery left this intriguing comment:
They're not kidding about the "distinguished poet" bit. Have you seen this guy's bio? Whoa.
I dutifully checked it out, and I see what she means. Here's a snippet:
Acclaimed poet and novelist Fred Chappell was born on a small farm in Canton, North Carolina in 1936. He attended Duke University, where he befriended fellow writers Anne Tyler, Reynolds Price, and James Appelwhite. The author of over a dozen books of poetry, a handful of novels and short story collections, and two books of critical prose, Chappell has received numerous awards for his work, including the T.S. Eliot Prize, the Bollingen Award, the Aiken Taylor Award, an award from the National Academy of Arts and Letters, and the best foreign book prize from the Academie Française. He was named North Carolina Poet Laureate in 1997, a position he held until 2002.
In addition to all those laurels, Fred Chappell also won a World Fantasy Award for his short story "The Lodger" (1993). He's the author of the classic horror novel Dagon (1968) and I Am One of You Forever (1985), and was the subject of a deluxe Masters of the Weird Tale volume from Centipede Press last December. Read his complete bio here.
His latest, A Shadow All of Light, is an epic adventure featuring pirates, master thieves, monsters, and fantasy detectives. It was published by Tor Books on April 12, 2016. It is 384 pages, priced at $27.99 in hardcover and $14.99 for the digital edition. Read a lengthy excerpt at Tor.com.