Vintage Treasures: Weird Tales #1, edited by Lin Carter
Vintage Treasures: Weird Tales #1, edited by Lin Carter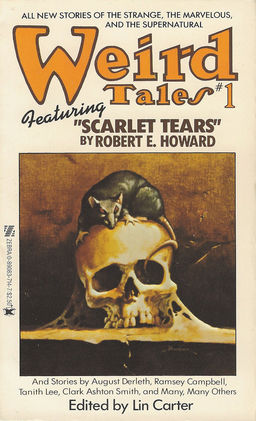 If you've hung around Black Gate for any length of time, you've heard us talk about Weird Tales, the greatest and most influential pulp fantasy magazine every published.
Weird Tales has died many times, and crawled out of the grave and shambled back to life just as often (if you're a Weird Tales fan, you've heard countless zombie metaphors about your favorite magazine). When the pulp version of the magazine died in September 1954 after 279 issues, many believed it was for the final time. But it returned to life in the early 1970s, edited by Sam Moskowitz and published by Leo Margulies, and then perished again after four issues.
Bob Weinberg and Victor Dricks purchased the rights to the name from Margulies some time after that, and in December 1980 a brand new version appeared: Weird Tales #1, an original paperback anthology of horror and weird fantasy edited by none other than Lin Carter. On the inside front cover (under the heading The Eyrie, the name of the old editorial column in the pulp magazine) Carter introduced his anthology to a new generation of fantasy readers:
WEIRD TALES was the first and most famous of all the fantasy-fiction pulp magazines. It featured tales of the strange, the marvelous, and the supernatural by the finest authors of the macabre and the fantastic, old and new, from its first issue in 1923 until its 279th and last consecutive issue in 1954.

Now it is back, with all new stories — and even such an exciting find as "Scarlet Tears," a recently discovered and never before published novelette by Robert E. Howard.

Over the years many great writers were published in the pages of WEIRD TALES, and now a great tradition is being continued into its second half-century.
"Scarlet Tears," a Robert E. Howard story featuring his private detective Brent Kirby, never sold in his lifetime, and it's not hard to see why (Kirby, a brawler who leads with his fists, doesn't actually do much "detecting.") Nonetheless, this kind of star billing for a Robert E. Howard trunk story gives you some indication just how much his reputation had grown since his death 44 years earlier.
"Scarlet Tears" appears only in Weird Tales #1, and has never been reprinted, so if you're a Howard completist, you'll have to track down a 34-year old paperback. (Although really, if you're a true Howard completist, that's probably the least of your concerns, given how rare some of his material is.) The story is a significantly re-written version of "The Hand of the Black Goddess," published in 1983 in Bran Mak Morn: A Play and Others, if that helps you.
Carter does a a fine job paying tribute to the rich history of the magazine in his eight-page introduction. Here's a snippet:
Welcome to the new Weird Tales! With this first issue — in an exciting new format — the first and most famous of all the fantasy fiction pulp magazines returns to thrill you again with new stories of the strange, the marvelous, and the supernatural, by the finest authors of the macabre and the fantastic, old and new.

It was in the earlier issues of this magazine that so many of the immortal stories of H. P. Lovecraft, Robert E. Howard, Clark Ashton Smith and others first appeared. Through these pages first stalked the grim figures of Solomon Kane, King Kull, and Conan the Cimmerian; herein Jules de Grandin, merriest and most inimitable of all the ghost-chasers, pursued evil monsters in many a memorable tale; and here the dark shadows of Cthulhu, Nyarlathotep and Tsathoggua first brooded ominously. For it was in Weird Tales that today's popular genre of "sword and sorcery" began and the fascinating and eerie "Cthulhu Mythos" was born.
Carter also includes thoughtful reminiscences of the Unique Magazine by Ray Bradbury, Robert Bloch, Theodore Sturgeon, and the previous editor, Sam Moskowitz, who reflects on the success (and failure) of earlier Weird Tales anthologies.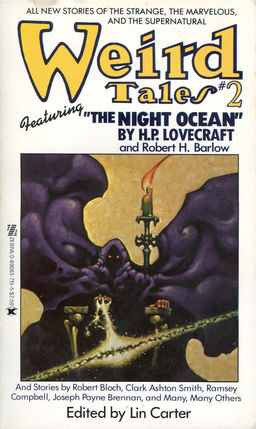 On top of the Robert E. Howard story, this volume has a pretty impressive table of contents, including stories by Ramsey Campbell, Tanith Lee, Carl Jacobi, August Derleth, Mary Elizabeth Counselman, Seabury Quinn — and even a Clark Ashton Smith fragment, completed by Lin Carter. Here's the complete TOC.
Editorial by Lin Carter
"Scarlet Tears" by Robert E. Howard
"Down There" by Ramsey Campbell
"The Light From the Pole" by Clark Ashton Smith and Lin Carter
"Someone Named Guibourg" by Hannes Bok
"Annals of Arkya: 1. The Courier" by Robert A. W. Lowndes (poem)
"Annals of Arkya: 2. The Worshippers" by Robert A. W. Lowndes (poem)
"Bat's Belfry" by August Derleth
"The Pit" by Carl Jacobi
"When the Clock Strikes" by Tanith Lee
"Red Thunder" by (Robert E. Howard (poem)
"Some Day I'll Kill You!" by Seabury Quinn
"Healer" by Mary Elizabeth Counselman
"The House Without Mirrors" by David H. Keller, M.D.
"Dreams in the House of Weir" by Lin Carter
The first and second issues of Weird Tales were published simultaneously. The third arrived a year later, and the fourth and final volume in 1983. See the detailed entries on all four issues, including covers and complete tables of contents, at Wikipedia.
Weird Tales returned to life in a more permanent version in a mock-pulp format in 1988 from Terminus Publishing, run by the very capable team of George H. Scithers, John Gregory Betancourt, and Darrell Schweitzer, beginning with issue 290. It eventually became part of DNA Publications, and in 2005 was sold to Wildside Press, who completely revamped it. It's currently in the hands of Marvin Kaye and John Harlacher at Nth Dimension Media; their website is here.
We recently covered Weird Tales in several different posts:
Vintage Treasures: Weird Tales #290 (the first Terminus issue)
Weird Tales #358
Weird Tales #359
Weird Tales #360 (first Nth Dimension Media issue)
Weird Tales #361
Weird Tales #362
Weird Tales #1, Vol. 48, No 1, was edited by Lin Carter and published by Zebra Books in December, 1980. It is 268 pages, priced at $2.50 in paperback. The cover is by Tom Barber. It was reprinted once in 1983 (with a $2.95 cover price); it is currently out of print. There is no digital edition.
See all of our recent Vintage Treasures here.