Weird Tales 361 Now on Sale
Weird Tales 361 Now on Sale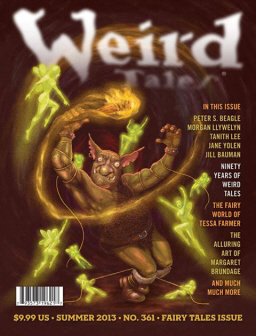 The latest issue of the world's oldest — and arguably greatest — fantasy magazine is now on sale.
Weird Tales #361 is the special demented Fairy Tale issue, with fiction by Peter S. Beagle, Tanith Lee, Jane Yolen, Morgan Llywelyn, and many others.
There's also articles from Darrell Schweitzer ("Ninety Years of Weird Tales"), an interview with J. David Spurlock on the artwork of Margaret Brundage, and "An Inside Look at Weird Tales," a step-by-step look at the evolving cover concept for this issue, by editor John Harlacher and artist Jeff Wong.
It's always a delight to see a new issue of Weird Tales, especially one as jam-packed as this. This fat issue contains no less than 19 stories and four poems, alongside several feature interviews, book reviews, and copious interior art.
The PDF review copy we received is beautifully laid out and easy to navigate and read. This is the second issue produced by Nth Dimension Media, under new editor Marvin Kaye.
Here's the complete Table of Contents:
FICTION: FAIRY TALES
"The Queen Who Could Not Walk" by Peter S. Beagle
"Magpied" by Tanith Lee
"Fae for a Day" by Teel James Glenn
"I Am Moonflower" by Nicole Cushing
"Blind Alley" by Morgan Llywelyn
"Suri & Sirin" by Court Merrigan
"The Flowers of Tir-na-nog" by J. R. Restrick
"The Miracles of LaGuardia Airport (Delta Terminal)" by Caitlin Campbell
"A Gnomish Gift" by Alex Shvartsman
"Enough" by Jane Yolen
"Gold" by Lauren Liebowitz
"The Brown Man of Glen Gardens" by Frank Aversa
"The King's Enemies" by Marc Bilgrey
"The Crimson Cloak" by Zach Shephard
"The Lute Player and the Mask" by Dick Baldwin
"Payment" by Alfred Vickers III
"Out of Time" by Manny Frishberg
UNTHEMED FICTION
"As Fleas" by Jon Koons
"Black Poppy" by David W. Amendola
TALKING FAIRY TALES INTERVIEWS by Lynne Jamneck
With Ramsey Campbell, Jessica Amanda Salmonson, Elizabeth Bear, and Orrin Grey
POETRY
"Scotland in October (Glencoe)" by Carole Buggé
"Dangerous Dreams" by Jill Bauman
"Merciless" by Andrew J. Wilson
"Waste" by Arinn Dembo
ESSAY
"Ninety Years of Weird Tales" by Darrell Schweitzer
INTERVIEWS
With Tessa Farmer (on her fascinating and strange fairy world) by C. J. Thom
With J. David Spurlock (on Margaret Brundage) by Lynne Jamneck
Weird Tales is edited by Marvin Kaye and published by Nth Dimension Media. This issue is 112 pages, priced at $9.99 for the print edition and $6.99 for the digital version. Covers and interior art are by Jeff Wong.
See the complete Table of Contents here, and purchase digital copies of recent issues (including this one) here.
We last covered Weird Tales with issue 360, in October of last year.