Vintage Treasures: The Perfect Lover by Christopher Priest
Vintage Treasures: The Perfect Lover by Christopher Priest
Cover by Walter Bachinsky
Christopher Priest is one of the most celebrated modern British science fiction authors. He won a World Fantasy Award for his 1995 novel The Prestige (filmed under the same name in 2006 by Christopher Nolan, with Hugh Jackman and Christian Bale), the British Science Fiction Award award for Best Novel no less than four times (for Inverted World, The Extremes, The Separation, and The Islanders), and he's been nominated for a Hugo Award for Best Novel, Best Novella, Best Novelette, and Best Non-Fiction Book (that last one for his epic expose on Harlan Ellison's Last Dangerous Visions, The Book on the Edge of Forever).
But in the mid-70s he was still a young SF writer trying to make a name for himself, building on the Campbell nomination for his second novel Fugue for a Darkening Island (1972) and the BSFA win and Hugo nomination for his third, The Inverted World (1974). His fifth novel, A Dream of Wessex, is the one I want to talk about today. It was a very early take on virtual reality — published a full 30 years before the first Oculus Rift prototype.
A Dream of Wessex is the tale of a group of volunteers who create a utopian consensus VR world where they're unable to remember their past lives. It appeared in the UK in 1977, and was published in the US by Dell under the name The Perfect Lover. Here's an excerpt from the Kirkus Review of the novel in December of 1977.
[Click the images for virtual-reality-sized versions.]
Priest, a young Britisher with a flair for finding quietly tantalizing sci-fi hypotheses, works some clever variations on the well-worn notions of the dream-world and alternate world. "The perfect lover" is an imaginary place — Wessex, product of a 1985 experiment in group illusion being conducted near Dorchester. The participants have been hypnotically projected into a "future" which has been laid out along general guidelines but then allowed to develop into the sum of their communal imaginings. Their unconscious bodies rest in elaborate life-support systems while they go about their Wessex lives sealed off from any memory of "previous" existence. The world they have made–an island cut off from England by the "Blandford Passage" and the "Somerset Sea"–is a lovely resort, serenely divorced from Soviet England and its concerns. Four years into the project, a new director is brought in: Paul Mason, a cunning sociopath bent on reshaping the imaginative consensus… Priest develops his ingenious premise with unobtrusive grace, but somehow not with the thoroughness it deserves.
Here's a look at the original British covers.
Steven H Silver reviewed Priest's BSFA-winning story "Palely Loitering" as part of his series on The Golden Age of Science Fiction earlier this year.
The Perfect Lover was one of 15 vintage paperbacks I bought on eBay for $4.95 earlier this year.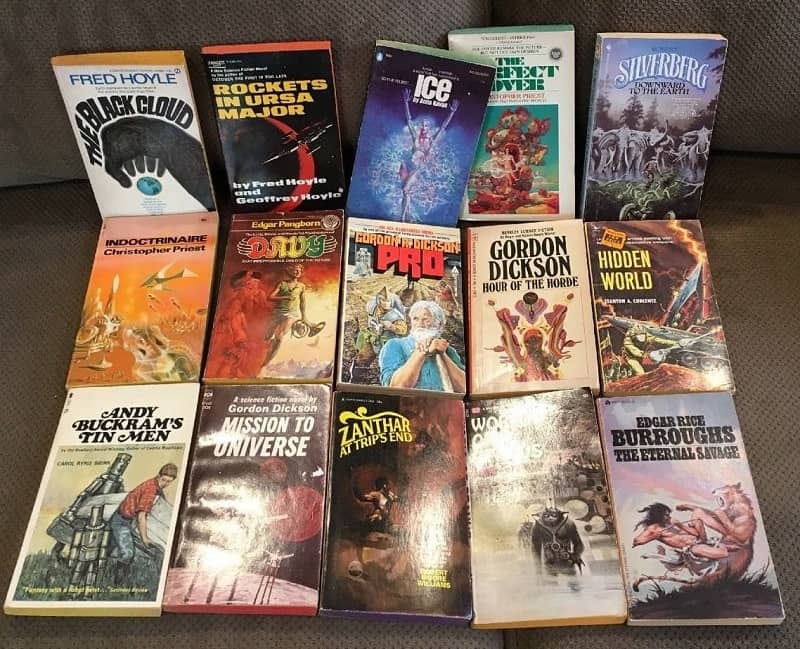 The Perfect Lover was published by Dell in January 1979. It is 304 pages, priced at $1.75. The cover is by Walter Bachinsky. It's been reprinted over a dozen times, most recently by Valancourt Books. Gollancz issued a digital edition in 2014.
See all our recent Vintage Treasures here.