The Golden Age of Science Fiction: "Palely Loitering," by Christopher Priest
The Golden Age of Science Fiction: "Palely Loitering," by Christopher Priest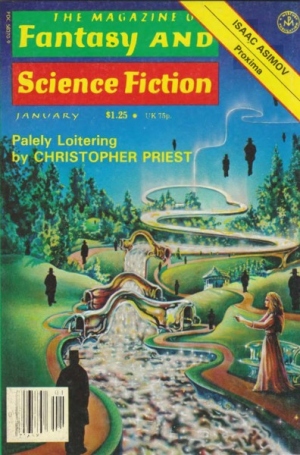 Peter Graham is often quoted as saying that the Golden Age of Science Fiction is 12. I was reminded of this quote last year while reading Jo Walton's An Informal History of the Hugo Awards (Tor Books) when Rich Horton commented that based on Graham's statement, for him, the Golden Age of Science Fiction was 1972. It got me thinking about what science fiction (and fantasy) looked like the year I turned twelve and so this year, I'll be looking at the year 1979 through a lens of the works and people who won science fiction awards in 1980, ostensibly for works that were published in 1979. I've also invited Rich to join me on the journey and he'll be posting articles looking at the 1973 award year.
The British Science Fiction Association (BSFA) Awards have been presented by the British Science Fiction Association since 1970 and were originally nominated for and voted on by the members of the Association. The Short Fiction (later Short Story) award was created in 1980, and Christopher Priest's "Palely Loitering" won the award in its first year. The award was presented every year until 2017, when it was won by Jaine Fenn for "Liberty Bird." In 2018, it was replaced with an award for Shorter Fiction.
Originally published by Edward L. Ferman in the January 1979 issue of The Magazine of Fantasy and Science Fiction, "Palely Loitering" is a time travel story set in a future England that has the feel of a story set in an England of the 1920s. Mykle comes from a wealthy family who goes on an annual picnic to a park where they can cross bridges into either the future or the past. When Mykle leaps from one of the bridges, he finds himself much further in the future than anticipated and can only get home with the help of a stranger, who also points out a beautiful woman, Estyll, who will become a focus for Mykle, who often returns to the park and that future to find her.
"Palely Loitering" is reminiscent of Richard Matheson's Bid Time Return (filmed as Somewhere in Time) and the film Citizen Kane. The former also deals with a man who travels through time to meet a woman he has become obsessed with. For Richard Collier in Matheson's novel, it is actress Elise McKenna. For Mykle in Priest's story, it is the enigmatic Estyll.
In Citizen Kane, there is a scene in which Mr. Bernstein (Everett Sloane) tells the reporter, "One day, back in 1896, I was crossing over to Jersey on the ferry, and as we pulled out, there was another ferry pulling in, and on it there was a girl waiting to get off. A white dress she had on. She was carrying a white parasol. I only saw her for one second. She didn't see me at all, but I'll bet a month hasn't gone by since that I haven't thought of that girl." For Bernstein, that girl is a fond memory that he never acted on (and really couldn't). For Mykle, that same experience led to several years of stalking the girl and eventually seeking her out to meet her.
Priest's story falls between those two. Although he acts on his obsession with Estyll, as Collier does, for most of the story, it is just a school boy's interest. He doesn't approach her and eventually moves on with his life, as Bernstein does. There is definitely a creepiness factor in Mykle's stalking of Estyll, however it is downplayed by Priest who focuses on Mykle's thoughts in the process, which are more intellectual and curious than anything else. Estyll, however, remains an enigma throughout the story, and although Priest indicates she is at least vaguely aware of Mykle's attention through the ages, it isn't entirely clear what her feelings about him are. When one version of Mykle does approach her, however, she seems open to his approach.
Many time travel stories discuss the issue of running into oneself, ranging from Doctor Who warning that it shouldn't be done (except, of course, when the plot requires it) to Douglas Adams discussing how embarrassing it can be. Mykle becomes well aware that there are a multitude of himself in the park trying to keep an eye of Estyll, and even talks to himself on multiple occasions, but in generally he tries to ignore himself throughout the story.
Although Mykle's life has a satisfying conclusion, or at least appears to, the story's ending is slightly more ambiguous as an older Mykle encourages a younger Mykle to finally approach Estyll. Whether or not the interaction will change the life that Mykle has lived is left up to the reader's imagination, although the text does not particularly support the idea that his interference with an earlier version of himself would change his current circumstances.
Other short stories nominated in the category with "Palely Loitering" include Jack Dann's "Camps," Michael Moorcock's "Crossing Into Cambodia," David Langford's "Sex Pirates of the Blood Asteroid," and "Prose Bowl," by Bil Pronzini and Barry N. Malzberg.
---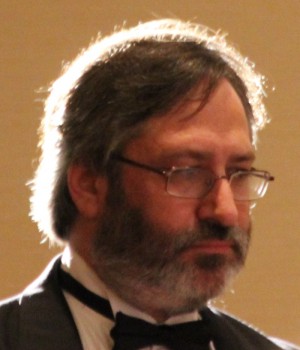 Steven H Silver is a sixteen-time Hugo Award nominee and was the publisher of the Hugo-nominated fanzine Argentus as well as the editor and publisher of ISFiC Press for 8 years. He has also edited books for DAW and NESFA Press. He began publishing short fiction in 2008 and his most recently published story is "Webinar: Web Sites" in The Tangled Web. Steven has chaired the first Midwest Construction, Windycon three times, and the SFWA Nebula Conference 6 times, as well as serving as the Event Coordinator for SFWA. He was programming chair for Chicon 2000 and Vice Chair of Chicon 7.