Goth Chick News Reviews: Harry Potter and the Cursed Child
Goth Chick News Reviews: Harry Potter and the Cursed Child
It will come as a shock to absolute no one that I am a Harry Potter nerd of biblical proportion. I cop to it, I embrace it, and I proudly got out in public displaying it via my various "Hogwarts Alumni" gear, my custom HP Vans and my Gryffindor quidditch team pajamas. I make an annual pilgrimage to Universal Studios in Florida where I repeatedly get in line for the "Escape from Hogwarts" roller coaster, ride the Hogwarts Express until even the employees roll their eyes, and drink butterbeers to the point of terminal brain freeze. I've been to the Warner Brothers Studios in London where the movies were filmed and where security had to turn the lights off to get me to leave, and proudly taken selfies in Kings Cross Station where platform 9 ¾ can be plainly seen, unless of course, you're a muggle.
And though I was in London on June 7, 2019 the opening night of Harry Potter and the Cursed Child, actually getting into the Palace Theater to see it had become my own personal holy grail. Shows were sold out months in advance, plus it was a two-night commitment; the play unfolds in two parts performed on consecutive evenings. Following its record-breaking nine Laurence Olivier Awards in 2017, it was inevitable that Cursed Child would eventually arrive on Broadway in New York, which is precisely what it did in April 2018 where it opened at the Lyric Theater. And one day a week, on Wednesdays, both Part I and Part II are performed on the same, long, magically wonderful day.
The stars were aligned, the time was right, the boss was out of town, and on June 26th I crossed a sweltering Times Square, Cursed Child tickets in hand and feeling like a tween en route to a Justin Bieber concert, when he did concerts and had better hair.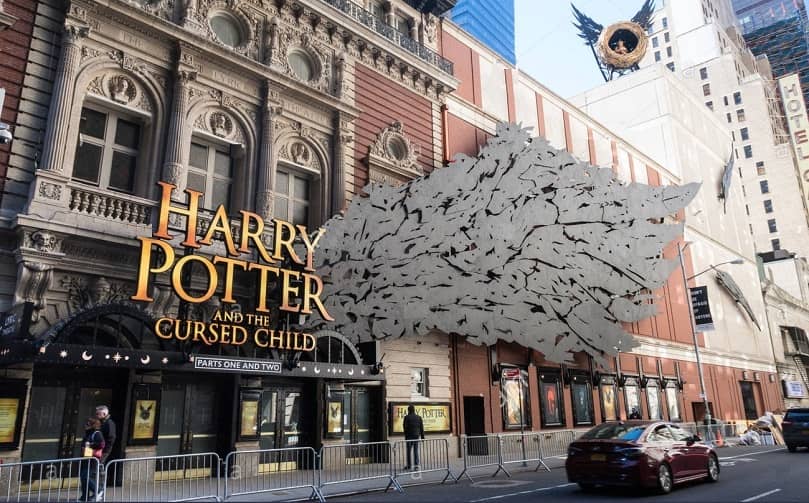 First, a word about the Lyric Theater. The enormous barn-like structure, once home to the $75M flop that was Spiderman: Turn Off the Dark, underwent a stem to stern renovation to the tune of $33M. It was reconfigured to feel more like an old-fashioned opera house, with a vaulted ceiling, a necklace of boxes, and 1,622 seats (down from 1,896).  The entrance was relocated from crowded 42nd Street to the less dense 43rd Street and no square inch of the interior escaped what can only be described as a magical transformation.
Stepping into the lobby is reminiscent of Gringott's Bank, and everywhere you look are Easter-egg-like details such as dragon lanterns, a monogrammed carpet with "H" for Hogwarts, and phoenix sconces. One of the main lobby areas is painted with the animal "patronuses" of the characters, only when you get up close to them, they are constructed of quotes from the HP books. Suffice to say you feel transported as soon as you step through the doors, so it was not for nothing we arrived 2 hours before curtain time on Part I, just to explore the theater.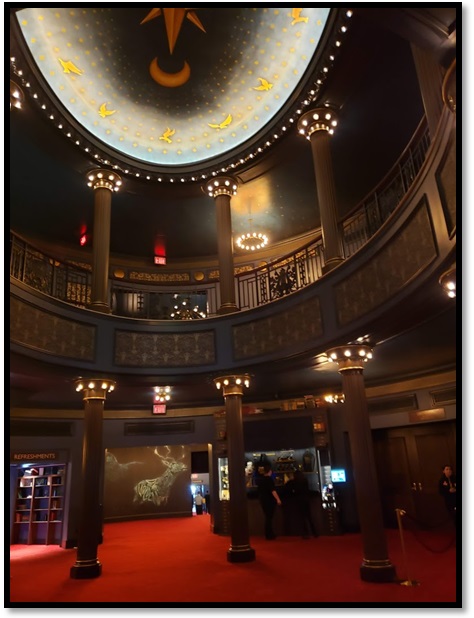 As I mentioned, we scored tickets on a Wednesday, when both parts are performed in one day. Part I begins at 2 pm, and as we were holding VIP tickets, we were allowed to enter at noon to soak in the gorgeous Lyric before proceeding to the beautifully-appointed Ambassador's Lounge in the lower level. There we chose a table that would be "ours" throughout the performance. The lounge offered a full range of adult and non-alcoholic beverages, plus a spread of hors d'oeuvres which were different each time we arrived. The lounge was open before and after the performances, and during intermission where the most welcome amenity was the private bathrooms – a necessity when 1,622 people made a dash during the 15-minute breaks.
We had incredible seats, being situated in the third row, just a few seats left of center stage. From here I would have the advantage of seeing the magical effects I had heard permeated every act, up close. I was in full fan-girl mode and didn't want to miss a thing.
Then the house lights went down.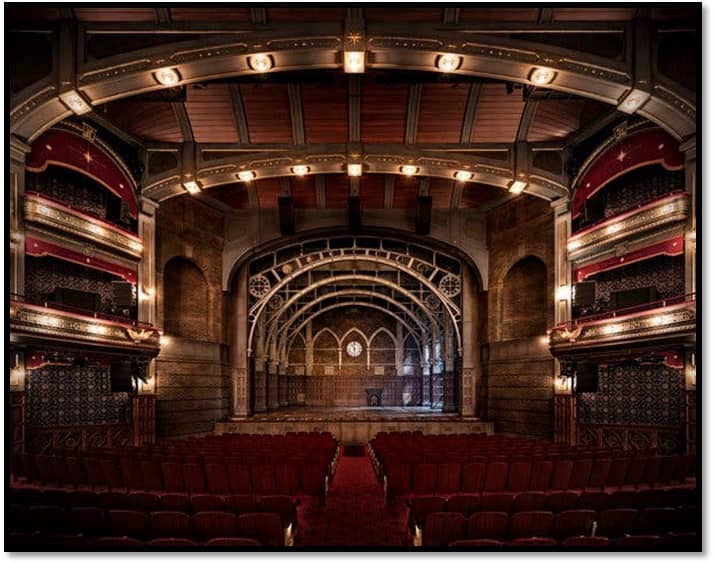 In the final scene of the last movie, Harry Potter and the Deathly Hallows Part II, Harry, Ron, and Hermione are on Platform 9 ¾ sending their own children off to Hogwarts, and that's precisely where Cursed Child picks up.  The actors, looking frighteningly like the adult versions of the well-known trio, replay the final scene of the final movie down to the last bit of dialog. What follows is an entirely new story, spun up from the elements and the characters fans have loved since 1997, but with an entirely new twist and done in an entirely new way – on the live stage.
When we popped down to the Ambassador's Lounge during the first intermission, we found a little pin placed on each of our napkins which read, "#keepthesecrets."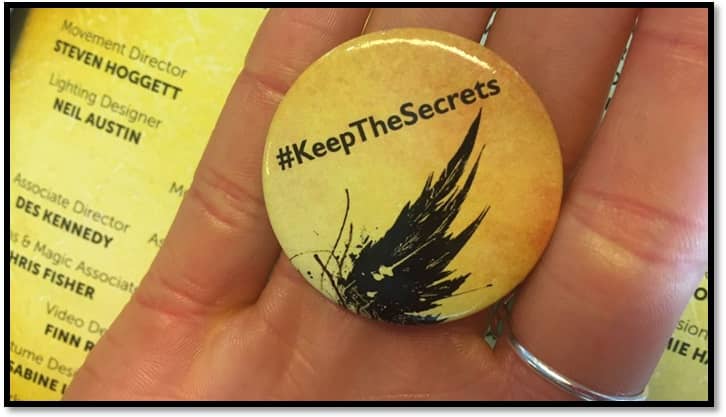 I can tell you the story includes the tumultuous relationship between a grown-up Harry, trying to be a good father to one of his children, who is finding it difficult to deal with Harry's fame.
I can tell you the story is fast paced, funny, scary and moving at times.
I can tell you there is loads of magic and that I'm still puzzling over how nearly all of it was done despite sitting three rows from the stage.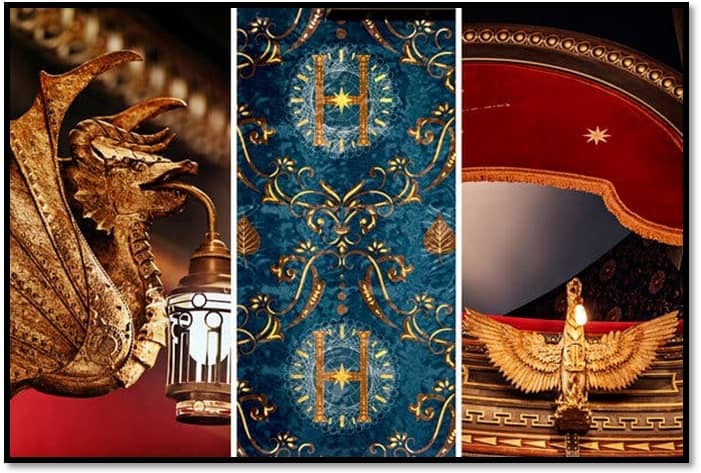 I can tell you the audience gasped, cheered, laughed, sniffled a bit, and sat in stunned silence until the end of Part II when around 10:30 pm, all 1,622 audience members were on their feet cheering, screaming and applauding like lunatics through four curtain calls.
I can tell you it was one of the most incredible theatrical performances I have ever seen, and I've both seen and performed in quite a lot.
I cannot tell you anything more.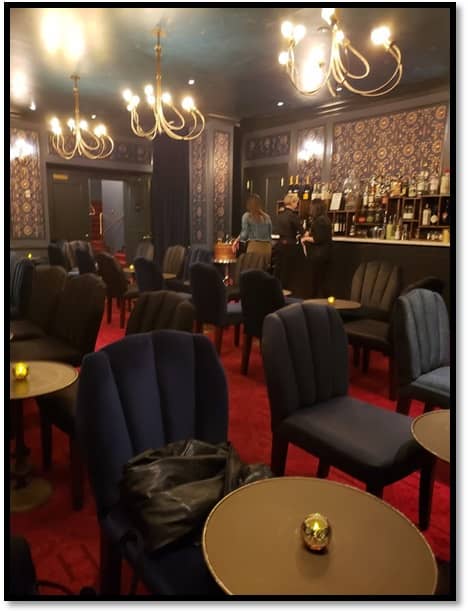 Why? Not because I'm mean, but because like all HP fans worldwide, why would I ruin the magic for you to discover for yourself? And you don't have to go to New York or London to do it. The complete script along with stage directions is available for your summer reading pleasure, in hardcover, paperback or eBook.
And when you know them all please – keep the secrets.
Have a question or comment? Post it here or drop a line to sue@blackgate.com.