The Top Five Books I Read in 2018
The Top Five Books I Read in 2018
Okay, so maybe I'm one of those people who thinks, "Wow, how is it already a new year?" But then I think about everything I got up to in those 365 days and realize that time flies because I tend to keep myself pretty busy. Most relevant to my column here, that includes a ton of reading – and once again I've given myself the challenge of choosing my favorites, with a Top Five Books I Read in 2018.
In previous years, I've given myself the wiggle room that it didn't matter what year the book was published in. I'm taking that away this time, forcing myself to choose from 2018 publications because, quite frankly, more recent titles need the signal boost more than something like Stephen King's The Gunslinger. And I've managed to select a life-on-the-line, absolutely-have-to-choose #1 pick. For 2016, that title was An Inheritance of Ashes; for 2017, I went with The Nine by Tracy Townsend. But for 2018…
Life-on-the-Line Pick: Gods, Monsters and the Lucky Peach
The first time I saw Kelly Robson after reading her novella, I might have gone on a bit about a) how amazing it was and b) how there had better be a sequel in the works. (There is.) Lucky Peach is an action-packed, feels-jerking hopepunk story that somehow combines time travel, post-cataclysm environmentalism, transhumanism, tight character development AND a gut-punch of an ending. Seriously, go read this gods-damned book. Right now. Or if you're not convinced, read my full review here.
And in alphabetical order, my other four picks for 2018 are…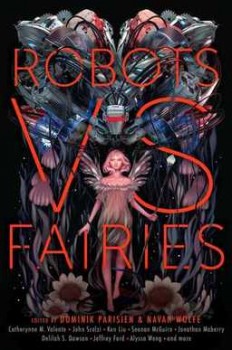 Alice Payne Arrives by Kate Heartfield
Yes, there are two Tor novellas on this list. The first Alice Payne story is very different than Lucky Peach in length, style and pacing – except Kate has tapped into our ongoing love with time travel, too, bringing together an 18th-century highwaywoman and an agent from the future to try to end a time war. The complicated, nuanced relationships and various twists totally hooked me, and luckily for us all, the sequel lands this March! (And I'll have more to say about this one in two weeks for a full review.)
Redemption's Blade by Adrian Tchaikovsky
This is the first of Tchaikovsky's work I've scoped out, and good gods, I was depriving myself. If you read my post "The Same Old Story" about tired plotlines and boring "cleverness," this is the exact kind of novel that destroys ones pretending to be fresh. Tchaikovsky is easily one of my new favorite authors, and high on my reading list for this year.
Robots vs Fairies, edited by Dominik Parisien and Navah Wolfe
I talked about this anthology at length a while back, including Dominik trying to force me to pick a side – not that I gave in! If the title and contributing authors alone don't grab your attention, hopefully my full review will. I'm convinced that anything Dominik and Navah put together will be amazing, and I'm waiting for whatever their next collaboration will be.
Wrath of Empire by Brian McClellan
I've talked at length to my friends and online about Sins of Empire, and I broke my usual form to buy the colossal hardcover edition of its sequel as soon as it came out. I know I'm far from the first person to say it, but McClellan is the master of this niche genre I think we're calling "gunpunk," where powder mages combine magic and muskets, and armies march on each other to control continents and powerful godstones. This is a sweeping epic with phenomenal character work in a richly unique world, much like Redemption's Blade, and a ton of fun to read.
Honorable Mentions
Since I can't resist writing a little more (since I don't have my 500-word limit), I want to highlight some novels disqualified from my Top Five because they have a publication date other than 2018, and I think you should totally check them out:
Dark Matter by Blake Crouch (2016): A mind-bending, sci-fi thriller where every single time I thought, "Oh, I bet this will happen next," I was completely wrong. That's not easy to do, and I'm still thinking about this book since I read it last March.
The Fall by Tracy Townsend (2019): This month, you can pick up the sequel to my 2017 Life-on-the-Line Pick and continue the adventures of Rowena Downshire, The Alchemist, Anselm Meteron, and more. I mentioned hunting for fresh stories above … this is one of those stories. Check out my full review here.
Waypoint Kangaroo by Curtis Chen (2016): I have to give one more shout-out to this hilarious, action-packed, sci-fi spy thriller … there is nothing else like this one. Find out why in my full review.
And we come to the end! As always, thanks for reading, and stay tuned for more reviews and interviews as we dive into 2019!