The Top Five Books I Read in 2017
The Top Five Books I Read in 2017
Another year has passed, dear readers, which means that I'm mandated to assess the books I read in 2017 and declare my favorites. Of course, this mandate is self-imposed, and the difficulty of figuring out which books to pick this year is also self-inflicted. I've learned how to put down a book after 50 pages if I don't enjoy it and move on, which means that the books I finished this year are all ones that I enjoyed on some level. I know, woe is me. But cut me some slack, because instead of a cop-out top ten list like last time, this year I forced myself to cut down my selections and present you with a Top Five. Note that these aren't necessarily all books released in 2017; I just happened to read them in the last year.
Last year, I made an offhand comment that if I was forced under pain of death to absolutely pick a #1 title for 2016, I'd have chosen An Inheritance of Ashes by Leah Bobet. I've decided that for each of these annual posts (presuming I'm still around here in a year's time) I'm going to nominate one book as my top pick for the year, and then list the rest in alphabetical order. Any ranking beyond #1 is going to be arbitrary anyway, since each of these novels is amazing in different ways.
Before I get into it, I also wanted to thank everyone who reads and comments and shares these bi-weekly reviews and interviews. I keep writing here because it's fun and I hope I can highlight some lesser-known and emerging writers, or provide my take on more popular books. Thanks for sticking with me, and I look forward to discussing books with you through 2018!
Without any further adieu, here are the Top Five Books I Read in 2017.
My Life-on-the-Line Pick for 2017 is… 
The Nine by Tracy Townsend (Pyr, 2017)
When I'm a debut novelist, I want my first release to be as brilliant as Tracy Townsend. I'm not exaggerating. The Nine is unlike any other fantasy novel I've read, presenting a world of magic and monsters where God is accepted not just as real, but as a scientist researching humanity by studying the behavior of nine control subjects, and then possibly deciding based on them whether his "grand experiment" is working or not.
That's terrifying and mind-blowing and intriguing in so many ways. But an incredible premise isn't enough, since Townsend also provides a tight cast of characters with a variety of needs and hang-ups and a fast pace that reminded me a lot of heavies like Jim Butcher or Tanya Huff.
I can honestly say that I went into my classroom bleary eyed on multiple days because I had stayed up too late reading The Nine. That kind of storytelling does not come around every day, and finding out that there are sequels in the works was like Christmas come early.
My full review was originally published here in October.
And in alphabetical order, my other picks…
Ghost Talkers by Mary Robinette Kowal (Tor, 2016)
I hadn't gotten around to reading any of Mary's novels until this year, despite the words of wisdom I keep picking up from Writing Excuses, and I've been depriving myself of some awesome storytelling. As a history teacher, I was totally taken in by the authenticity of this novel, which presents not just a very realistic impression of First World War Europe, but a realistic and vivid version of the war front where spiritualism and ghosts are involved. There wasn't a single character in Ghost Talkers I didn't care about, and the tragedy and bravery in this novel struck all the right chords. This is another one that I'm really hoping to see a sequel for, since there's bound to be more story in this version of history.
Read my full review here.
Never Now Always by Desirina Boskovich (Broken Eye Books, 2017)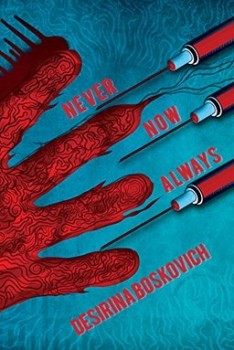 Technically this is a novella, but this is also my column, and Never Now Always deserves to be here. I spent the entire time reading this story wracking my brain to figure out exactly what was going on (almost as much as Ninefox Gambit) and in the end the fact that I still wasn't sure made me love it even more.
Are the characters adults or children? Are they imprisoned by aliens, protected after an apocalypse, clones in a secret facility? Are their memories of the time before even real? There's enough information provided in this tightly-written novella to piece things together and draw your own conclusions, but the lingering questions are the best part.
Full review here.
Red Country by Joe Abercrombie (Orbit, 2012)
I've been a fan of Joe Abercrombie's for a while, and I was so excited for the return of Logen Ninefingers. As I mentioned in my full review a while back, I was worried that the novel would be too tongue-in-cheek with the idea of "Oh, look, it's Logen but we're not going to say it," and I don't really know why I was worried, since this is friggin' Abercrombie we're talking about.
Red Country presents a host of dynamic characters who shift and develop through a series of thrilling adventures reminiscent of Deadwood, with fitting conclusions for long-time figures like Nicomo Cosca and Caul Shivers, and other surprise characters stepping out of the shadows. Much as I loved the First Law trilogy, I think Red Country is my favorite Abercrombie novel. But read the First Law books first, so you'll understand why this one is so brilliant.
Revenger by Alastair Reynolds (Orbit, 2016)
Similar to the above, Revenger is my favorite Alastair Reynolds novel to date (maybe … House of Suns and Terminal World were both amazing, too). It's a steampunk hybrid of Firefly and Pirates of the Caribbean with dashes of horror and the detailed mysteries that make Reynolds' fiction so compelling.
The story you think you're getting shifts about 100 pages in, and suddenly you're somewhere different and even better, on an absolute thrill ride. Like every other Reynolds novel I've read, I am desperately, desperately hoping that he writes a sequel to show us more of this world. If I need to fly to the UK and beg on hands and knees … I might. Let's set up a GoFundMe or something.
My complete review is here.
And that's it! Five amazing titles, all of which you should check out. I'm off to ConFusion in a few days, but keep an eye on this column for my first review of 2018! And thanks again for reading.
---
An Ottawa teacher by day, Brandon has been published in On Spec, Third Flatiron Anthologies, and elsewhere. Check out his alternate history story "The Last Best Defense" (Louis Riel meets otherworldly foes) in 49th Parallels: Canadian Alternate Histories and Futures, from Bundoran Press. Learn more at brandoncrilly.wordpress.com or on Twitter: @B_Crilly