In 500 Words or Less: Robots vs Fairies, edited by Dominik Parisien and Navah Wolfe
In 500 Words or Less: Robots vs Fairies, edited by Dominik Parisien and Navah Wolfe
Robots vs Fairies
Edited by Dominik Parisien and Navah Wolfe
Saga Press (384 pages, $16.99 paperback, $7.99 eBook, January 2018)
When I asked Dominik Parisien and Navah Wolfe, the editors of Robots vs Fairies, on Twitter if I absolutely had to decide between Team Fairy and Team Robot, I was hoping they'd let me off the hook. Here's what Dominik told me instead: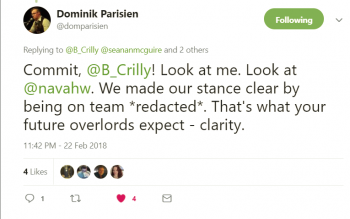 Apparently, I have no choice. It doesn't help that Team Fairy and Team Robot both offer up truly remarkable stories. I mean, take one look at the table of contents and you'll see that this is a stacked deck of established legends and talented up-and-comers. That said, I have heeded the instructions of my overlords and picked a side.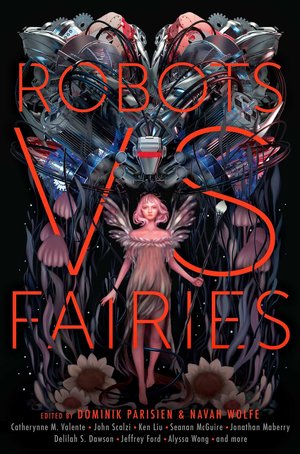 Going into this, I expected I'd fall into the Team Robot camp – and the authors there do not disappoint. I've been a fan of Jonathan Maberry for a long time, and his story "Ironheart" takes all the heart-wrenching character work I love in the Joe Ledger books and applies it to an injured war veteran struggling to survive alongside an ailing farm robot. Acclaimed futurist Madeline Ashby focuses on an aging witch forced to rely on a robotic, live-in caregiver that embodies what she despises about progress in "Work Shadow/Shadow Work." But my favorite on this side is probably John Scalzi's "Three Robots Experience Objects Left Behind from the Era of Humans for the First Time," a script-format, tongue-in-cheek scene of robots misunderstanding human artifacts – possibly because I heard it performed by Scalzi, Navah, Dominik, and Max Gladstone at ConFusion.
But Team Fairy makes an impressive showing in this fight, starting with Seanan McGuire's "Build Me a Wonderland," which is sort of like Jurassic Park with fairies pretending that everything is fake, and Hammond having no idea what's really going on (wait, that second part matches). You've got a really neat twist on the story of Tinker Bell and Peter Pan in Jim C. Hines's "Second to the Left, and Straight On." And Cat Valente, whose emotional story in Starlit Wood stayed with me for weeks after I read it, offers a much lighter but no-less-powerful tale of an annual cage match between robots and imprisoned fairy folk in "A Fall Counts Anywhere."
So which side did this reviewer pick? Funny you should bring that up again, since the thing I enjoyed most about this anthology is that it isn't an exclusive "robots vs fairies" construction. Ashby's story has a witch and a robot; McGuire's has fairy folks making animatronics. The elements here are interwoven, either implicitly or purposefully showing how technology and superstition are both fundamental to our lives. If it wasn't for the authors' notes after each story, I might not have guessed who belonged to which camp.
We're about 450 words into this review, which means I should probably tell you where I'm throwing my allegiance. The overlords are watching, after all. And it would really suck if I reached my self-imposed word limit without revealing my decision. That would make me a tease, wouldn't it? Hold on, let me count my words…
Oops.
---
An Ottawa teacher by day, Brandon has been published in On Spec, Daily Science Fiction, PULP Literature, and elsewhere. Check out Sunvault: Stories of Solarpunk and Eco-Speculation on Amazon now, featuring his short story "Pop and the CFT." Learn more at brandoncrilly.wordpress.com or on Twitter: @B_Crilly